The Best Makeup Looks To Pair With Gray Hair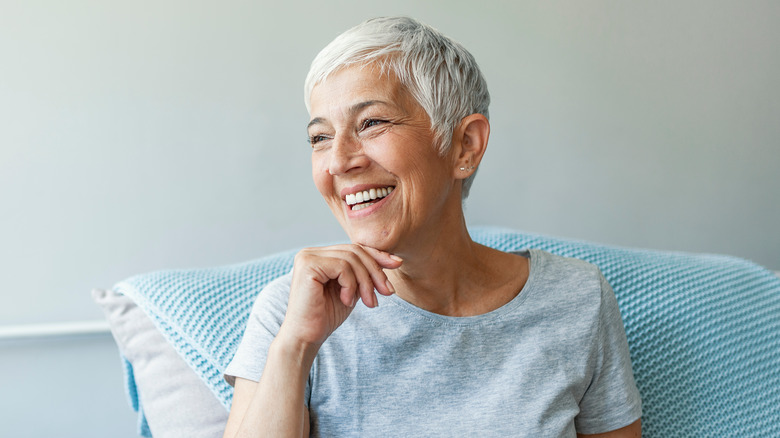 Shutterstock
Gray hair is beautiful and should be embraced and taken care of properly. Furthermore, doing your makeup in certain colors can complement the gray and make you look more beautiful than ever. There is beauty in all ages and hair colors, so it only makes sense that the right makeup can highlight gray hair as well!
When putting on makeup, it's important to remember that the contrast between your hair and your skin tone has shifted. Because of this, Honey Good recommends opting for bolder colors in your makeup to help your features stand out. This also means you want to make sure you fill in your eyebrows to make them stand out more. At the same time, you need to make sure that you know the proper undertones of your skin because makeup that doesn't match your undertones will be more noticeable.
For the same reason that you'll want to fill in your brows, you will want to use eyeliner. This will help your eyes pop, and it will add more contrast. Makeup artist Bobbi Brown notes that blush works wonders to make the face look fresh for women with gray hair. This adds a warming effect that livens up the complexion (via justBOBBI).
Per Pure Wow, women with gray hair should feel free to play around with bright lip colors to increase the contrast. "Go for bolder hues like berry or at least pink-y peach," the outlet advises.
Stepping out of the (eye)shadows to complement gray hair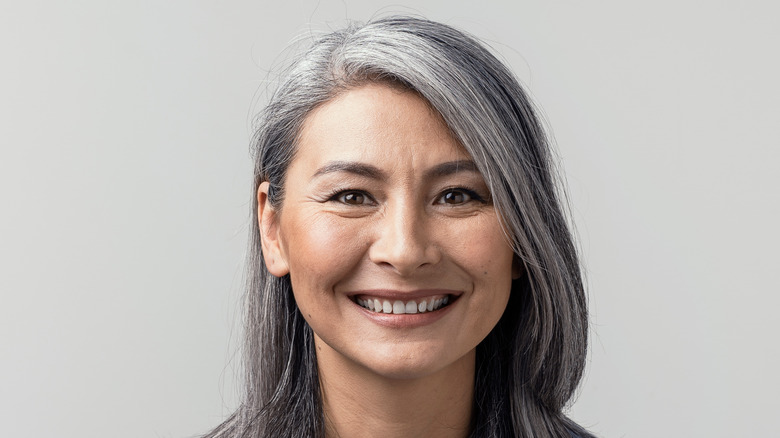 Shutterstock
The best part of gray hair when it comes to eyeshadow is that virtually any color will look good with it. As a neutral color, gray hair helps any color pop. A simple smoky eye looks particularly good with gray hair because it livens up eyes and adds a lot of depth due to the blending of colors.
For solid colors, Bobbi Brown notes that a buffed out gray on the eye helps gray hair pop (via justBOBBI). This is one way to flatter the hair color if you don't want to go with a more dramatic hue, though other shades like violet and blue certainly look stunning with gray hair. With a gray eye, you are combining subtle elements with some warming blush and well-defined brows to create an image of natural beauty. It's a statement that you wear your age with pride, or if you are younger and dye your hair gray, it's a statement that you are not afraid to experiment.
Ultimately, as a natural color, gray hair lends itself to any color makeup. If you don't favor the natural look, you can be as bold as you want to with your color palette, and that is something that should be celebrated.