The Real Reason Simone Biles Wouldn't Let Her Daughter Be A Gymnast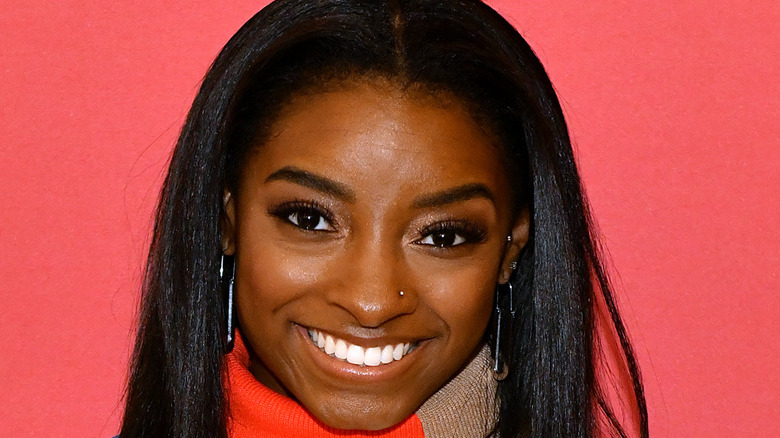 Craig Barritt/Getty Images
It's an undisputed fact that Simone Biles — who's had a stunning transformation — is the greatest gymnast of all time. In 2019, the International Gymnastics Federation even went as far as to demand that she decrease the difficulty level of a new skill she planned to debut because other gymnasts could injure themselves by attempting it (via USA Today). "Am I in a league of my own? Yes. But that doesn't mean you can't credit me for what I'm doing," Biles, who's made a lot of money from her sport, said in response.
Although we should never downplay the role Biles' extraordinary work ethic has played in her success, it's undeniable that her natural talent is unparalleled. If she has a daughter, it seems likely her child would inherit at least some of her mom's athletic ability. But Biles, age 23, says she wouldn't let her daughter compete for USA Gymnastics.
"I don't feel comfortable enough, because they haven't taken accountability for their actions and what they've done," Biles told "60 Minutes" (via HuffPost) as she discussed the organization's failure to appropriately handle multiple reports that team doctor Larry Nassar was sexually abusing gymnasts. "And they haven't ensured us that it's never going to happen again," she said. 
In 2018, Nassar was sentenced to 175 years in state prison (via ABC News) after pleading guilty to seven counts of first-degree criminal sexual conduct. Nassar sexually abused hundreds of athletes and dancers from Michigan State University (MSU) and USA Gymnastics under the guise of medical treatment for decades. Nearly 200 victims spoke at his sentencing.
USA Gymnastics' failure to protect Simone Biles from assault has impacted her decision making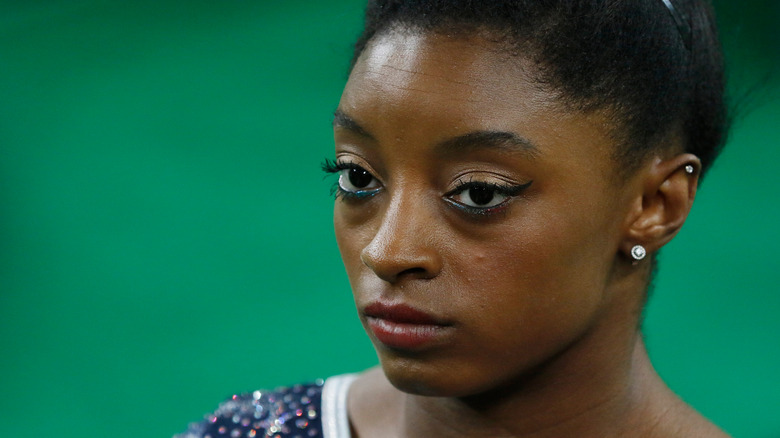 Shutterstock
Simone Biles has publicly and repeatedly requested that USA Gymnastics allow for an independent investigation into how they allowed Larry Nassar's abuse to continue for so long. In 2015, Maggie Nichols' coach reported the abuse to USA Gymnastics (via NBC News), but the organization didn't contact the FBI until weeks later when Aly Raisman and McKayla Maroney also reported that Nassar had sexually abused them.
Nassar resigned from his position with USA Gymnastics, but the organization failed to notify Michigan State University about the allegations, per ESPN. He continued to abuse athletes at the university until he was fired in September 2016.
"It's far from over. There's still a lot of questions that still need to be answered. Just who knew what, when?" Biles stated during her "60 Minutes" interview. "You guys have failed so many athletes — and most of us underage. You guys don't think that's a bigger problem?" she added, addressing USA Gymnastics directly.
Biles came forward as a survivor of Nassar's abuse in January 2018. "It was so hard for me to even say it out loud ... I knew how hard ... it crushed me. It would crush my parents," she told "60 Minutes" (via HuffPost). "I didn't want them to feel the same pain that I felt."
If you, or anyone you know, have been a victim of sexual assault, help is available. Visit the Rape, Abuse & Incest National Network (RAINN) website or contact RAINN's National Helpline at 1-800-656-HOPE (4673).