Here's What You Should Know Before Getting A Pixie Cut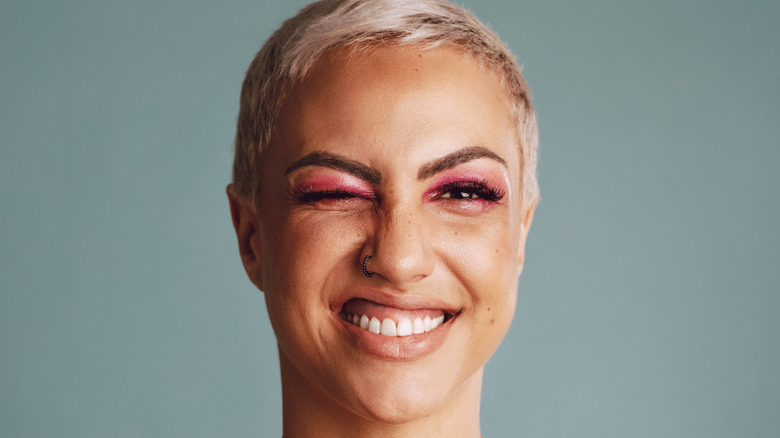 Shutterstock
Hair, especially long hair, requires a lot of maintenance, time, and energy that some people just don't have. That's why some look into more manageable styles such as a short haircut or a pixie style. However, while a pixie cut may be a little bit easier than other hairstyles, there are some upheaves for this particular style. That said, before you head to your favorite stylists to undergo a big chop, here's what you need to know.
Short hair requires a lot of scalp maintenance (via The Zoe Report). So, sorry for anyone wanting little to no maintenance with a pixie cut, because this hairdo requires some care too. "Oftentimes, people are interested in getting pixie cuts because they are easy to take care of in terms of overall maintenance," Sally Hershberger, a celebrity hairstylist, told the outlet. "However, while it may take less time to dry and style, it does require some upkeep." 
For example, per The Zoe Report, you must invest in short hair products because they'll work best with maintaining your shape and smoothing down your hair. And be prepared to visit the hair salon every four to six weeks for a touch-up, the outlet added. 
Knowing your face shape is important before getting a pixie cut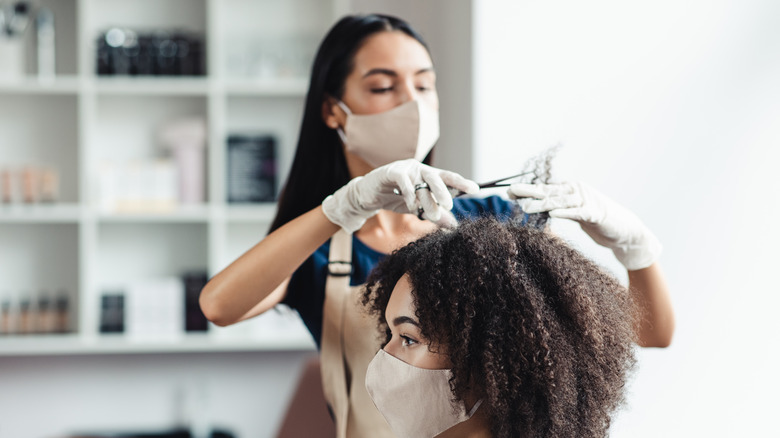 Shutterstock
While everyone looks fantastic when wearing a pixie cut, some pixie cut hairstyles look better on others all because of face shapes. According to All Things Hair, knowing your face shape will help you decide how to cut your hair, so the cut can highlight your best features. You can't hide behind your hair with pixie cuts, so knowing your face shape is imperative, the outlet added. You should also take the texture of your hair into consideration, as people with fine, thick, curly, or straight hair should all probably go for different styles. 
Live About added that pixie cuts look best on square, oval, and heart-shaped faces. For round shapes faces, a pixie cut will soften your face's features and angle them appropriately, the outlet added. And, while pixie cuts look best on these particular face styles, that's not to say that anyone with a diamond or triangle face shape can't wear a pixie cut. Anyone can wear one! Knowing your face shape just ensures that the cut fits your face. After all, you wouldn't want to wear a cut that doesn't show off your cheekbones or eye shape, right? If you cut your hair and then instantly regret it, here are the vitamins you should take to promote hair growth. But don't worry, all a pixie cut needs to be pulled off is confidence.