Why Eric Church Always Wears Sunglasses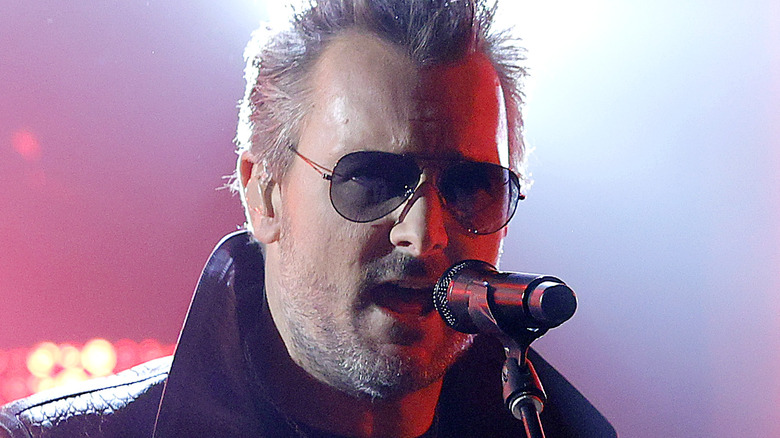 Jason Kempin/Getty Images
Singer-songwriter Eric Church made a splash in the country music scene back in 2006 with his debut album "Sinners Like Me." That same year, he made his first appearance on the Billboard Top 20 with "How 'Bout You" (via Billboard). Since then he's not only seen incredible commercial success with several Billboard chart-toppers like "Drink In My Hand" and "Springsteen," but he's seen equally impressive critical acclaim. According to the Recording Academy, Church has amassed an impressive 10 Grammy Award nominations since releasing his first single in '06.
The "Some Of It" singer also saw some rare back-to-back album success. Two of Church's albums debuted in Billboard's top five album sale charts in consecutive weeks. This isn't seen often and, in fact, this was the first time it happened since 2017 (via WIN 98.5).
However, the country music star is known for more than just his hit songs. Fans associate the singer with his trademark Ray-Ban sunglasses, a look he's known for sporting on stage. A choice that may have more to it than just fashion.
The real reason Eric Church wears Ray-Bans isn't just for style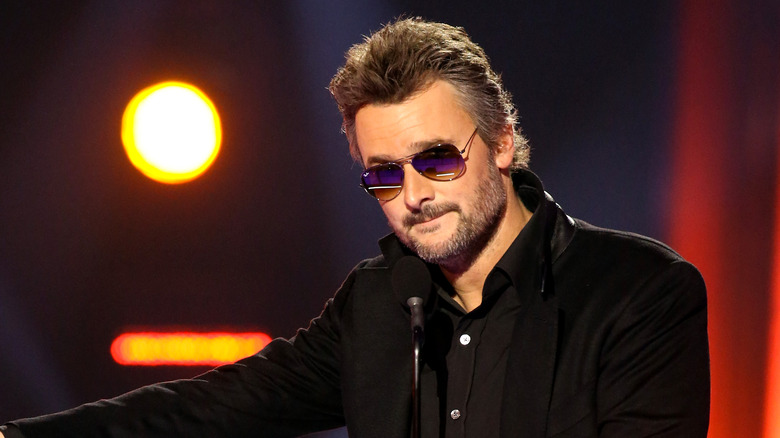 Terry Wyatt/Getty Images
It seems the look Eric Church has become famous for is more of a necessity than a style choice. At 6-foot-3, Church finds himself staring directly into most bar or stage lights. As most contact wearers would attest to, sporting dry contacts is not ideal. "I wear contacts, and my eyes don't do real well with lubrication," Church told Mike Adam On Air. His eyes would get so dry under those stage lights, in fact, that his contacts would actually fall out. "I ended up being blind on stage," he continued. Cue: his love affair with Ray-Bans, which he even crooned about in a 2020 song.
Church noted that his new look "stuck," adding, "This was never thought out." So the cool factor is just an unplanned side effect. Another unforeseen but fun coincidence is that it lead to his nickname of Chief. He said in a pre-concert interview for Hodag Country Music Festival that his bandmates started calling him that because the aviators are commonly worn by police officers. What they didn't realize is that his grandfather was a police chief and that was his nickname too.