Derek Hough Reveals His Thoughts On Returning To DWTS As A Dancer
Shutterstock
Derek Hough's name is synonymous with "Dancing With the Stars." The professional dancer is the winningest pro in the show's history after taking home the Mirror Ball Trophy six times (via ABC). During his stint as a dancer on the show, Hough partnered with the likes of Ricki Lake, Brooke Burke, Jennie Garth, Kellie Pickler, Nicole Scherzinger, and more. His innovative dance moves and knack for getting into the character of the dance always seemed to win over viewers.
Although Hough is one of the best dancers to ever step on the ballroom floor, he has admitted in the past that the job didn't click for him right away. "I didn't know what I was doing. I had no idea, and when somebody first called me a choreographer, I was, like, 'No, I'm not.' ... I was just a dancer," he told The Salt Lake Tribune in 2020. "My first couple partners were, like, 'Who is this 12‑year‑old boy I'm dancing with?' Honestly, I felt like I was just kind of faking it. Trying to prove myself to my partners."
However, things soon fell into place, and Hough became a contender year after year. He now credits the show as a huge learning experience. "What this show taught me was not just how to choreograph, but how to work with people and how to encourage people and how to bring the best out of them," he stated. Is Derek Hough considering a "DWTS" return as a dancer?
Derek Hough teases his return to the DWTS ballroom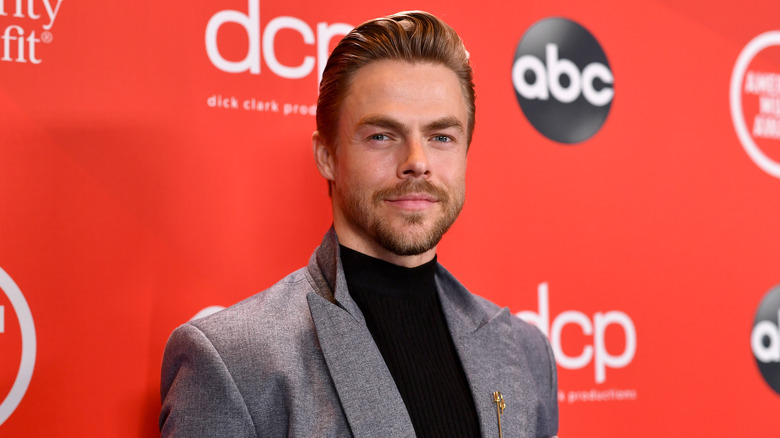 Emma Mcintyre /ama2020/Getty Images
It's been years since Derek Hough competed on "Dancing With the Stars," but that doesn't mean he doesn't miss it. Hough recently opened up to Us Weekly about a possible return to the ballroom, revealing that Tom Brady's latest Super Bowl win may have inspired him just a bit. "When Tom Brady won a seventh Super Bowl, I was like, 'Oh no, do I need to go for seven here?'" he joked. When asked if he would ever consider returning to the show as a dancer, he said, "No, I think — who knows?" Hough continued. "I never say never, but for right now, I'm looking forward to going back as a judge."
Hough joined judges Carrie Ann Inaba and Bruno Tonioli during Season 29 in the absence of head judge Len Goodman. Although Goodman will return for the upcoming Season 30, Hough has confirmed that he'll be back as well. "The hardest part about [being a judge is] just keeping what I'm trying to say [to] 20 seconds because it's live," Hough admitted. "That's been really difficult, especially because I want to help, but I want to coach, so I want to be like, 'All right, so here's what we're going to do.' And I'm like, 'Oh wait, we can't do that.' I just gotta give a general critique," he added. Fans can see Derek Hough and the rest of the judges when "DWTS" returns to ABC this fall.