Willow Smith Gives Mom Jada Pinkett Smith A Big Mother's Day Surprise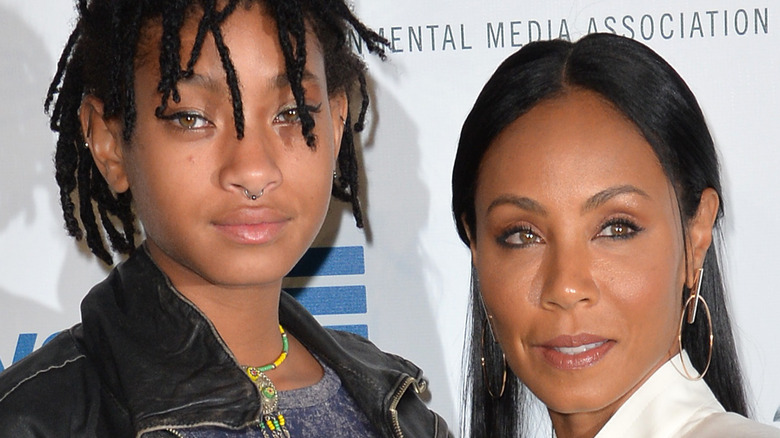 Shutterstock
Most people know Jada Pinkett Smith as wife to Will, mother to Willow and Jaden, bad-ass actress and activist, and obviously co-host of Facebook Watch series "Red Table Talk." But, for a whole generation of kids, Jada was also the lead singer of metal band Wicked Wisdom. Back in the day, they stormed the likes of Download Festival and Ozzfest alongside heavyweights including founder Ozzy Osbourne himself, his own band Black Sabbath, Rob Zombie, Iron Maiden and Deftones. 
As Loudwire notes, Wicked Wisdom was formed in 2002, releasing their self-titled debut album in 2006 before joining metal icons Sevendust on tour the very same year. Although the band hasn't really been a thing in over a decade, metal fans of a certain age remember them as one of the standout acts of the early-2000s resurgence. As it turns out, Willow herself is a huge fan of Wicked Wisdom too, proving her dedication to Jada in the sweetest, most personal manner possible.  
Willow Smith paid homage to her mother's legacy in a big way
For a special Mother's Day edition of "Red Table Talk," Willow Smith surprised her mom, Jada Pinkett Smith, by reuniting her former band, Wicked Wisdom, for a special one-off show. Original members Michael Anderson, Pocket Honore, Taylor Graves, and Ronald Bruner Jr. joined the 20 year old on a makeshift stage in the garden of the family home for an intimate performance in front of Jada and her own mother, Adrienne Banfield-Norris. "When I was, I wanna say about 3 or 4, I went on tour with my mom and her band Wicked Wisdom. Wicked Wisdom was lit. This is the music that I grew up around. My mother was superwoman, she was a rock star, warrior and nurturer all in one. So unapologetically badass," Willow enthused (via Facebook Watch). 
Willow proclaimed herself a lifelong fan of the band, explaining, "I felt like it was only right for me to pay homage to a time in her life because she showed me what woman-ing up really is about." Alongside the rest of Wicked Wisdom, the talented musician played lead guitar and sang the vocals on one of her top picks from the band's catalog, the melodic "Bleed All Over Me." Her proud mother, who was rocking out throughout the show, later took to Instagram to share a clip, gushing alongside it, "My heart burst in a thousand different ways having my daughter honor me in this way."