Arnold Schwarzenegger's Son Has A Shockingly Normal New Career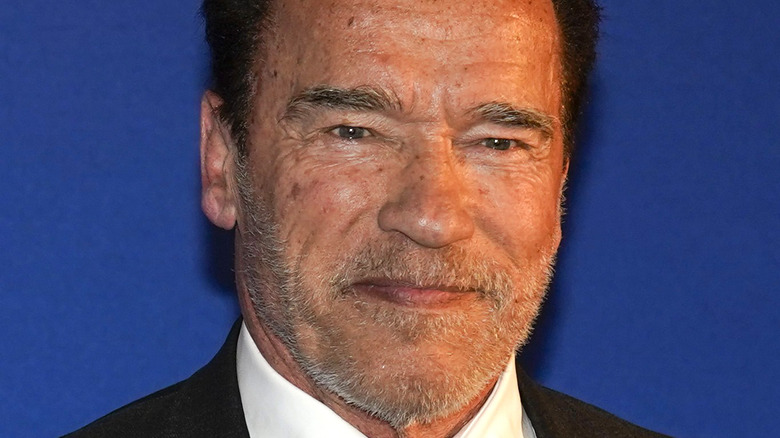 Martin Rauscher/Getty Images
Arnold Schwarzenegger made headlines in 2011 when he announced that he had fathered a child with his longtime housekeeper Mildred Patricia Baena. The actor's son, Joseph Baena, was born while he was married to his now ex-wife, Maria Shriver (via Today). Baena was born just a few days after Schwarzenegger and Shriver's son, Christopher in 1997.
In May 2011 news of Schwarzenegger's infidelity and his love child spread through the media like wildfire, and he didn't deny the paternity of his look-alike son. "After leaving the governor's office I told my wife about this event, which occurred over a decade ago. I understand and deserve the feelings of anger and disappointment among my friends and family. There are no excuses and I take full responsibility for the hurt I have caused," the "Terminator" star said at the time.
After the news broke, Shriver also released a statement revealing her upset about the situation. "This is a painful and heartbreaking time. As a mother, my concern is for the children. I ask for compassion, respect and privacy as my children and I try to rebuild our lives and heal," she said. Now, 10 years later, Schwarzenegger and Baena seem to have forged a strong father and son bond, per The Sun. However, Baena seems to live a more low-key life than his famous siblings. He even has a normal job, despite having a very wealthy father.
Joseph Baena excitedly reveals his new career
According to Page Six, Arnold Schwarzenegger's son, Joseph Baena recently revealed his brand new career path. The 23 year old revealed via his Instagram account on Monday that he is officially a real estate agent. "Looking forward to growing and learning from my amazing team @aria_properties , but more so looking forward to putting you guys in a new home!" he wrote. Baena, who has followed in his famous father's footsteps as a bodybuilder, also revealed that he'll be based in California. "I'll be primarily based in West LA and Silicon Beach, so if you're buying, selling or need help shoot me a DM. Your support means the world-tag someone who needs a home," he added. After sharing the post, many of Baena's friends congratulated him on the big job opportunity.
Back in 2019, Baena opened up about his relationship with his father (via Hollywood Life). "I love my dad! We hang out all the time! He is a great father! That's really all I have to say about him! We train together, we eat together. We do many things together. I have nothing bad to say about my father," he said. He also admitted that Schwarzenegger has given him some sage life advice. "Put 100% into what I'm doing. Whether that is training, working, school. Just give it my all," Schwarzenegger told his son. Perhaps Baena will be using that advice as he starts his new real estate career.