Here's How A Balayage Treatment Could Be Damaging Your Hair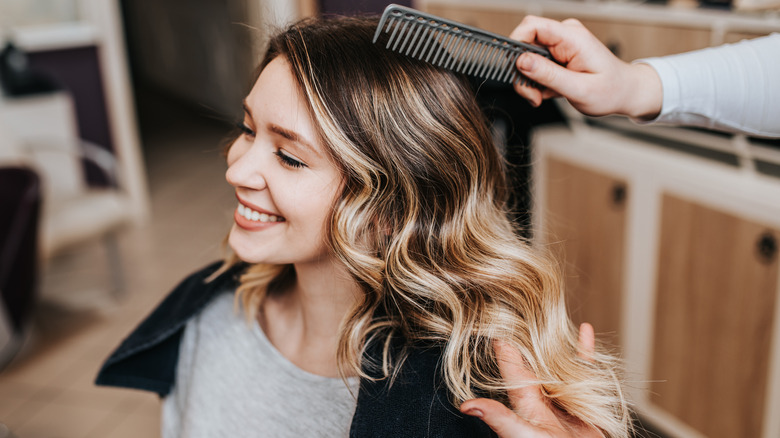 Shutterstock
If you regularly lighten your hair, your stylist may have discussed balayage with you as an alternative to regular highlights or all-over color. Byrdie described the hot hair trend as an easier way to go lighter, which is one factor that makes it so attractive. The technique keeps your base color while lightening the mid-lengths and ends in an artfully blended way. These features make the grow-out phase softer, allowing for less maintenance compared to lighter hair colors.
Post Hair Company's master hair colorist Emily Rishavy spoke about the hair color trend, explaining what it is. "Balayage is a customized, hand-painted, sun-kissed look -– a coloring technique utilized to create naturally highlighted appearance. The technique creates great depth and dimension," Rishavy said. The reason the trend remains so popular is that you don't have a noticeable line of demarcation between your roots and the lighter color, which makes it easier to deal with between touchups. "Think undone, cool surfer girl hair," Olivia Cassanova of New York City's IGK salons told Byrdie. "Almost like you spent a summer at the beach."
This seems like an amazing way to try out lighter hair, especially if your natural color is darker. However, it's not without some pitfalls, which could lead to hair damage. 
Pamper your balayage hair to avoid damage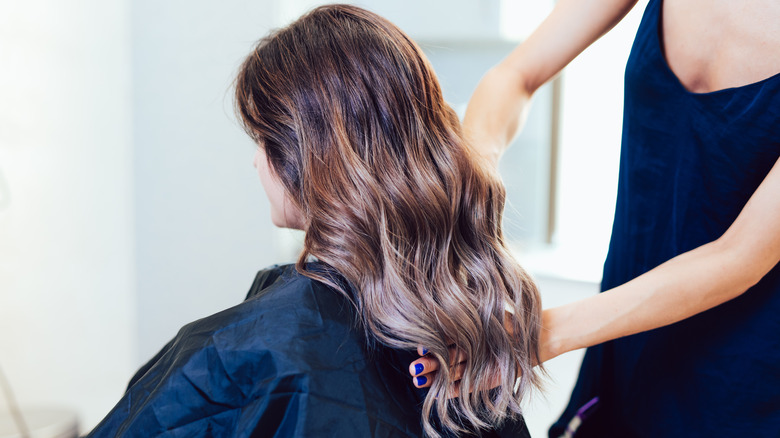 Shutterstock
Per Mash Elle, the process that balayage involves — bleaching — is actually damaging in itself because it strips the hair of color. "Your balayage ends will be dry (and sometimes brittle) over time, so you need to baby your hair!" Just because the process is harsh doesn't mean your hair has to suffer. "In addition to using conditioner in the shower, you'll need to apply leave-in-conditioner on your balayage ends after every shower. No excuses," the outlet notes.
Balayage highlights don't require as much maintenance as other color jobs, but you can't just ignore them, either. L'Oreal notes the importance of taking care of your hair before and after the treatment. Failing to condition regularly is one way you might damage your tresses.
If your hair is dark, you might pull warmer tones (via Byrdie), and achieving the look you want might be a process that happens in multiple stages. Trying to lighten too quickly is another way you might damage your hair. Rishavy advises that you should have a stylist you trust who is knowledgeable about the process involved in balayage. Byrdie recommends that you contact a colorist for a consultation before diving into the change. If you go slow, chances are you can avoid significant damage to your hair.