The Truth About The First Person In The US To Get The COVID-19 Vaccine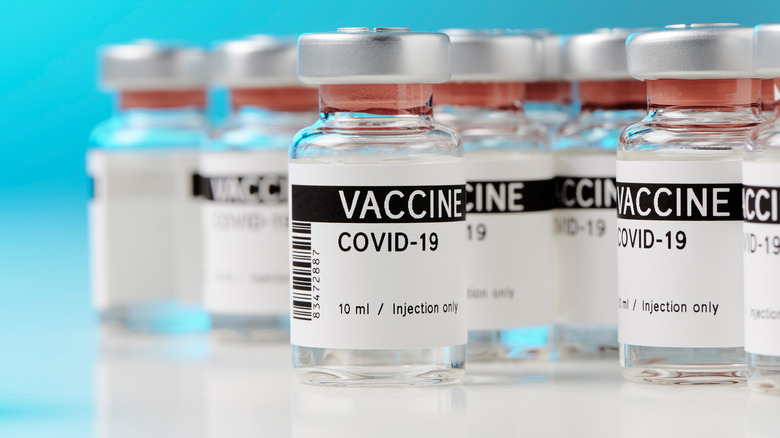 Shutterstock
With more and more people getting their COVID-19 vaccines across the U.S., it feels like the days of the vaccine being just a pipe dream were so long ago. Essential workers, the elderly, the immunocompromised, and those 18 years or older have been steadily getting vaccinated over the past few months, making nearly 33% of Americans fully vaccinated — that's over 107 million people, per Becker's Hospital Review. 
In addition, the FDA has announced that 12-15-year-old minors have been authorized to receive vaccinations beginning mid-May, per CNN. Vaccinations are happening left and right at this point, meaning that the end of the coronavirus pandemic might be in sight. But what about those who were vaccinated before it was trendy? Indeed, who was the very first American to receive the COVID-19 vaccine? Her name is Sandra Lindsay, and she's a nurse and director of patient services in the Long Island Jewish Medical Center's ICU.
Sandra Lindsay was first to receive COVID-19 vaccine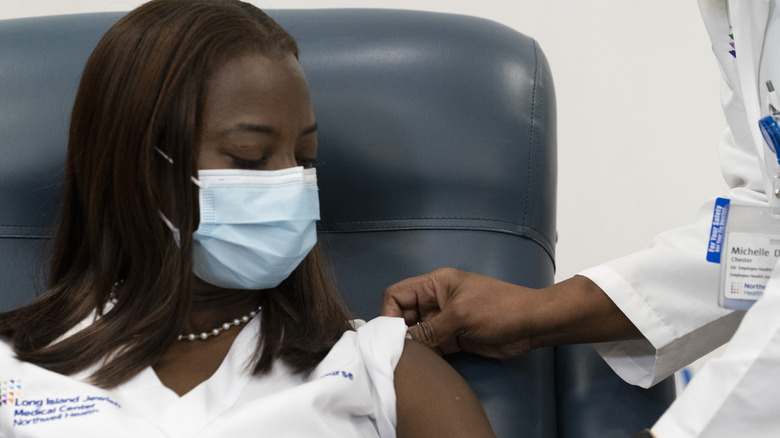 Pool/Getty Images
Sandra Lindsay bravely took the plunge to become the first American to receive a COVID-19 vaccine, outside of clinical trials. While only a small jab to her arm, this vaccination symbolized America entering a new phase as a country, toward healing and restoring hope to a previously broken nation. But this pressure didn't bother Lindsay — in fact, being vaccinated filled her with hope for the future. 
According to a CNN interview, Lindsay said, "I feel hopeful today, relieved. I feel like healing is coming. I hope this marks the beginning of the end of a very painful time in our country." It seems only right that Lindsay was the first American to receive the vaccination, as she was responsible for treating countless patients throughout the pandemic. After the pain and suffering she had witnessed firsthand due to COVID-19, it's no surprise that she would be such an advocate for the vaccine. "I trust science," she told CNN. "What I don't trust is getting COVID-19, because I don't know how it will affect me and the people around me."
Sandra Lindsay wants people to trust science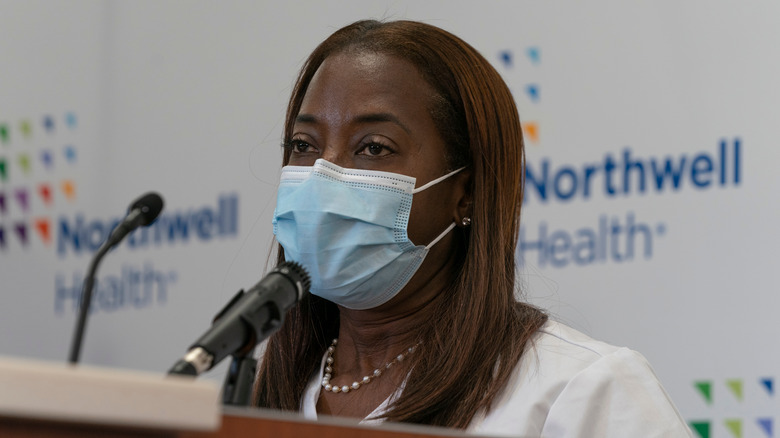 Shutterstock
There are so many levels of significance to Sandra Lindsay being the face of this new phase of vaccination. But perhaps most significantly, Lindsay — a woman of color herself — represents the millions of Black people that were disproportionately affected by COVID-19. Indeed, while no one is immune to the virus, some are statistically more likely to contract it. 
According to the Mayo Clinic, research shows that racial and ethnic minorities are disproportionately affected by COVID-19 within the United States, and that virus-related hospitalization is 4.7 times more likely for non-Hispanic Black people and Hispanics, compared to their Caucasian counterparts. Meanwhile, "American Indian or Alaska Native people had an age-adjusted COVID-19 hospitalization rate about 5.3 times that of non-Hispanic white people." These factors are partially due to underlying health conditions, but most commonly linked to socioeconomic factors and wealth disparities among people of color.
Per The Washington Post, Lindsay grasped the importance of her — a Black woman — getting vaccinated, and saw it as a message to those who "distrust the medical system because of historical malfeasance or because they have suffered medical racism." In the end, she asserts that the most important thing she can do is convince the public to trust science.