The Best Eye Makeup Looks To Pair With Pink Lipstick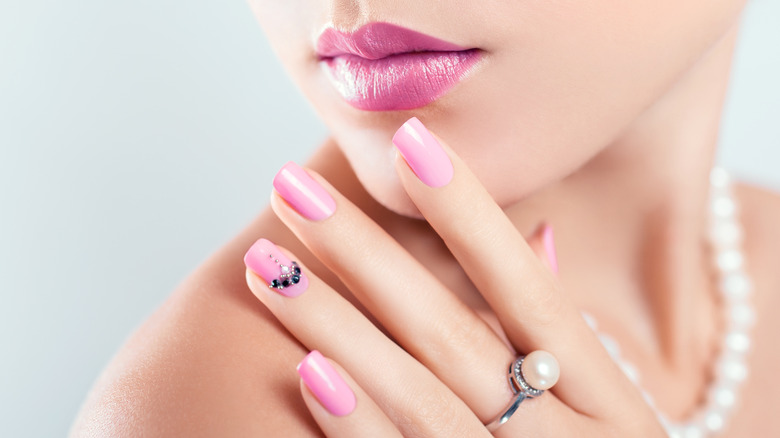 Shutterstock
Pink lipstick has come a long way from the garish neon pink of the 1980s and the frosty baby pink of the 2000s, to the sultry tones of the 2020s. But according to Erica Smith, beauty editor of Birchbox, pink is still a color that some may avoid because they don't know how to find the right shade for their skin tone. And when you do find the perfect shade of pink lipstick, it may be difficult to find the right color of eyeshadow to pair with it.
To start, L'Oreal suggests going bold on either the lips or the eyes to avoid clashing. So if you put a bold eyeshadow on, go for muted lips. If you want to go with a playful pink pout, try a sheer wash of color on the eyes. According to L'Oreal's style guide on pink lipsticks, some shades are more universal to various skin tones — and especially flattering to olive skin tones – like mauve and dusty rose. And because mauve and dusty rose are more muted shades of pink, they are also the most versatile to pair with eyeshadow colors.
A monochromatic look may be the best way to pull off pink lipstick and eye makeup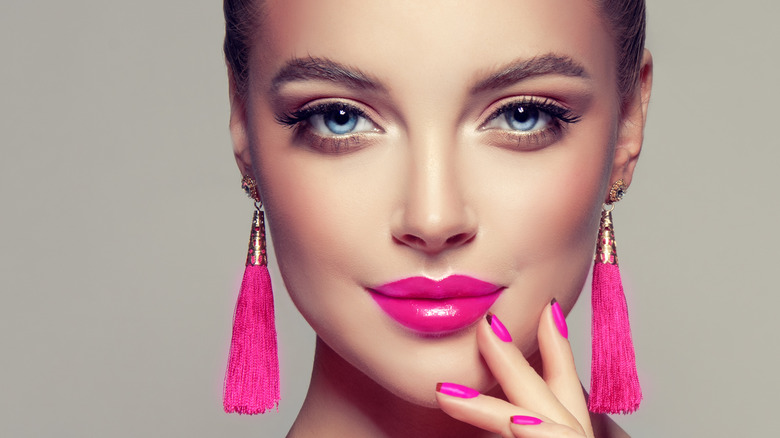 Shutterstock
Monochromatic looks are having a major moment and are a great way to pull off pink lipstick for a daytime look. According to Byrdie, celebrity and editorial makeup artist Katie Jane Hughes' go-to signature makeup style is a monochromatic rosy look that can be achieved with the Urban Decay Naked Cherry eyeshadow palette. But if you're a one-and-done person, Hughes demonstrated how to use Dehiya Beauty's Lip and Cheek Tint in Warrior as a sheer wash of color on the eyes, lips, and cheeks for a rosy, romantic look (via Instagram). 
The pastel eye look trend also goes well with pink lipstick. Maybelline recommends pairing pastel pink eyeshadow with fuchsia lipstick. If you are daring or want to amp up your look for the evening, Byrdie noted that pairing a hot pink eyeshadow with a sheer pink balm is a perfect option. And if you want your lips to do most of the talking, The Zoe Report noted that pairing a rich, magenta lipstick with a sheer wash of shimmery fuchsia eyeshadow will create a gorgeous look. 
Other on-trend pink lipstick pairings are bold and daring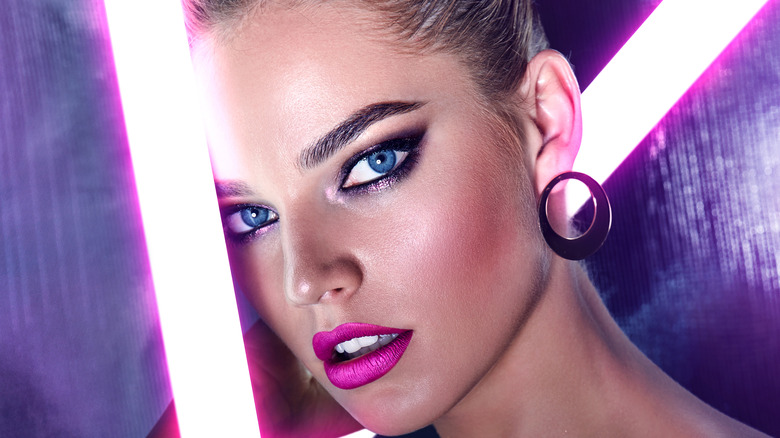 Shutterstock
If you want to be more adventurous, there are several eyeshadow options that can provide a stunning contrast to pink lipstick. Maybelline recommends pairing a metallic shade of eyeshadow with a bright pink lipstick, with the colors depending on the undertone of the pink. If you are planning to wear a cool-toned fuchsia shade, then silver is your best bet. Conversely, if you want to wear a warmer hot pink, then gold is your go-to. 
If you want to amp up the color on your eyes, Byrdie's guide on eyeshadow and lipstick combos suggests a wash of opalescent navy blue on the eyes with mauve lipstick, or a rust eyeshadow with a baby pink lipstick. If you're more comfortable with neutral eyeshadows, chocolate brown eyeshadow goes well with a pinky-nude lipstick, while taupe eyeshadow complements a dusty rose lipstick. 
There are several contrasting looks you can try with pastels as well. StyleCaster noted that trying a sky blue eyeliner with a mid-tone, matte pink lipstick can create a gorgeous look. Whatever you choose, the possibilities of pink pouts are endless.