The Nail Polish Color You Need To Try If You're Concerned About Aging Hands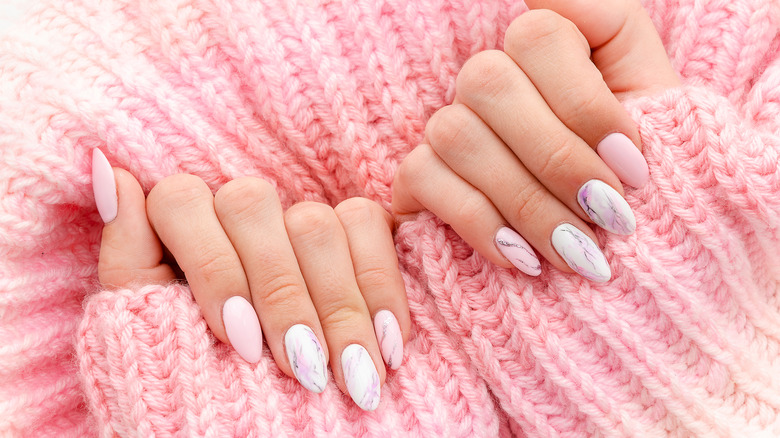 Shutterstock
Aging is inevitable. However, there are ways to slow down the process just a bit. If you're currently worried your hands are looking a little older than they used to, the Huffington Post says that there are ways to make your hands look younger. If you aren't moisturizing, now is the time. When your hands are dry, your skin can start to look thin and wrinkly. You should always lather on some lotion after washing your hands. 
If you've been hand washing more than usual with the COVID-19 pandemic, be sure to keep some lotion on hand. Good Housekeeping says Eucerin Advanced Repair Hand Cream is one of the best hand creams you can use, because it can keep your hands moisturized for hours. It also has SPF 30, and applying sunscreen every day is also a good step toward keeping your skin looking young. You could also exfoliate once a week to get rid of those dead skin cells. But if you're looking for a quick fix, you could always just paint your nails a certain color. 
The best nail polish color is a bright red-orange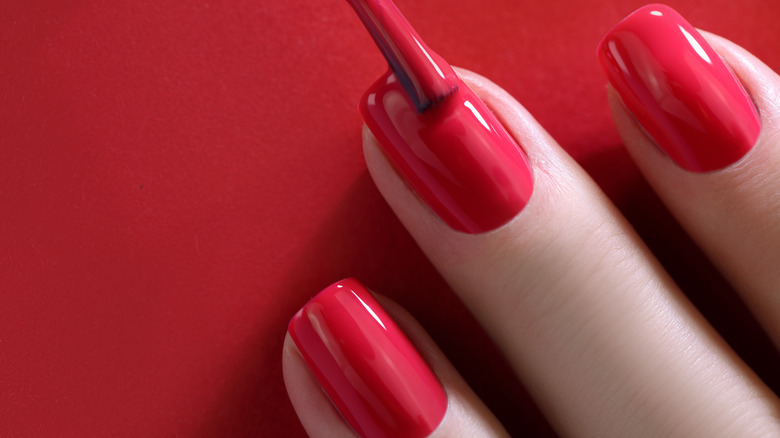 Shutterstock
According to Allure, there are nail polish colors that can significantly de-age your hands. While sheer and subtle colors are more natural looking, they "bring all the attention to your hands," according to Ji Baek of Rescue Beauty Lounge. If you want to draw the attention away from your hands and have people just look at your nails, go with a red color. 
Red is such a classic nail color that it's not even a hard switch to make. You should go for more orange-red than blue-red colors, though (via 40+ Style). The blue tone will bring out the veins in your hands, which you don't want. As a matter of fact, you should try to avoid dark colors in general. Any dark tones will emphasize dark spots on your hands from aging and sun damage. However, if you really aren't a nail color person and prefer something neutral, you can always go with white. According to Showbiz CheatSheet, even though it's not a vibrant hue, it is bright. So, it will draw the attention back to the nails and away from your hands, which is what you're really trying to go for.