Jenna Fischer And Angela Kinsey Just Revealed The Answer To A Big Mystery On The Office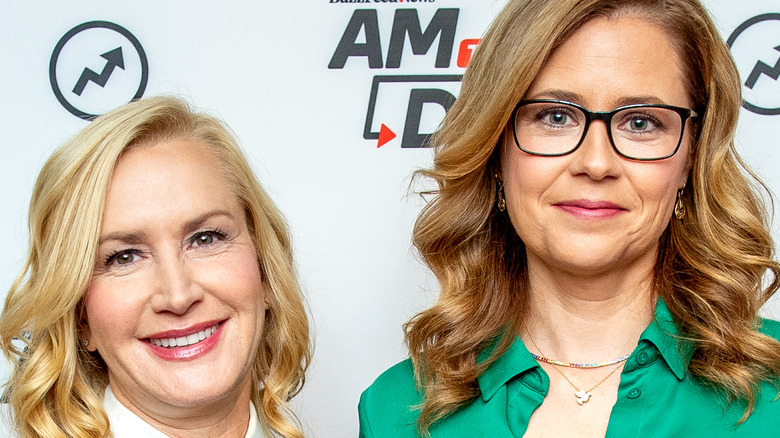 Roy Rochlin/Getty Images
Fans of "The Office" know that Michael's relationship with Jan was one of the most comical and toxic of the entire series. The two started off as co-workers, with Jan being Michael's direct boss. Their romance began after they were forced to work closely together to land a new account for their company, Dunder Mifflin (via Screen Rant). Jan, who was going through a divorce, found herself vulnerable before opting to hook up with Michael.
While Michael immediately wanted more, Jan insisted their encounter was a mistake. However, over the months that passed, she found herself having feelings for the lovable goofball, and eventually agreed to date him. The relationship slowly began to deteriorate when Jan was fired from Dunder Mifflin. She subsequently moved into Michael's house and the two were quickly at each other's throats, which was depicted in the fan favorite episode titled "Dinner Party."
Eventually, Jan and Michael called it quits. However, just when Michael had started to move on, it was revealed that Jan was pregnant. Although Jan confessed that Michael was not the father of the baby, and said that she had used a sperm donor to conceive, the father of Jan's baby was never revealed. That is, of course, until now. "The Office" stars Jenna Fischer – who's had a stunning transformation — and Angela Kinsey shared the answer to the long-running mystery on their popular podcast
A famous athlete fathered Jan's baby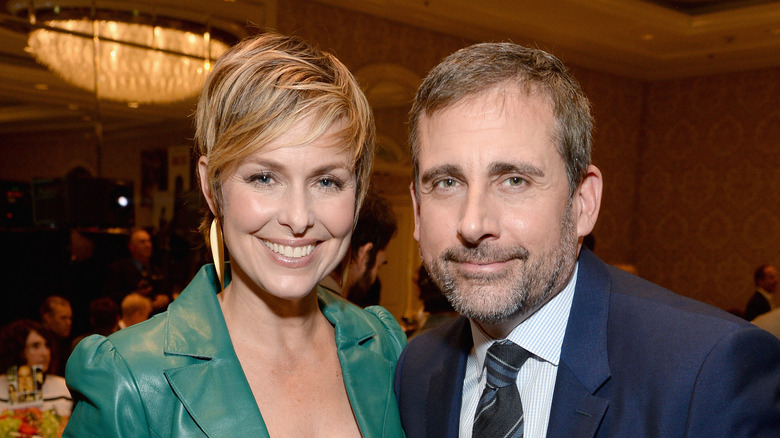 Michael Kovac/Getty Images
Former stars of "The Office" Jenna Fischer and Angela Kinsey — who both experienced pregnancies while on the show — are reliving each episode of the iconic show on their podcast, "Office Ladies." The duo break down the episodes and give some major inside information about the storylines. They also tell hilarious stories about what when down behind the scenes. During the May 6, 2021 episode, Fischer and Kinsey dished some details about the identity of Jan's baby daddy, which was originally written into the show as being tennis player Andy Roddick. However, the detail was later scrubbed from the episode, per People.
During the podcast, Kinsey revealed that there was an exchange between Jan and Michael where she boasts about her celebrity sperm donor. "Jan looks to Michael like she's expecting him to be very impressed. And Michael says, 'The tennis player?'" Kinsey explained. "And Jan says, 'Well, it's a little more than that. He's the sixth-ranked player in the world and he's won four grand slams.'"
Fischer also added another piece of information about the reveal, admitting that Roddick is a good friend of actor Rainn Wilson, who played Dwight on the series, and that the athlete would often visit the set of the show. "I have to imagine that the reason they wrote it as being Andy Roddick's sperm was a little bit of a nod to Andy, who has an amazing sense of humor. I am so sad for his sake that this did not stay in the episode," Fischer confessed.