This Rare Vaccine Symptom Is A Sign You Might've Already Had COVID-19
Shutterstock
With COVID-19 vaccines rolling out more and more frequently across the United States, it seems like everyday health officials are discovering new possible symptoms of the vaccine. According to the Centers for Disease Control and Prevention (CDC), some of the most common side effects include pain, redness, and swelling at or around the injection point, as well as tiredness, headache, muscle pain, chills, and nausea throughout the rest of the body. And if you received the Pfizer or Moderna vaccinations, they also warn that side effects after the second shot could be more intense. 
But new studies indicate that there's a new possible side effect that might reveal some pretty compelling information that went previously unknown. Per Health Matters, vaccine recipients who experience lymphadenopathy — swollen lymph nodes — might have had previous exposure to the coronavirus, and might have even had the illness, whether they were aware of it at the time or not.
This unexpected side effect is leading to an increase of mammograms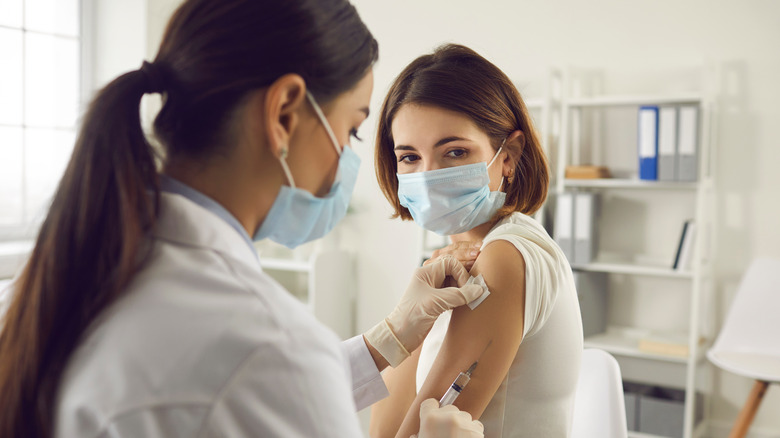 Shutterstock
According to a study that surveyed 947 healthcare workers in the United Kingdom who had received their first dose of the Pfizer vaccine, nearly 265 of those workers had been infected with the coronavirus before their vaccination. The study concluded that swollen lymph nodes were more common in those who had previously been infected with the illness, which was about 4% (via Fox News). 
Beyond this study, doctors have begun to see an increasing amount of patients complaining of swollen lymph nodes in the arm region near the injection spot, leading to a dramatic increase in mammogram appointments. But according to Dr. Laura Esserman, the director of University of California San Francisco's Breast Care Center, hundreds of thousands of women across the United States will experience the same anxieties, but most likely have nothing to worry about due to the lymphadenopathy being a simple symptom of their vaccination (via ABC7).