Royal Expert Says Prince Harry And Prince William Are Taking 'Baby Steps' In Their Relationship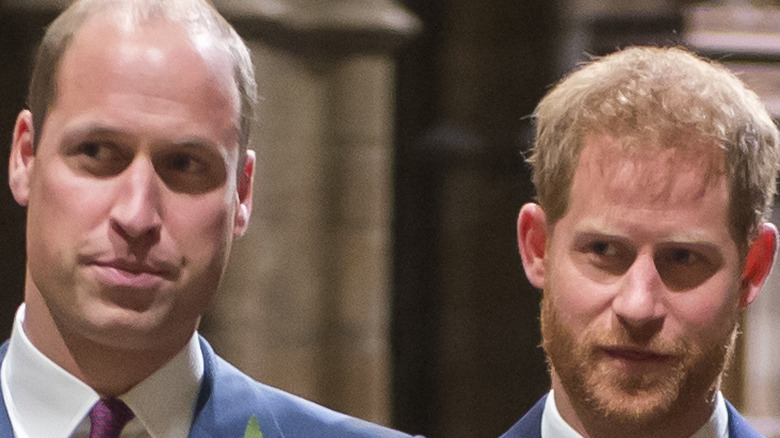 Wpa Pool/Getty Images
Prince William and Prince Harry are two of the most famous figures in the world. However, in recent years, the relationship between them has been on the rocks. According to Insider, tension between William and Harry first began to play out in the media in late 2018 when Harry and his wife Meghan Markle revealed their plans to split their household with William and his wife, Kate Middleton. "He wants to be his own person, not in William's shadow," a source told Vanity Fair of Harry's motives. Gossip circulated about the brothers again in May 2019, when Harry and Meghan welcomed their son Archie. The Duke and Duchess of Cambridge took eight hours to share their public congratulations on the birth, adding to rumors of tension between them all.  
In early 2020, Harry and Meghan announced that they planned to step away from their duties as senior members of the royal family. The couple eventually left the United Kingdom and moved to California. Things between the royal siblings seemed to be simmering a little, but it was merely the calm before the storm. In March 2021, Harry and Meghan created a media firestorm when they spoke out about living within the confines of the royal family — they also spoke about William, Kate, and Prince Charles and cast them all in rather unflattering light (via Marie Claire). Since then, Harry and William's relationship has been said to be very strained.
William and Harry are taking steps to heal their relationship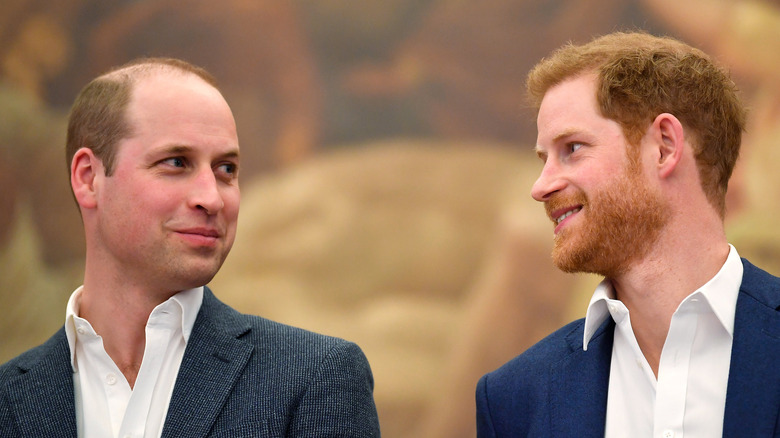 Wpa Pool/Getty Images
According to Us Weekly, Prince Harry reunited with Prince William in April of 2021 at Prince Philip's funeral — it was the first time they'd seen each other since the interview. Harry and William were said to have a conversation during his homecoming, and royal expert Robert Jobson said that their interaction was likely the first step in healing their relationship.
"I do think they did actually talk, and if there was a rebuilding of their relationship — well, it was a baby step, and that's fine," Jobson said. "Ultimately, Harry was only there to pay his last respects to his grandfather, who was a great man, and whether or not there was a rebuilding between William and Harry ... that's going to show over time." Jobson added that throughout life, royal or not, siblings and family members fall out of line with each other. Despite any tension between William and Harry, life inexplicably brought them back together. "Frankly, a funeral is a time for people to put their problems aside and commemorate the person who's died, and then move on," Jobson said. 
Harry was, at one point, expected to return to the United Kingdom in July 2021 to honor his late mother Princess Diana, per Marie Claire. He and William were set to dedicate a statue in her honor on what would've been her 60th birthday, but the second reunion has been overshadowed with some serious doubt. Time will tell if the two brothers every see eye to eye again.