Here's What Lucy Hale's Tattoos Really Mean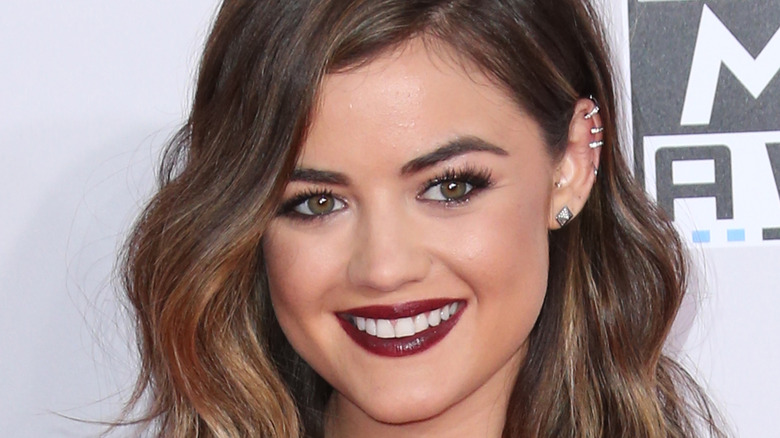 Shutterstock
It's no secret that Lucy Hale has amazing style. Whether she's caught by the cameras running errands in casual attire or dressed up for a red carpet appearance, the "Pretty Little Liars" star always manages to look picture-perfect. Unsurprisingly, Hale's various tattoos are also beautiful — and each has its own special meaning.
As of August 2020, Hale had 16 tattoos (via PopSugar). They're all above her waist and if you're surprised by the high number, it's because many are very small in size and, of course, all her ink is covered up when she's filming a TV show or movie.
Per PopSugar, Hale got her first tattoo after a breakup in 2012. It's a simple bow on the back of her neck. In 2016 she got her first — but not her last — matching tattoo, this time with her "Pretty Little Liars" co-stars in honor of the show's series finale. Each star got a tattoo of her character's first initial (in Hale's case it was "A" for Aria) on the finger they used to make the signature "shhh" gesture in the show's opening credits.
"We couldn't not get tattoos to commemorate the show! And obviously on our "shh" finger," Hale captioned an Instagram photo of the six actors' hands positioned to show off their new ink.
Many of Lucy Hale's tattoos are in honor of family members
Lucy Hale has a very simple, small sun tattoo on her lower back which can be seen in this Instagram photo. "I have a little, tiny sun that I got with my sister in honor of our grandmother," she told Refinery29 in 2017. Hale and her sister also share matching tattoos that read "I love you" in their grandmother's handwriting.
Per Refinery29, Hale also has at least three "quote" tattoos. One is a Biblical verse that reads: "Catch the foxes for us / the little foxes/ that spoil the vineyards/ for our vineyards are in blossom." She and her best friend also got matching tattoos that read: "Love her but leave her wild," which is a line from a poem by Atticus. Another one of Hale's quote tattoos — "Courage, dear heart" — comes from C.S. Lewis' "Chronicles of Narnia" series (via Just Jared Jr.).
Hale continues to add tattoos that are subtle but sweet tributes to her family members. Last June she got tattoos of the numbers 14, 16, and 20, which represent the birth years of her young nieces and nephew, as well as script of her beloved dog Elvis' name (via HelloGiggles).
Most recently, Allure reported in February that Hale had gotten a butterfly tattoo. She posted an Instagram photo of her new ink accompanied by the caption, "Rebirth."