The Truth About Queen Elizabeth's Teenage Crush On Prince Philip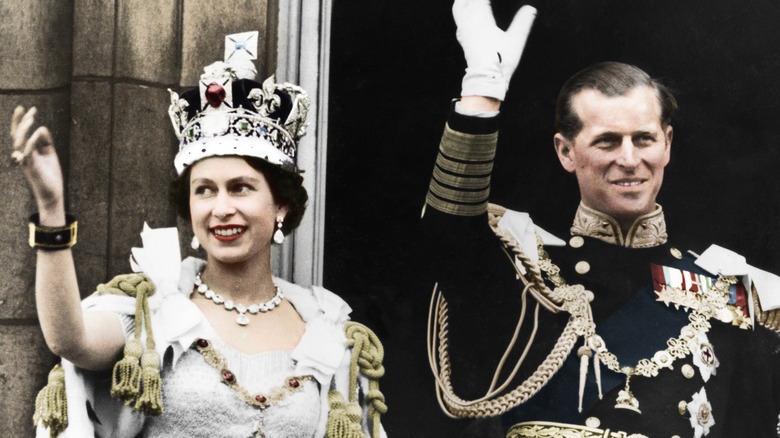 Print Collector/Getty Images
Much has been made about the fact that Queen Elizabeth and Prince Philip first met one another when she was a teenager, and the story is true. The pair met back in 1934, when they both attended the wedding of a mutual relative. The future Queen was actually only 8 years old. They met again a few years later in 1939 and hit it off as friends; then-Princess Elizabeth was visiting the Royal Naval College with her family when she was re-introduced to her distant cousin, who was 18 years old to her 13.
Prince Philip explained to biographer Basil Boothroyd, "Well, we'd met at Dartmouth, and as far as I was concerned it was a very amusing experience, going on board the yacht and meeting them, and that sort of thing, and that was that" (via O Magazine). The pair began exchanging letters, and finally ended up engaged in 1946.
A friend of Queen Elizabeth and Princess Margaret also documented much about the sisters in her own diaries. Alathea Fitzalan Howard was sent to live at Windsor Great Park at the beginning of World War II, and she spent quite some time with the young girls. As a result, Howard saw it all, including Elizabeth's budding relationship with Philip (via The New York Post).
Queen Elizabeth confided her crush in a friend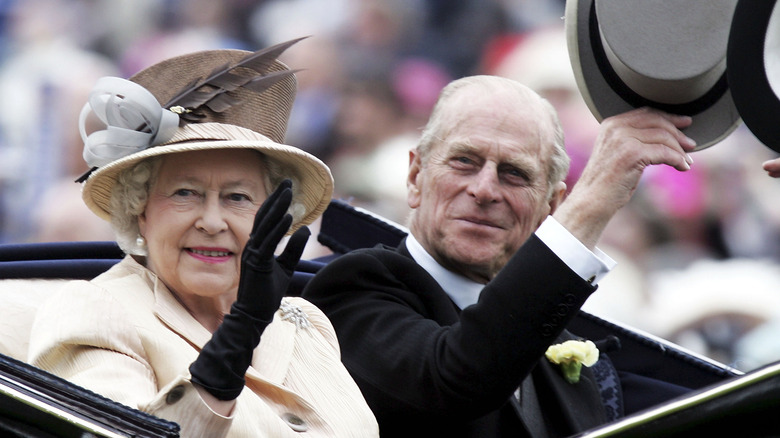 Chris Jackson/Getty Images
Thirteen-year-old Elizabeth was like most girls her age in a lot of ways. While her playmate Alathea Fitzalan Howard did note that the future Queen was "the most ungossipy person I know," Howard was also one of the few people that Elizabeth confided her feelings about Philip to (via The New York Post). Howard wrote in her own diary that Elizabeth asked her, "Can you keep a secret?" before gushing about her "boy," Philip. Howard added, "[Lilibet] says she cuts [his] photos out of the paper!"
Howard added more descriptions of the future monarch, noting that Elizabeth was "tremendously energetic at dances hardly ever sitting down at all, and this is as much due to her fear of disappointing the many young men who come up in rows to ask her" though she also mocked her friend's "puffy face" and "enormous chest."
Later in the diary, Howard also wrote that a 16-year-old Elizabeth was already concerned about marriage. "She said she wondered if she'd ever marry. And she said if she really wanted to marry someone she'd run away, but I knew she wouldn't really — her sense of duty is too strong though she's suited to a simpler life."