The Real Difference Between A Beauty Blender And A Makeup Sponge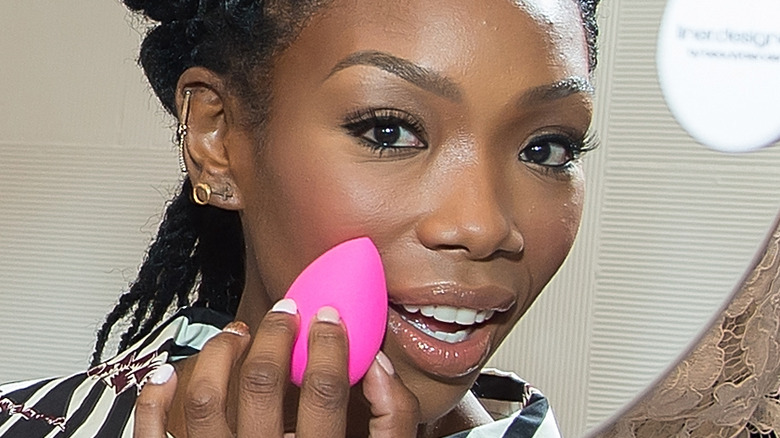 Michael Stewart/Getty Images
Makeup tools have come a long way from your mother's wedge sponge. Now everyone and their mother are using the Beautyblender after it hit the market in 2007 (via Racked). In fact, Beautyblender, which retails for $20, has won Allure's "Best of Beauty" award 12 times.
The Beautyblender site promises a "flawless blend with the award-winning, premier edgeless, reusable, high-definition cosmetic sponge applicator." Beautyblender also declares that using the sponge applicator ensures that "your favorite formula lands on your complexion, not your sponge," due to being activated with water.
Still, people were skeptical at first. Even Beautyblender president Catherine Bailey told PBS39, "When we said this is a 'keep' sponge, re-use it, wash it, we're charging $20 for it, people were like, 'Why would we want to do that when we can get a bag of wedges?'"
Find out what the differences between the Beautyblender and traditional sponges are below.
There are multiple differences between the Beautyblender and a latex sponge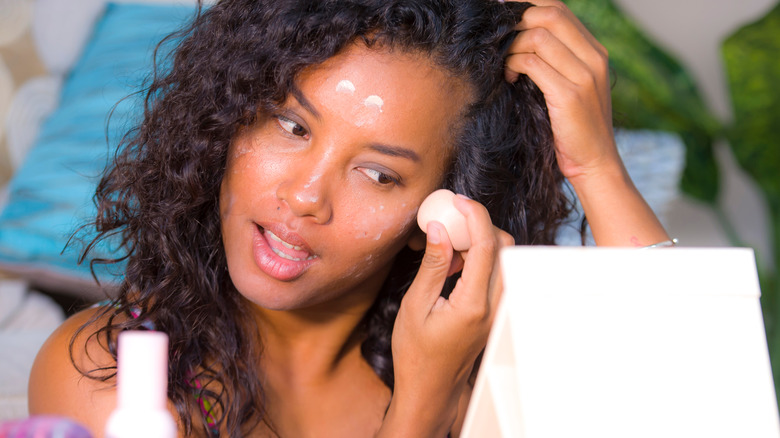 Shutterstock
What sets the Beautyblender apart from a latex sponge? There are some key differences.
Per Allure, the hydrophilic material used for the Beautyblender absorbs water. Beautyblenders are designed to be soaked in water first before usage. This helps the sponge absorb less foundation, giving an airbrushed, poreless look. Another difference is you have to throw away latex sponges after using them, but Beautyblenders are reusable and can be used for three months before being disposed. They can be washed with liquid cleansers or soap bars (via Cosmopolitan).
As Beautyblender president Catherine Bailey told PBS39, "The tool itself actually created a category in the beauty industry. There was nothing ever like it out there."
Still, if you want beauty on a budget, there are alternatives to the original Beautyblender. Celebrity makeup artist Shawnelle Prestidge told Huffington Post that she thinks e.l.f Cosmetics has reliable, budget-friendly options. Leslie-Ann Thomson, a professional makeup artist, suggested the Real Techniques Miracle Complexion sponge, which is $6. Nico Reyes, an associate video producer at Insider, likes Miss A Paw Paw: Super Soft Wonder Blender, which sells for $1.55 individually or as a six-pack for $8.85.
Still, professional makeup artist Ashley Readings prefers the brand-name Beautyblender. She noted that she feels "lost without them." In Readings' experience, Beautyblenders help to create a "poreless finish" on the skin. The off-brand versions, she said, "don't hold water the same way and can leave makeup with a spongey texture."