The Truth About Prince Charles And Princess Diana's Honeymoon
David Levenson/Getty Images
If you know how the story of Prince Charles' marriage to Princess Diana started, you likely didn't have high hopes of a storybook honeymoon. Plus, those of us who've watched The Crown know exactly what the Princess found during their cruise on the royal yacht.
According to The Express, royal tradition often had members of the royal family taking their honeymoon aboard the ship, enjoying the open sea. Princess Margaret and Princess Anne both took their vacations on the Britannia as well. Unfortunately, this particular excursion was less than romanic for the newly-wedded couple, who were 33 and 19. After saying "I do", the royal yacht set sail around the Greek Islands, the outlet reports.
It was during this cruise that the couple discovered the ocean of differences between the two of them. "We discovered that Diana found being cooped up on the royal yacht rather frustrating especially because Prince Charles wanted to spend his day reading books about philosophy and she wants to have a bit more fun," said Richard Kay, the editor-at-large of The Daily Mail.
But, beyond just the differences in their personalities, Princess Diana discovered an unwelcome gift her husband had received.
Princess Diana found a gift given to Prince Charles by Camilla Parker-Bowles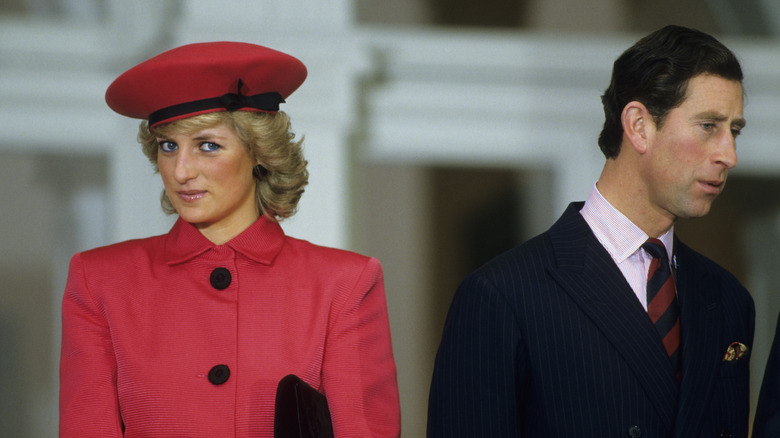 Georges De Keerle/Getty Images
After a few days of relative awkwardness and discomfort, things took a turn after Princess Diana found a pair of cufflinks with two interlocking C's, The Express reports. Indeed, a former aid of the princess confirmed the experience. "She thought they were Chanel in her naive way and then suddenly realised the c's were Charles and Camilla," he said. "I think finding a pair of cufflinks from Prince Charles' former lover on your honeymoon must have been quite a blow for the princess."
Furthermore, Reader's Digest reports that the Prince had daily phone calls with his mistress throughout the entire trip. His valet later revealed, "The Prince simply had to be in constant contact with Camilla or he couldn't function properly. If he went without his daily phone call, he would become tetchy and ill-tempered."
Making matters worse, the outlet notes that Diana was still recovering from the public humiliation dealt during their engagement announcement. She later relived the moment used for her Channel 4 special, Diana: In Her Own Words, "And this ridiculous [news] man said, 'Are you in love?' I thought, what a thick question. So I said, 'Yes, of course, we are,' and Charles turned round and said, 'Whatever love means.' And that threw me completely. I thought, what a strange answer. It traumatized me."
By day two of their honeymoon, Princess Diana said she had lost hope in their union. A sad start to a heart-rending story, the pair's honeymoon proved anything but romantic.