How Brow Lifts Have Completely Changed These Celebrities Faces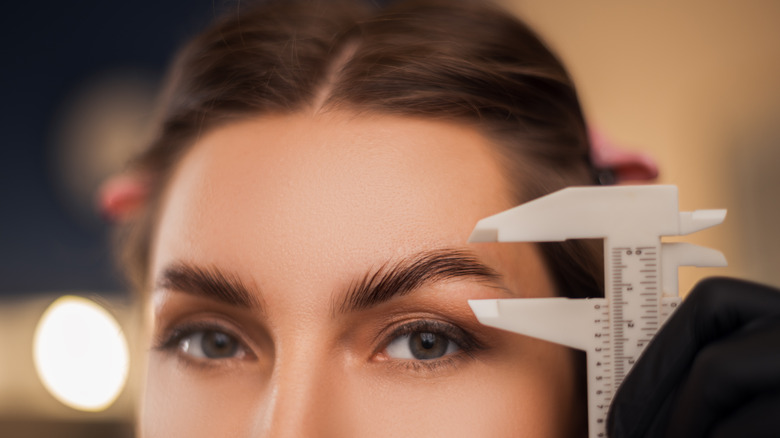 Shutterstock
Raise your hand if you've ever been personally victimized by Bella Hadid's perfect eyebrows. The model is just one of many celebrities who are rumored to have splurged on a brow lift (or two). As Dr. Jon E. Mendelsohn, a double board-certified plastic surgeon, told Byrdie, brow lifts were originally intended to restore a drooping eyebrow that occurred as a result of old age. However, more than ever, younger people are getting brow lifts simply for aesthetic reasons.
"A brow lift is a surgical procedure where the goal is to elevate drooping eyebrows to help rejuvenate the entire eye area," Mendelsohn told Byrdie. "Nowadays, brow lifts are being performed on younger patients simply to accentuate the eye area," plastic surgeon Dr. Catherine S. Chang told Byrdie.
Having trouble deciphering which celebrities have gotten eyebrow lifts? As Vox explained, look for those who have "Disney princess eyes" or "eyelids [that] extend far beyond the normal human ability to appear surprised." The perfect example of this fairytale transformation is "positions" singer Ariana Grande. The singer now seems to possess an almost "come hither" look that she did not possess at the beginning of her career. While Grande has never publicly admitted to getting any plastic surgery, the Instagram account @exposingcelebsurgery alleged that Grande had gotten "lip fillers, a nose job, an eyebrow lift, and a temple lift."
Similar to Grande, many other celebrities have gotten a brow lift that nearly changed their entire face.
More celebrities have gotten eyebrow lifts than you might realize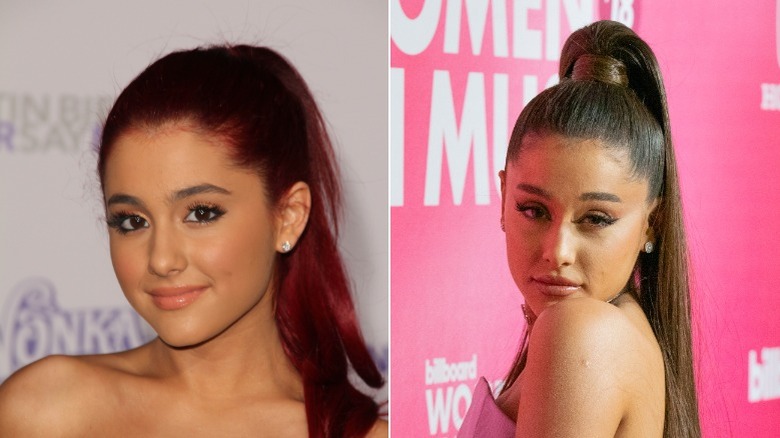 Shutterstock, Shutterstock
The eyebrow lift is just one of many operations that are involved in creating the "Instagram face," or the perfect assortment of big eyes, plump lips, a thin nose, and a pointy chin, according to Cosmopolitan. The term "Instagram face" might evoke images of the Kardashian and Jenner clan with their perfect, angular features and plump lips. Most members of the Kardashian family are thought to have undergone a number of procedures to achieve that perfect lifted eyebrow.
Other celebrities like Taylor Swift, Renee Zellweger, Paris Hilton, Portia de Rossi, Lily Aldridge, and Camila Cabello are believed to have gotten eyebrow lifts, according to Instagram account @exposingcelebsurgery and Slice. Though celebrities are fairly silent regarding plastic surgery, there are a few exceptions to this rule, like Jane Fonda, who, along with an eyebrow lift, has gone under the knife to get "a face and neck lift as well as some fat-reduction procedures," according to Slice. Along with Fonda, "Big Brother" host Julie Chen, Betty White, and Dolly Parton have admitted to getting eyebrow lifts.
Those curious to see more examples of celebrities with less-than-natural features can browse through Instagram accounts like @exposingcelebsurgery, @celebface, @fixedyourface, and @celebbeforeafter that are dedicated to analyzing the plastic surgery projects of the rich and famous.