Why The Duggar Women's Hair Has Left Fans Scratching Their Heads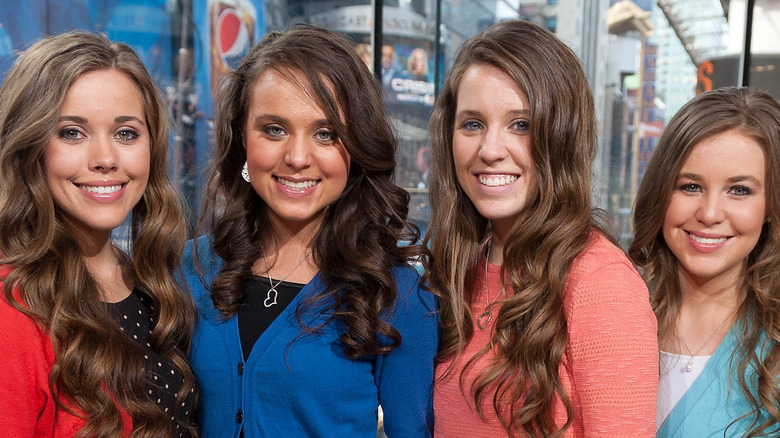 D Dipasupil/Getty Images
There's no questioning that the Duggar family has a way of drawing attention to themselves wherever they've gone throughout the years. Of course, it's not every day that people see a family so big out and about together. One of the things that draws attention to the Duggars, particularly the ladies in the family, is their long, flowing locks. It's more than just good genetics, however. There's a faith-based reason why these ladies all have long hair.
"Our hairstyle is our choice and we choose longer hair based on our understanding of 1 Corinthians 11:14-15," Jana, Jill, Jessa, and Jinger Duggar wrote in their book, "Growing Up Duggar" (per E! News). "While it is a shame for a man to have long hair, a woman's hair is her glory."
The Duggar women may be wearing more modern and simple hairstyles these days, but at one time in their lives, the girls were regularly perming their hair, taking their cues from mom Michelle. It turns out Michelle may have been learning those cues from even higher up. Bill Gothard, the minister who founded the Advanced Training Institute Christian homeschool program the Duggars follow, supports women having curls. "Have you ever wondered why every Duggar woman perms her hair? It's because Gothard taught us that curly hair brings out a woman's natural beauty," a woman who left ATI wrote in an op-ed for Salon.
Haircare product for a household of 10 girls can't be cheap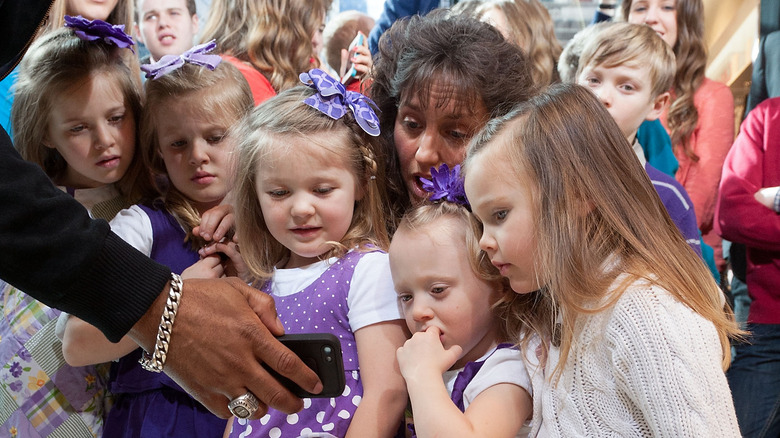 D Dipasupil/Getty Images
The younger Duggar girls may not have to experience the perm life these days, but the older ones certainly did. "We would get perms, and we would perm each other's hair," Jinger Vuolo once recalled on "Counting On." "Yes I had a perm. No I did not need it because I had naturally curly hair. Why I did it, I don't know. I think it was kind of the fad. So everyone was getting a perm, so I got a perm."
Hair aside, the Duggars are known for trying to save money while caring for their massive family. So of course, fans had some questions about how hair care worked. "How do the Duggars get such nice hair using Walmart products?" one Reddit user asked. "Maybe I'm just jealous because my hair can't hold a curl. But seriously how do they get their hair to look so good? Well the girls at least."
As one fan pointed out, having each other to help had to make a difference. "For the Duggars, they have tons of sisters and probably spent a good bit of time doing each others' hair," they replied. "Yeah, it's pretty easy to be able to spend a lot of time perfecting and fixing your hair in the morning when you can take your sweet time getting ready for the day because you don't have hurry to school/work like most other people in that 15-30 age bracket do."