Porsha Williams' Recent Instagram Photo Is Turning RHOA Fans' Heads. Here's Why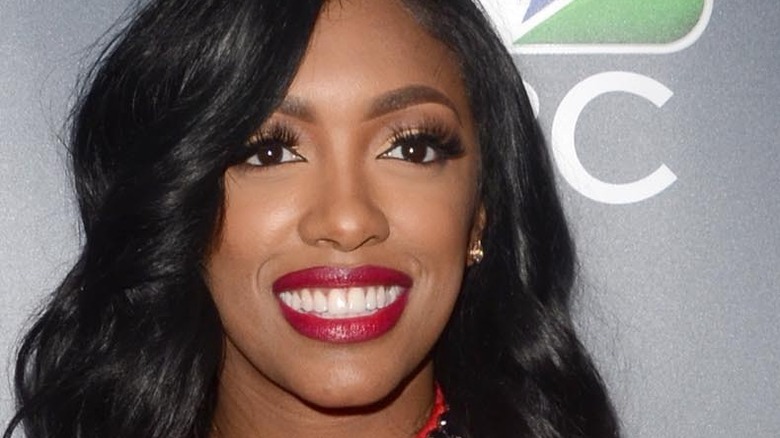 Shutterstock
"Real Housewives of Atlanta" star Porsha Williams has endured a rocky road to romance, particularly with former fiancé Dennis McKinley, with whom the reality star shares one child. As People reported in March, on the most recent season of the hit show the couple was having trouble navigating their relationship in the wake of their messy split. McKinley was accused of cheating on Williams and the two called off their engagement just a couple months after she found out about the pregnancy. McKinley later admitted to being unfaithful.
During a recent episode of "RHOA," Williams argued the two wouldn't even still be on speaking terms if it wasn't for their daughter. She admitted to being incredibly "tired" over everything that had happened between them, noting in a confessional, "My hope moving forward with Dennis and I is that we will have better communication and that we will heal from the romantic side of our relationship." Judging by her latest Instagram posts, it seems Williams has done exactly that and her new man may even be familiar to Bravo fans.
Is Porsha Williams hooking up with her friend's ex?
Porsha Williams first caught fans' attention with an Instagram post marking Mother's Day. The "RHOA" star shared a series of photos in celebration of herself "and all the other mothers out there." In one, Williams stands with her left hand placed prominently on the chest of Simon Guobadia, estranged husband of her friend and co-star Falynn Guobadia, with a blindingly massive diamond ring clearly in view. Weirdly, ex-fiancé Dennis McKinley also appears alongside the two, smiling happily. Fans immediately began questioning what the situation was, with one writing, "Between the ring, Simon... story line for next season??" Williams and Falynn seem close on "RHOA" so this may cause issues down the line.
Williams confirmed the relationship in a follow-up post, revealing it's just a month old but regardless "we are crazy in love." According to the reality star, Simon makes her very happy and he's split from Falynn so there's no problem there. Williams advised, "Falynn and I are not friends, and Simon's divorce has been settled. Our relationship is a positive, loving step forward in everybody's lives." The entrepreneur also confirmed their engagement in his own post. People advised the Guobadias were getting divorced in April, with the couple confirming, "this mutual decision was not made lightly." It remains to be seen whether this will fuel a storyline in an upcoming season of "RHOA," but we can only hope.