Do Prince William And Prince Harry Talk Now?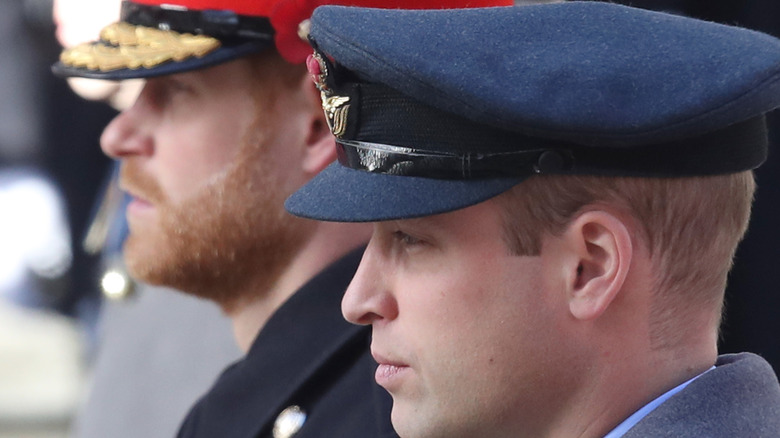 Chris Jackson/Getty Images
Prince William and his younger brother Prince Harry are on shaky ground when it comes to their relationship. The siblings, who once proudly stood side-by-side at royal events, are said to have a huge divide between them that started when Harry and his wife, Meghan Markle, announced their departure as senior members of the royal family (via Insider). The rift was said to grow larger after Harry and Meghan sat down for a shocking tell-all interview with Oprah Winfrey, where they spoke out about living within the confines of the famous family, and called out some royals for less than appropriate behavior (via USA Today). 
However, when Harry returned to the United Kingdom in April of 2021 for the funeral of his grandfather Prince Philip, the brothers reunited. Us Weekly reported that the duo did talk, and one royal expert claimed it was a small step in gaining each other's trust again. "I do think they did actually talk, and if there was a rebuilding of their relationship — well, it was a baby step, and that's fine," royal expert Robert Jobson told the outlet. Jobson expressed that the circumstances — as Harry's visit was primarily for Philip's funeral — weren't exactly the best setting to discuss the turmoil between the brothers, but it could've been a step in the right direction. However, it seems that those talks may have stalled following Harry's arrival back in the United States.
William and Harry aren't on speaking terms at the moment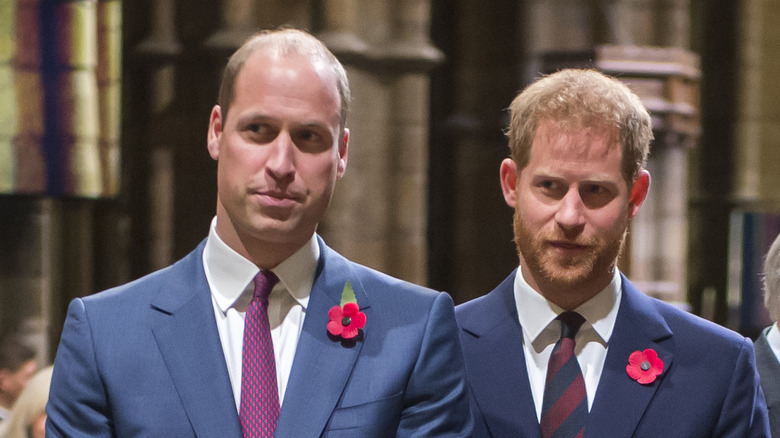 Wpa Pool/Getty Images
Although Prince William and Prince Harry appeared to be cordial to one another during Prince Philip's funeral, the ice cold dynamic between them has not thawed, per Us Weekly. Royal expert Nick Bullen said that the relationship between the two princes has gotten so bad that they're not on speaking. "All of my sources tell me that they are not talking at the moment," Bullen stated, adding that William's wife Kate Middleton – who had a strong bond with Harry at one point – tried to get the brothers back together following Philip's funeral. "It's pretty clear that the Duchess of Cambridge was doing her best to build the bridges. Softly, softly seems to be the order of the day," he said.
William and Harry's mutual friend, journalist Tom Bradby, sadly revealed that the brothers' relationship has been slowly deteriorating over the past 18 months. "It used to be quite a straightforward thing, right, because they weren't arguing and life was simple, and then it just slowly descended into something that was difficult — personally and publicly — really over the past year and a half," he admitted (via The Sun). 
Harry previously spoke out about his relationship with his big brother, revealing that the duo simply needed some space from one another. "The relationship is [undergoing] space at the moment," Harry said, per Harper's Bazaar. "I love William to bits. We've been through hell together and we have a shared experience, but we are on different paths."