The Real Reason It Took Billie Eilish Six Hours To Watch Her Documentary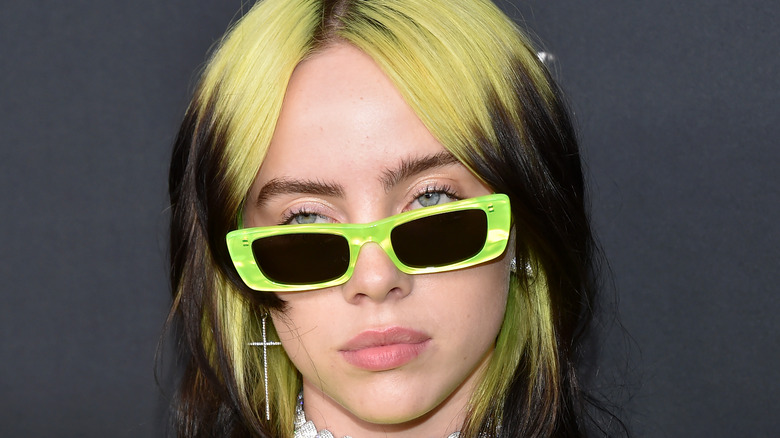 Shutterstock
Billie Eilish is one of the most-talked about celebrities right now, with her recent appearance on the cover of Vogue, announcing her sophomore album "Happier Than Ever" – set for release at the end of July 2021, – and dropping her latest single, "Your Power," in April.
Not only that, but she released her own documentary on AppleTV+ too. "Billie Eilish: The World's a Little Blurry" was released back in February. The movie shows the creation of the teen's debut album "When We All Fall Asleep, Where Do We Go?" and her rapid rise to stardom, while giving us an inside look at her life too. It's been received positively by critics, (via Metacritic), but Eilish revealed to Ellen DeGeneres that it took her six hours to watch the documentary, which has a runtime of around 140 minutes.
So, why did it take the star six hours to watch the movie – what was she doing in that time? And what did she make of the documentary after watching it back?
Billie kept pausing the movie "over and over"
During an episode of The Ellen DeGeneres Show, Billie Eilish admitted that it took her "like, six hours to get through it because we kept pausing it over and over and just screaming and running around," (via People).
She described watching herself on film as "surreal" as "they were filming me for, like, three years, and I had no idea what they got on camera and what they didn't."
Per People, she previously described the process of filming the documentary as both invasive and fun to late night host Stephen Colbert. She even revealed that as her stardom continues to rise, it's difficult to keep being accessible to her fans.
"It's not easy to be accessible to everyone, especially because there are some creeps out there so you want to be accessible to the good ones, but how are you going to be accessible if you're not accessible to the bad ones?" she explained to the "The Late Show" host. "You can't have a bad moment. Doesn't matter what you're feeling because it's their best moment."