Here's What Scarlett Johansson's Tattoos Really Mean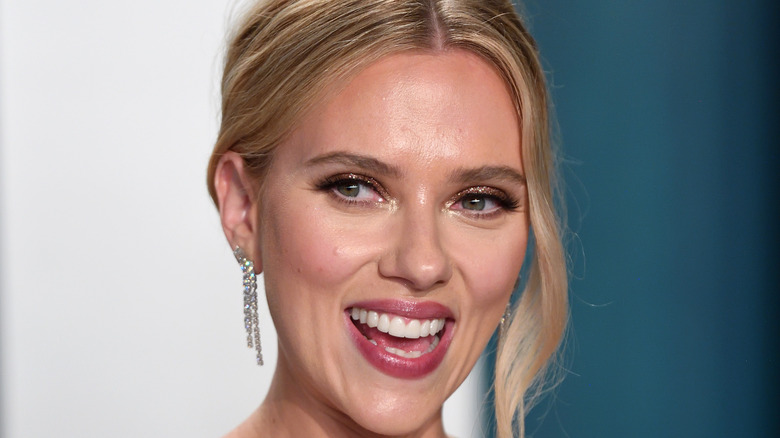 Karwai Tang/Getty Images
Ever since the early 1990s, people have been in love with Scarlett Johansson. Born November 22, 1984, Johansson – who's had a stunning transformation – rose to popularity for her role in the 2003 cult classic "Lost in Translation." After that, she starred in films such as "Girl with a Pearl Earring," "Match Point,"and "Vicky Cristina Barcelona." Her second wave of fame came after she premiered her role of Natasha Romanoff, also known as Black Widow, in "Iron Man 2" in 2010. For over a decade, Johansson reprised her Black Widow role in a number of Marvel films. Her latest reprisal, as of publication, is in her own film "Black Widow," which is set to come out on July 9, 2021. Along with her work in the Marvel universe, Johansson gained two Oscar nominations in 2020 for her roles in "Marriage Story" and "Jojo Rabbit" (via IMDb).
Along with being a brilliant actress, the New York native got married to "Saturday Night Live" actor Colin Jost in 2020 (via Independent). She also has a beautiful daughter from a previous marriage (via E!). Along with her film work and her great personal life, Johansson also has a string of beautiful tattoos, which she has shown off on the red carpet on a number of occasions. 
Scarlett Johansson hasn't revealed the meaning of most of her tattoos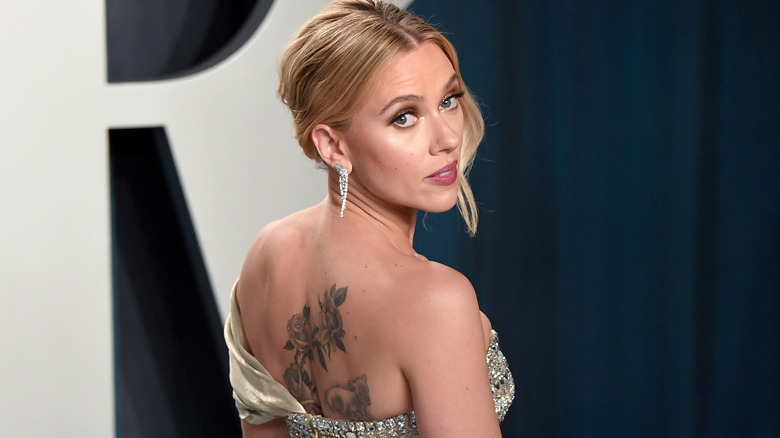 Karwai Tang/Getty Images
Scarlett Johansson — who has never shied away from sharing her thoughts – is quite private when it comes to her tattoo collection, as she rarely discusses the meaning behind them. However, people marvel at how beautiful all of them are. One of Johansson's most popular tattoos is a symbol on her ankle of two interlocked circles, but what makes it so popular is the mystery surrounding the letter A in it. Who's A? We may never know. Now like Angelina Jolie, Johansson's back is nearly covered in tattoos with a beautiful rose design, dedicated to her daughter Rose, and a small lamb in between the floral design. She has another rose tattoo on her ribs and an owl, which people believe is to honor her Jewish roots (via TattoosBoyGirl).
Johansson has a bracelet tattoo on her right hand that's composed of Thor's hammer and the words, "I Love NY," which was first seen at "The Avengers" premiere in 2012 (via BodyArtGuru). Her second "Avengers" themed tattoo is a matching tattoo, and the design was actually her idea. The tattoo, which is on her right bicep, is a combination of the original six cast members' character logos. Five of the members, and their tattoo artist, all got it together to commemorate their time together (via Entertainment Weekly).
While she has a few "Avenger" themed tattoos, Johansson also has a few designs that symbolize luck, such as a horseshoe with the inscription "Lucky You" on her ribs and a colorful sunrise tattoo on her left arm (via BodyArtGuru).