Inside Kirsten Dunst's Relationship With Jake Gyllenhaal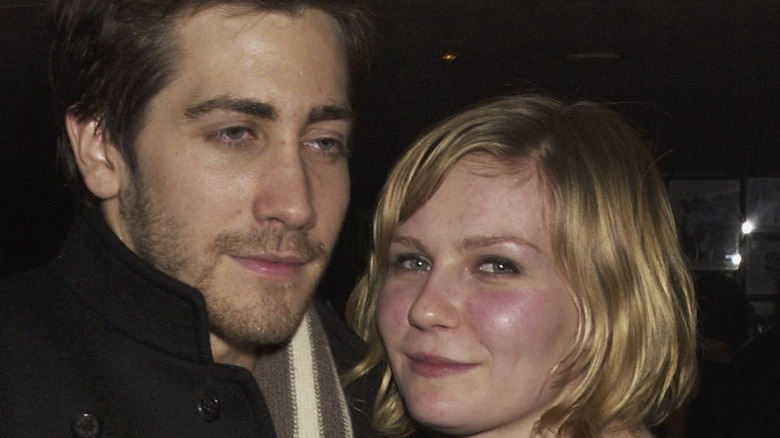 Dave Benett/Getty Images
Brad and Angelina. Ben and JLo. Kirsten and Jake. These are just three of the biggest couples of the early aughts. And while Kirsten Dunst and Jake Gyllenhaal's relationship might not have as big of a place in pop culture history as Brangelina or Bennifer, the pair did, for a time, dominate tabloid headlines. Although each of them has clearly moved on in the 17 years since their breakup (Dunst is now married to actor Jesse Plemons, and Gyllenhaal has dated a string of A-list actresses), their relationship continues to have a special meaning for many millennials (via ScreenRant).
Back in 2002, when the pair first started dating, Dunst was coming off the hit films "Bring It On" (2000) and "Spider-Man" (2002), while Gyllenhaal was just starting to make waves in Hollywood, with memorable appearances in "Donnie Darko" (2001), "The Good Girl" (2002), and "October Sky" (1999). The pair first met following Dunst's appearance in the film "Mona Lisa Smile" alongside the other Gyllenhaal — Jake's sister, Maggie. Maggie introduced the two, and the Gyllenhaal-Dunst romance was born.
Jake and Kirsten's good times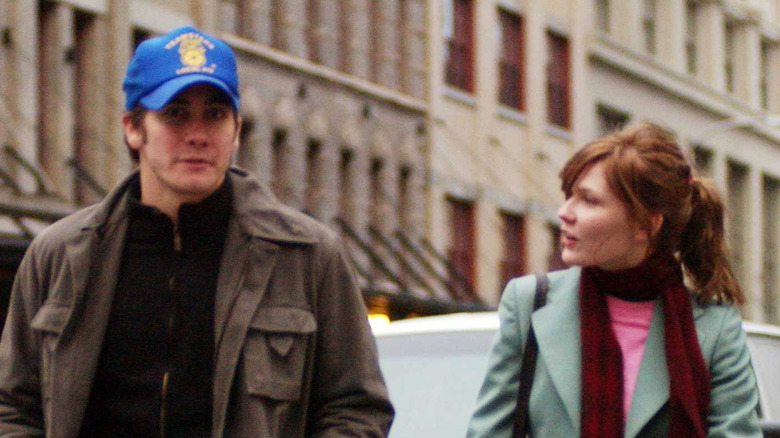 Mario Magnani/Getty Images
Perhaps no image is more evocative of Dunst and Gyllenhaal's relationship than that famed picture of them in 2003. The pair sat outside in Notting Hill, England, enjoying a casual lunch — which, in this instance, involved Dunst eating a salad with her fingers (via E! Online). Meanwhile, Gyllenhaal looks on, disturbed and confused. There's also an accompanying picture of Gyllenhaal, for some reason spooning soup into Dunst's mouth.
Despite the appearance of these pictures, Gyllenhaal and Dunst reportedly had a happy relationship for the time that the two were together. They even shared a $1.7 million home in Los Angeles — but were not afraid to take their proclivities outside the home (via InStyle).
"We had sex in cars, in the bathroom, and even by the sea," Dunst once admitted. Notably missing from her list is "London boutiques," as in May 2004, Dunst and Gyllenhaal were reportedly overheard partaking in sexual activity in a trendy Kensington shop (via SFGate). "They're obviously so desperately in love that they couldn't wait to get back to their hotel first. Everyone in the shop was smiling at the sounds. They emerged looking ruffled but happy. It was clear what they'd been up to," a fellow shopper said at the time.
Going their separate ways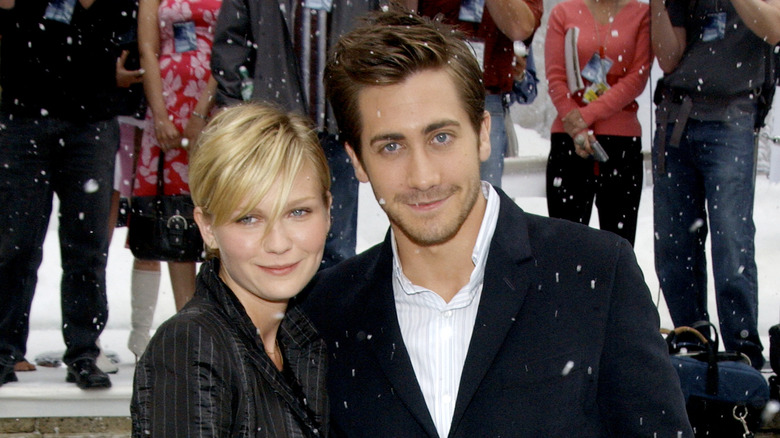 Shutterstock
Ultimately the Gyllenhaal-Dunst tryst was not long for this world. The news broke in July 2004 that the pair had split "some time ago" (via People).
Even though it seemed serious between Gyllenhaal and Dunst, the two were still very young when they dated. In fact, Dunst openly bristled at questions that they might get married. "Oh, I'm too young to get married," Dunst told People while the pair were dating. "Seriously, I'm 22 years old. It's so annoying that they put pressure on you."
It appears that the two haven't kept a close friendship in the years since their split — as most couples don't. "It'd be nice to see him, but we're not good friends," Dunst told Allure in 2009 (via Us Weekly).
Moving on seems to have worked out for each of them — and they'll always have their memories. And, thanks to them, some customers who happened to be at a particular boutique in Kensington in 2004 will always have the memory of shopping while Hollywood's then "it couple" (very likely) had sex in public.