Everything We Know About Bravo's Summer House Spin-Off Winter House
If you haven't watched the Bravo hit-series "Summer House" ... where have you been the past four years? The reality show originally premiered in 2017 (via IMDb) as a backdoor pilot to its sister series "Vanderpump Rules" (via Observer). The show centers on a group of friends that work hard in New York City during the week and play just as hard on the weekend in their Hamptons' house share. Over five seasons, "Summer House" has continued to have crossover episodes, with cast members from "Southern Charm" and "Vanderpump Rules" guest starring, thus expanding the Bravo universe. These fourth-wall shattering episodes have even sparked friendships off-camera (via Cheat Sheet).
After the show's fifth season, filmed completely in quarantine (via The Daily Dish), Bravo announced that "Summer House" will be getting its own spin-off series titled "Winter House" (via Bustle.) The series' details has been kept pretty hush-hush, but Bravo has finally shared a first official look and we're ready to spill all the new tea.
Winter House is filming in Vermont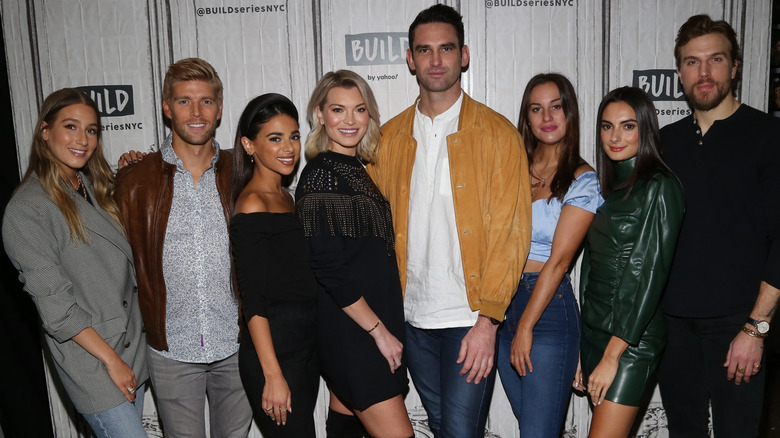 Manny Carabel/Getty Images
The spin-off is taking a break from the Hamptons beaches and opting for an icier setting to go along with its title. In a video shared on the BravoTV Instagram, we see multiple Bravo-lebrities dressed in viking attire, battling the snowy elements along with a caption that reads, "Winter is Coming." This teaser confirms previous People Magazine reports that the series is being filmed in Stowe, Vermont. According to the news outlet, the cast of the show has been forced to quarantine together once again during production, this time in a Vermont winter lodge.
"Summer House" star Kyle Cooke shared a selfie on his Instagram story after Bravo's "Winter House" announcement. The photo featured Kyle along with other Bravo cast members, bundled up in snow gear, ready to brave the elements. Fellow "Summer House" star Paige DeSorbo also took to social media to confirm our suspicions. DeSorbo posted a selfie to her Instagram story, clad in a cheetah-print coat amidst a snowy backdrop (via People.) The two are definitely working overtime to promote the new series.
Winter House includes cast members from Southern Charm and Summer House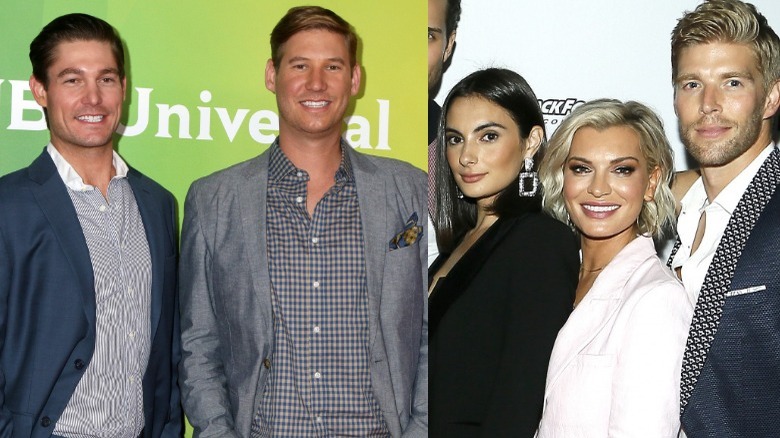 Paul Morigi & Shutterstock & Manny Carabel/Getty
The reality show is returning to its roots with a crossover, featuring cast members from Bravo's "Summer House" and "Southern Charm." So far, it's been confirmed that returning "Summer House" cast members include Kyle Cooke and fiancée Amanda Batula, Paige DeSorbo, Luke Gulbranson, Ciara Miller (who made her Bravo debut on "Summer House" Season 5) and Lindsay Hubbard (via The Dipp.) Cast member Hannah Berner will not be returning for the spin-off, likely due to her ongoing feud with Cooke and Batula (via People). 
In addition to the "Summer House" cast, Austen Kroll and Craig Conover from Bravo's "Southern Charm" have also been confirmed. According to Us Weekly, Kroll and Conover hinted at their involvement with the series through social media. In an Instagram story posted by Conover, he joked to Kroll about his winter footwear, or lack there of, stating, "How are your boots, Austen? There's snow everywhere." There are already rumors of the two "Southern Charm" stars having romantic escapades with their housemates, and it's not the first time they've fraternized with the "Summer House" cast (via US Magazine).
With only eight cast members confirmed, there are sure to be newcomers revealed before the show's premiere, which has yet to be announced (via Decider) .