The Heartbreaking Death Of Norman Lloyd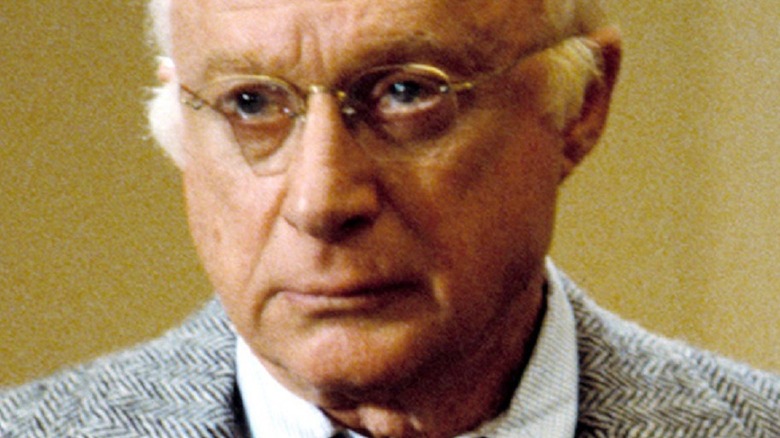 NBC
Veteran actor, director, and producer Norman Lloyd has died at age 106. A family friend confirmed to Deadline that the Hollywood legend passed away peacefully in his sleep at his Los Angeles home. He is survived by one child; his wife of 75 years died in 2011, and his daughter Josie passed away last year.
Lloyd's name may not be immediately familiar to young movie and TV fans, but he influenced the media throughout his eight-decade-plus career. Perhaps best known as Dr. Daniel Auschlander in the '80s series "St. Elsewhere," Lloyd also appeared in the Robin Williams drama "Dead Poets Society" as Mr. Nolan, the by-the-book headmaster who disapproves of the unorthodox teachings of Williams' character. He also worked with some of film's greatest legends, including Charlie Chaplin, Buster Keaton, Orson Welles, and Alfred Hitchcock.
Lloyd's final acting role was in the Judd Apatow film "Trainwreck," starring Amy Schumer (via IMDb). He was a mere kid of 100 at the time, but he happily took on the part of a lecherous resident of an assisted-living home. In an interview with The Guardian, he recalled with amusement that his 76-year-old daughter was so shocked at seeing her dad playing a dirty old man that she walked out of the theater and wrote him a disapproving note afterward. He also regretted that Apatow didn't use him in any of the "hot scenes."
Norman Lloyd's career spanned eight decades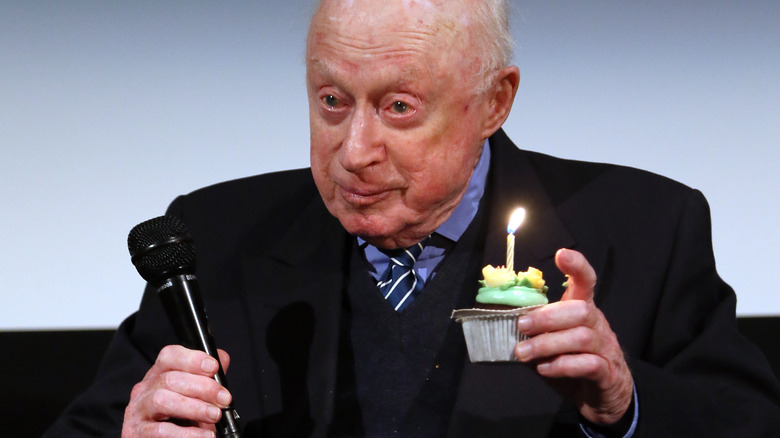 David Livingston/Getty Images
Born Norman Perlmutter in New Jersey in November 1914, Norman Lloyd began his career on the stage during the Depression with Orson Welles' Mercury Theater, making all of $27.37 a week ("You could function" on that salary back then, he told The Telegraph). He briefly moved to LA with Welles to work on a movie project, but when that fizzled, Lloyd returned to New York — missing out on Welles' next endeavor, the masterpiece "Citizen Kane."
Still, Lloyd went on to build a solid career, thanks to his work with Alfred Hitchcock. He appeared in "Saboteur" and "Spellbound," and went on to direct and produce most of the episodes of the 1950s TV series "Alfred Hitchcock Presents." His credits also included appearances in "Murder, She Wrote," "Star Trek: The Next Generation," "Modern Family," and many others.
At 67, Lloyd met Bruce Paltrow, the husband of his dear friend Blythe Danner. As Lloyd recalled in an interview with the A.V. Club, Paltrow mentioned that he was working on the pilot of "St. Elsewhere" and asked if Lloyd might be interested in joining the cast. "Make me an offer," Lloyd replied. The character of Dr. Auschlander was supposed to appear only in four episodes since it had been established that he was suffering from liver cancer. But audiences loved him so much that Lloyd was kept on for the show's entire six-year run.
Active to the end, Norman Lloyd was an avid tennis player and enjoyed monthly lunches with fellow Hollywood veterans, including Mel Brooks. He credited his longevity to luck, a daily shot of whiskey, and an optimistic attitude: "I think it was Isaac Bashevis Singer who said melancholy is the ultimate lie. It's not good anyway" (via The Telegraph).