This TikTok Hack Will Find Your Perfect Foundation Shade In Seconds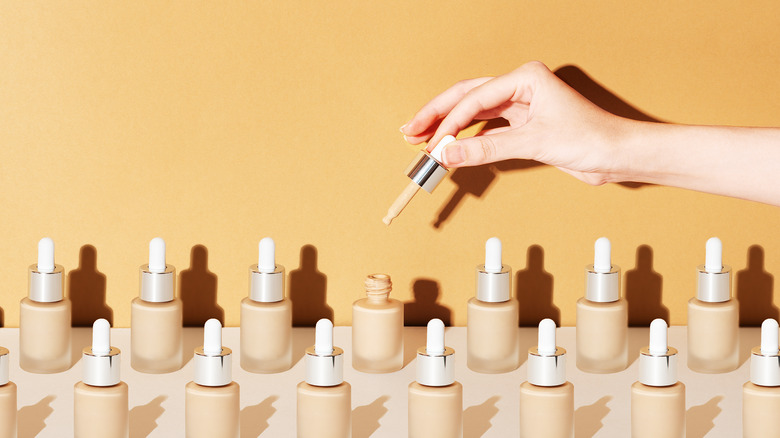 Shutterstock
Okay, get this: you can create your perfect foundation with colors. Yes, colors. Goodbye overpriced foundations—you can create the perfect shade with just a color palette!
Well, you might be wondering: "how do I create my shade?" It's quite simple, really! According to TikTok user, KaeColors, the trick involves using color theory to blend different shades into the perfect pigment to suit your complexion. According to the video, all you have to do is add certain colors—white, yellow, red, and blue—and place each color dot accordingly on your face. "First you want to add white or black depending on how light or dark your skin tone is," KaeColor said in their now viral TikTok video. "Now, we're going to add yellow, red, and blue." And, what's great about this is that any color palette can work. Drugstore, here we come!
The key to getting this TikTok hack right is experimentation! However, it can be a little time-consuming as you have to get the right shades and proportions to get a flawless foundation (via Times Now News).
Depending on your skin—whether you have hyperpigmentation or not—you might have to add extra shades of color to your face, per Allure. You also need to know your undertones for this TikTok hack to work, but the reason it works is because all foundations are, according to the outlet, a blend of those four colors.
There are some cons to the foundation hack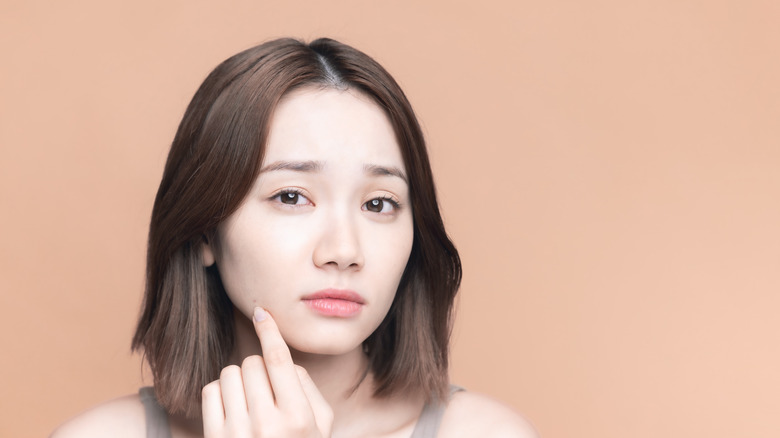 Shutterstock
While this TikTok hack has multiple benefits, it also has a lot of cons. 
According to Allure, this hack will not get you full coverage the way foundation would. While the color theory hack might get you a similar shade to your skin tone, it probably won't cover any dark spots, hyperpigmentation, or acne scars, the outlet revealed. "However, applying these colors all over your skin is unlikely to give you the same kind of coverage or the skin evening effect of a good foundation," Robin Black, makeup artist, told Allure. "Foundations also contain things like light-reflecting minerals, hydrating or mattifying ingredients and these types of color pigments just don't have that."
Furthermore, per Times Now News, some people may even be allergic to the color palette, and undergoing this hack will damage their skin. Or, as the outlet explains, some people will struggle to blend the colors properly to get the right shade.
So, yeah, while the hack sounds fun to try, let's not make it a part of your makeup routine. It's truly not worth it.