What's Really Going On With Ruby Rose's Love Life?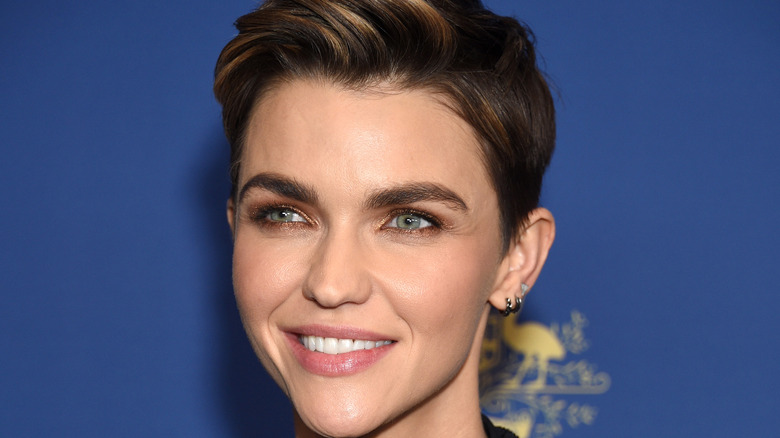 Gregg Deguire/Getty Images
Ruby Rose has been in the spotlight for what seems like a long time at this point, and rumors of her dating life are always some of the most interesting. Rumors that she was dating pop singer Halsey surfaced back in 2015 when the two were seen hanging out together, and at present it appears she may be courting an actor from one of television's most talked about shows. 
The "Batwoman" and "Orange is the New Black" actor has been extra active on Instagram lately, where she's been posting cryptic captions and photos. Tagged in and commenting on her posts is "Riverdale" actor Rob Raco, who portrays Joaquin DeSantos in the CW drama (via IMDb). While nothing is confirmed about a potential relationship between the two actors, it looks as though one is blossoming. In a comment under one of Rose's Instagram photos that featured the two of them together, Raco wrote, "Just think of the eyes on those children" (via the Daily Mail). A simple flirty comment may not be full confirmation, but it's only the beginning of their social media interactions.
What other comments have the two actors made about each other?
The photo under which Raco commented his hopeful, flirty quip features the two actors standing together with Raco kissing Rose's cheek and Rose widely smiling. Her caption reads: "Early morning coffee catch up with one of my favorite people. Adore you." Underneath this photo is not only Raco's comment about potential future children shared between the two of them but also a second comment that simply says, "I adore you." 
If this isn't convincing enough, Rose uploaded a photo to her Instagram Stories of her touching someone else's during the same time that she was with Raco captioned with "Found my number one" (via the Daily Mail). The two are spending ample time together, and if this relationship is true, we're incredibly happy for them for finding each other. Again, nothing is confirmed, but making such public statements of affection seems to indicate that something is happening between the two, even if they haven't officially labeled themselves.