What Naomi Osaka Eats Every Day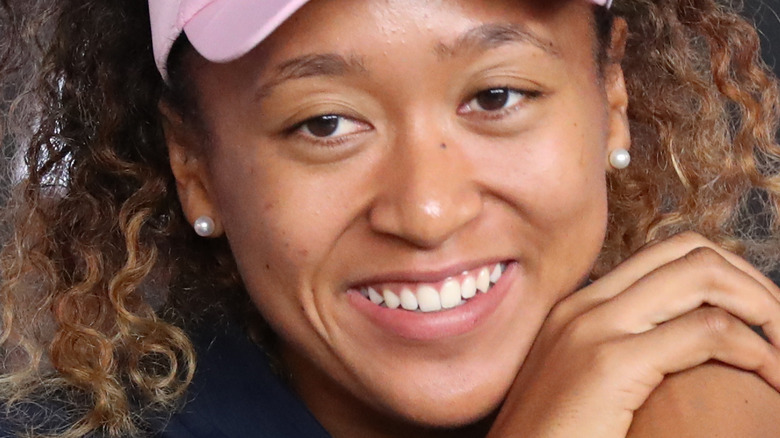 Shutterstock
Naomi Osaka is, without question, a tennis powerhouse, with several grand slams under her belt, according to the WTA — and she beat tennis GOAT Serena Williams to get there. Arguably the most exciting thing to happen in tennis since Williams, Osaka is full of boundless energy and is poised to become quite the legend in her sport. With her killer serve and her endurance on the court, the rest of the tennis-playing world is just going to have to keep up.
Of course, in order to play tennis at the caliber that Osaka does, she has to make sure that she takes insanely good care of her body, ensuring that she's as strong and healthy as possible. That includes Osaka's rigorous exercise regimen, as well as regular physiological treatments, according to Vogue.
Equally, if not more, important, Osaka has to fuel her body with food in order to stay at the tippy top of her game. Curious about what the tennis superstar eats for breakfast every day? And wondering if Osaka loves snacks or has a sweet tooth? Read on to learn what Naomi Osaka eats every day to stay powered up. 
This is what Naomi Osaka has for breakfast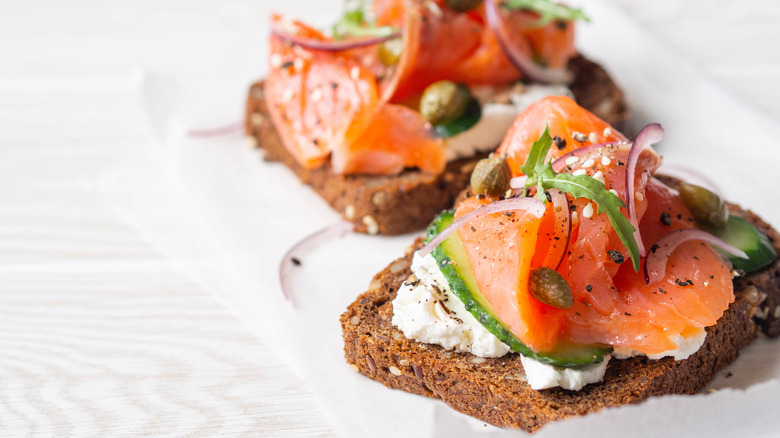 Shutterstock
Breakfast is the most important meal of the day, or so goes the old adage — this certainly seems to be the case for Naomi Osaka, who makes sure to start her day in a super healthy way. "Typically, when I wake up in the morning, the first thing I do is drink a smoothie that my trainer Yutaka [Nakamura] makes me. It has kale, spinach, coconut Bodyarmor Lyte," she told PureWow. "I feel like it has kiwi in it." She added that it can be something of a "guessing game" for her, as she doesn't make it herself.
But that's not the extent of Osaka's breakfast, as you can count on her to have some form of this delicious food after her morning smoothie. "And then normally I have rye bread with smoked salmon and avocado," she continued. That's something she confirmed in an interview with Teen Vogue, though she was having it on bagels instead of rye bread at the time. And, in another chat with Vogue, Osaka made a version with focaccia. Each version sounds delicious to us!
As for any morning caffeine, you won't find Osaka drinking coffee, according to Us Weekly. She's just not into it.
When she's training, Naomi Osaka goes on a strict diet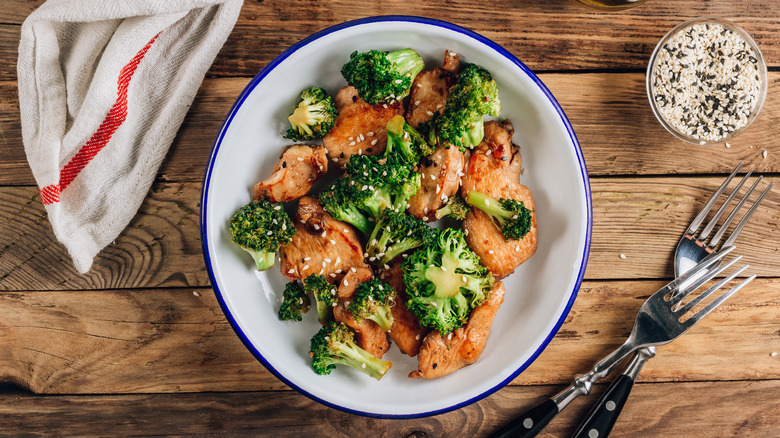 Shutterstock
Given that Naomi Osaka is an elite athlete, her eating habits depend on what kind of activities she's doing at any given moment. This is especially the case when she's hardcore into training, as her diet gets super strict at that time. "It's going to sound kind of extreme, but during the off-season, I was eating boiled foods," she revealed in an interview with Teen Vogue. "I would boil chicken and broccoli." That does sound a little boring, honestly, but it's super healthy if anything.
While some folks may allow themselves another healthy item on their plate, such as rice, Osaka's training regimen is too strict for that. That's even the case when Osaka was in Japan and tempted by all of the yummy rice-based meals that are available. "I'm not really allowed to eat carbs leading up to a tournament, so I'm a little sad about that," she continued. "But, hopefully, I'll have at least one good meal." We hope so, too, as the food in Japan is incredible.
When Naomi Osaka has a snack, this is what she eats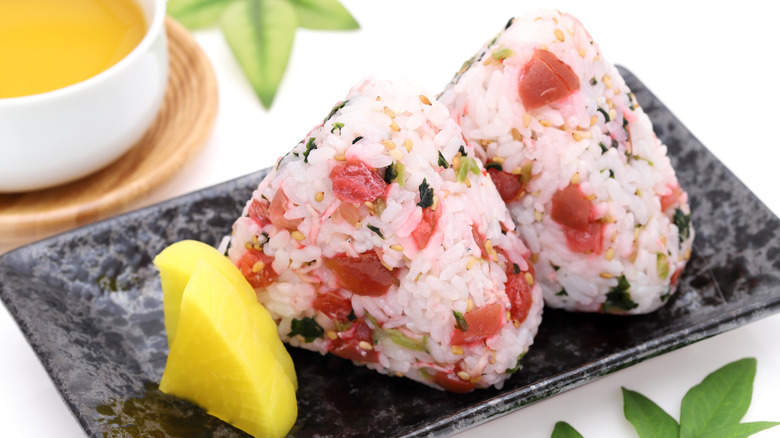 Shutterstock
What even is life if it doesn't involve snacks? And while Naomi Osaka's diet is always super healthy, she still makes room for between-meal noshing. "If I snack during the day, maybe I eat an onigiri with umeboshi in it or mixed nuts," she explained in an interview with PureWow. "I would say I don't snack that often, but — for example — I'll eat the onigiri right after I practice and then have the nuts after a gym session." She clarified that snack time is usually after she's done "some sort of physical activity." Given the amount of exercise that Osaka gets, whether it's playing tennis or training for it, you know she needs the extra fuel!
Additionally, Osaka is a fan of eating the rainbow, as she also enjoys "a big bowl of fresh berries with melon and a low-calorie sports drink," as noted by Us Weekly. The latter she drinks because "it's so important to rehydrate!"
Before a workout, this is what Naomi Osaka eats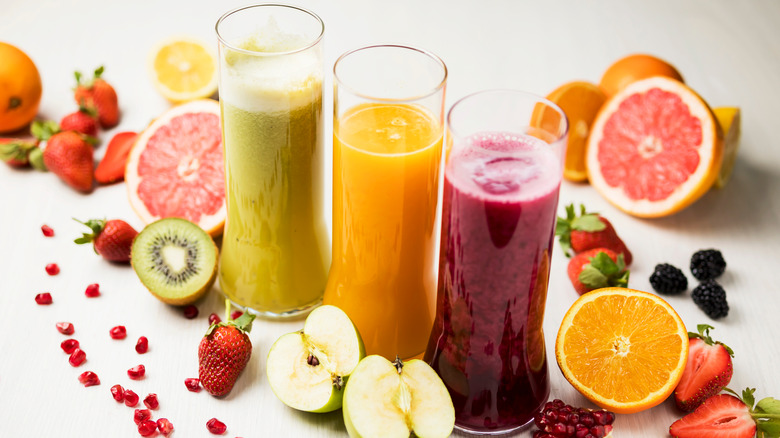 Shutterstock
When Naomi Osaka is preparing for a workout, she naturally makes sure that she's properly fueled. To that end, she makes her "Super Energy Coconut Smoothie," which has a base of chia seeds, a banana, berries, ice, and a coconut-based sports drink. Osaka described the smoothie as a "good pick-me-up," and we think that's an awesome combination.
Specifically, Osaka makes sure that her pre-workout smoothie is chock-full of these ingredients. "My favorite fruits to add in are strawberries, blueberries, and a frozen banana — sometimes I add mangoes," she shared in a chat with Us Weekly. "My go-to trick is, if fruits are starting to go bad, rather than waste them I cut them up and place them in portion-sized baggies and freeze them so they are ready to go for my shakes." That's a super smart way to both cut down on food waste and have everything ready to go when you need it!
After a workout, Naomi Osaka makes herself this food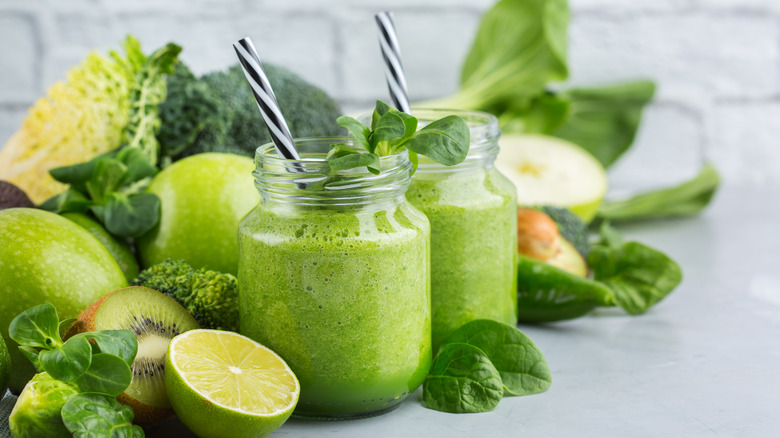 Shutterstock
Just as Naomi Osaka makes sure that she's prepared for her workouts every day, she also takes the time to care for herself after she completes her exercise. Once again, Osaka will reach for a smoothie to nourish her, but this time she doesn't go crazy with the sweetness. "After my workouts, I'll make a recovery smoothie that has more vegetables instead of fruits," she told Us Weekly. "I'll use spinach as my base, and then add in cucumbers, lemon, protein powder and Bodyarmor Lyte Coconut, plus apples and pineapples sometimes for some extra sweetness." And that's not all, as Osaka also boosts the flavor profile of the drink with spicy ingredients like ginger, which we definitely support.
Indeed, while Osaka's recovery smoothie does have apples or pineapples in it, they take a backseat to the spinach and cucumbers after the workout is over. "Most importantly, I make sure my evening smoothie is always more vegetable heavy vs too much fruit," she added. That way, she gets plenty of fiber, which is important for a healthy diet, as noted by the Mayo Clinic.
Naomi Osaka enjoys chirashi bowls for lunch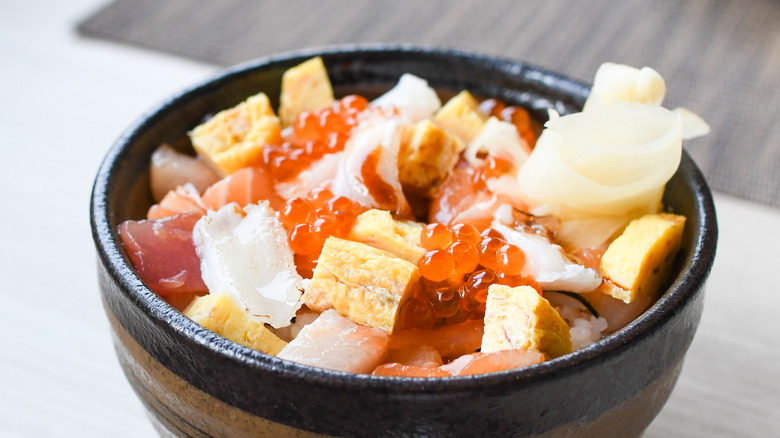 Shutterstock
You may or may not know this, but Naomi Osaka is from Japan. According to The Washington Post, Osaka was born in Japan (to a Haitian father and a Japanese mother, and she even uses her mother's last name), but when she was 3 years old, she and her family relocated to New York. But that doesn't mean that Osaka has left Japan behind, far from it — she even gave up her U.S. citizenship to play for Japan in the Olympics. 
Clearly, Osaka's Asian heritage is important to her, and that's often reflected in the foods that she eats. For example, when it's time for her afternoon meal, Osaka reaches for a chirashi bowl with ponzu sauce, as noted by Vogue. For those not in the know, "chirashi" means "scattered" in Japanese, which gives you a clue as to how the dish is assembled. And, according to Kitchn, a chirashi dish is "basically a big bowl of rice mixed with fish, vegetables, and additional ingredients of your choice." Be right back, going to make one of our own!
During tennis events, this is what Naomi Osaka eats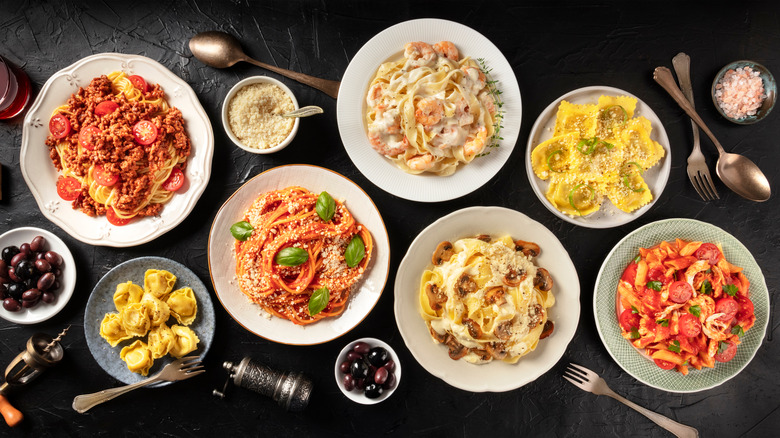 Shutterstock
Competition is extremely important for Naomi Osaka, as it's where grand slams are won or lost, and history is made. To that end, what Osaka eats during tennis matches couldn't be more important.
So, what does Osaka eat during competition season? According to executive chef Dayanny de la Cruz, who was in charge of food at the 2021 Miami Open, there are some favorites among Osaka and other tennis stars. "Everything is popular since they eat a lot," she explained in an interview with People. "But past experience tells me that the pasta station and yogurt parfaits are what they will love the most."
That's how things played out two years prior, according to de la Cruz. "We had to make an average of 300 to 400 a-la-carte pasta dishes a day for them two years ago during the last Miami Open, and we went through 400 yogurt parfaits in one day," she continued. "We have plenty of delicious pastas and yogurt parfaits ready this time around." And there's a good chance that Osaka dined on one, if not both, of those dishes.
When Naomi Osaka ate Greek food, something special happened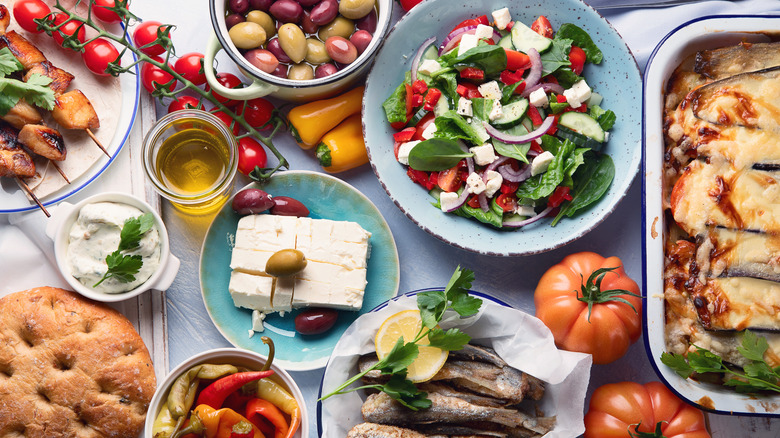 Shutterstock
Speaking of what Naomi Osaka eats before a big tennis match, aside from a potential meal of pasta and yogurt afterward, Osaka has a funny story. On the night before her big win against Serena Williams at the 2021 Australian Open, Osaka decided to change up her pre-match meal. "For the past three weeks I've been eating Japanese food on the day before my match," she revealed in a post-game interview (via ESPN). "And yesterday, I decided to eat Greek food."
While that in and of itself isn't anything to write home about, what happened the next day certainly was. First, there was the stunning upset that happened in the morning, as Osaka tells it. "So then I went to sleep and I woke up, and [Stefanos Tsitsipas] beat [Rafael] Nadal so I'm like, 'Ooh, maybe this is a sign,'" she continued. "'Maybe I should keep eating Greek food!'"
As we all know, Osaka went on to beat Williams that day, so maybe there's something to the moussaka, olives, and feta!
Naomi Osaka eats this regularly at Sweetgreen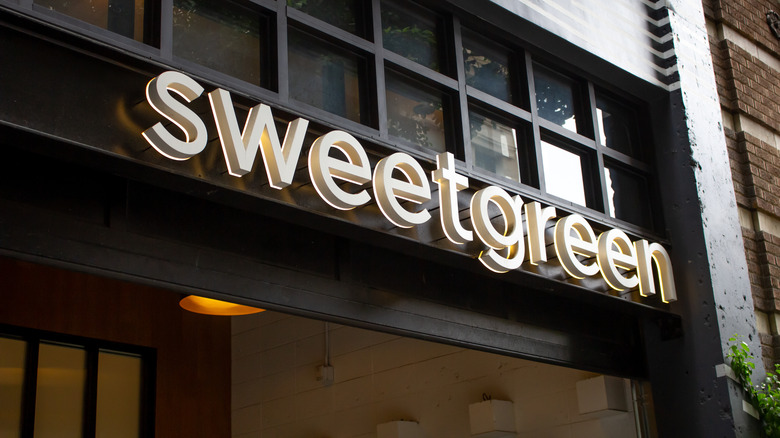 Shutterstock
In May of 2021, Naomi Osaka's habit of dining at Sweetgreen turned lucrative for her, as noted by Good Morning America. That's when she became the first-ever athlete ambassador for the healthy chain, where she reportedly dines several times per week while training. As part of the partnership, Sweetgreen took her regular order and put it on the menu in their app. Specifically, Osaka's custom bowl consists of "warm quinoa, baby spinach, cilantro, tomato, tortilla chips, raw carrots, goat cheese, blackened chicken, lime-cilantro jalapeño vinaigrette, avocado and Sweetgreen hot sauce." Yum! We could eat that all the time, too!
The partnership with Sweetgreen looks to be a mutually-beneficial one, as Osaka appreciates their approach to food, which aligns with her personal food philosophy. "I'm proud to join forces with Sweetgreen to change the way the world thinks of traditional fast-food sponsorships," she shared in a statement. "As an athlete, what I put into my body directly correlates to how I perform and eating delicious, healthy foods fuels my daily routine." She added that she's excited to "create a positive impact" with the restaurant.
Dinner is an important meal for Naomi Osaka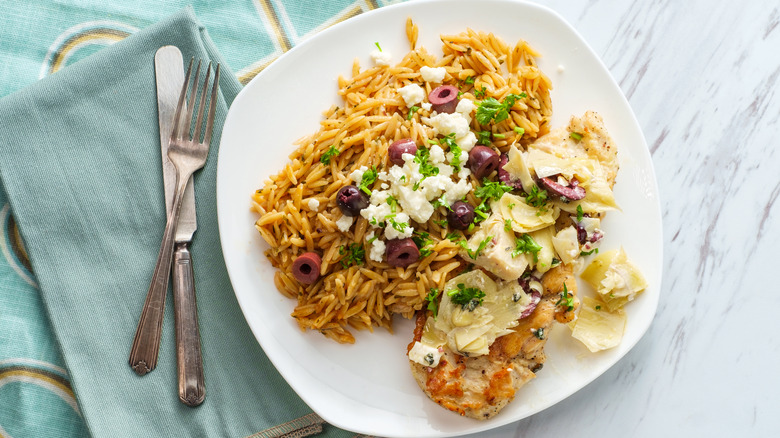 Shutterstock
Even though dinner might not have the reputation that breakfast does when it comes to importance, it's certainly something that Naomi Osaka prioritizes. Given what she eats the night before she has to perform, this is not the least bit surprising, either. "I usually eat dinner around 6 p.m. or 7 p.m. but sometimes the times get a little bit pushed back," she told PureWow. "My dinner is very, very important so I don't really miss that one that much." 
So, what exactly is it that Osaka likes to nosh on for her evening meal? "Before matches, I eat plain pasta with olives or chicken," she continued. "It's not too complicated." Hey, sometimes keeping it simple really is the best way to go.
However, there likely are nights when Osaka feels like cooking a special family recipe, such as her mother's spicy lamb stew, which is a fusion of Japanese and Haitian cuisines. "I would definitely describe my two favorite styles of food as Japanese and Haitian, so this is a match made in heaven for my taste buds," Osaka gushed in a chat with Priceless. "I have fond memories of this dish for as long as I can remember."
This is what Naomi Osaka cooked in quarantine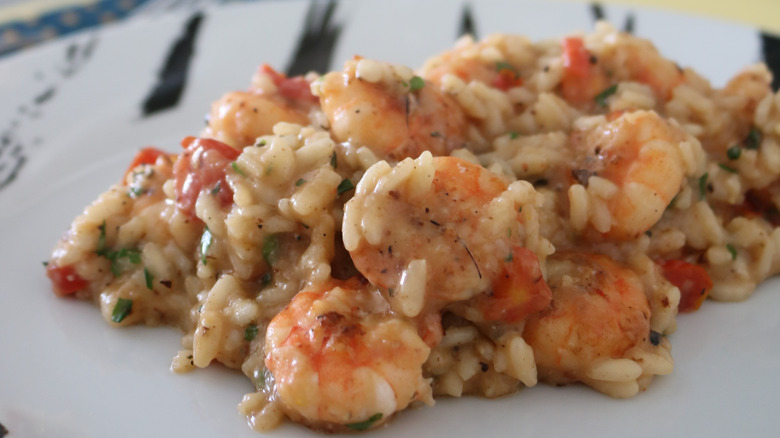 Shutterstock
One of the things that we all got pretty good at in quarantine was cooking our own meals. For some of us, it was the first time we found ourselves with a ton of spare time on our hands, and Naomi Osaka definitely took advantage of that. "When you're on the road as much as I am, having the chance to be home and cook is really relaxing and comforting," she explained in an interview with Glamour.
One dish in particular that Osaka decided to master during her time in lockdown was risotto, a dish that she really made her own. "I love the texture and comfort of risotto, but I put my own spin on it," she continued. "I added protein that you don't normally find in risotto, changed up the cheese, and I use sushi rice."
Osaka's recipe is open-ended, too, so you can customize it based on what you have lying around. "This is a good time to experiment, and you can substitute items in this dish that you may have in the house," she added. "You may have leftover steak or shrimp in the freezer, or you could add in chicken." Sounds delicious.
As for sweets, this treat is what Naomi Osaka enjoys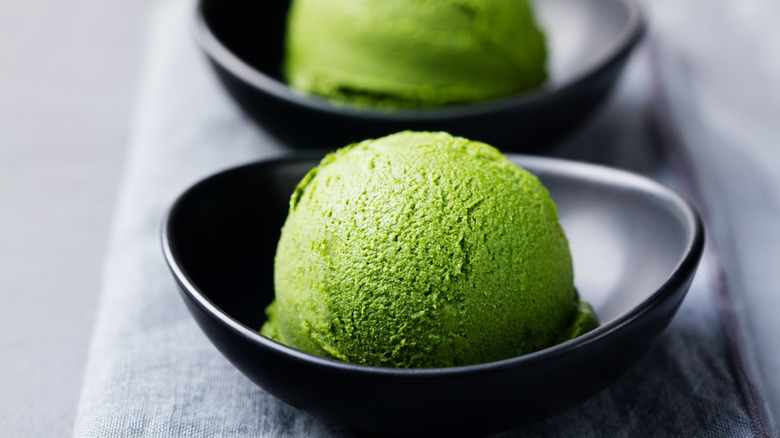 Shutterstock
While the vast majority of Naomi Osaka's diet appears to be super healthy, she does have an affinity for a certain kind of frozen treat. "Only green tea ice cream," she explained to Teen Vogue. "I don't eat it when I'm training, but if I win a tournament, I would want to. But I still haven't." Eventually, Osaka finally did eat her celebratory green tea ice cream in 2018, after fans began tagging her in social media posts about the dessert. "So I finally ate green tea ice cream haha," she tweeted. "You can stop tagging me in your ice cream pics now lol."
But Osaka must have broadened her ice cream horizons, as she later sang the praises of another flavor entirely. "I love vanilla ice cream with no toppings," she revealed in a chat with Us Weekly. "Nothing can top a plain bowl in my eyes." Hey, all ice cream is good ice cream.
Naomi Osaka called sushi the love of her life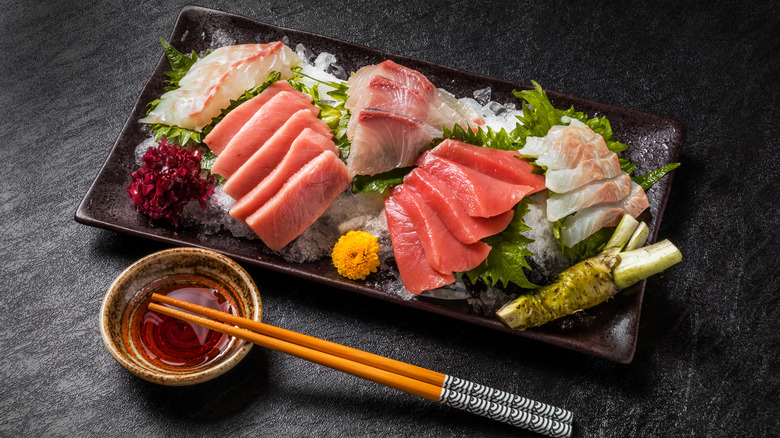 Shutterstock
Everyone has a favorite food (or three): Whether you could lose yourself in a plate of lasagna, dream about Indian foods and spices, or get weak in the knees thinking about a giant platter of Ethiopian noms, we all typically have a dish or cuisine that we swear by. For Naomi Osaka, not surprisingly, she loves two kinds of foods more than any other. "My favorite meal is any type of soul food, [and also] sushi," she revealed in a chat with Us Weekly. Given how delicious and inspired both cuisines are, we are 100% on board with these selections.
In fact, Osaka is so fond of sushi that she once took to Instagram to celebrate the food. In the post, which has since been deleted, viewers can see a delighted Osaka taking a photo of her salmon dish, while her dining companion also has a gorgeous plate of sushi. "The love of my life," Osaka quipped in the caption — and who can blame her? Few things are as flavorful as sushi.