Do Catherine Giudici And Sean Lowe Want More Kids?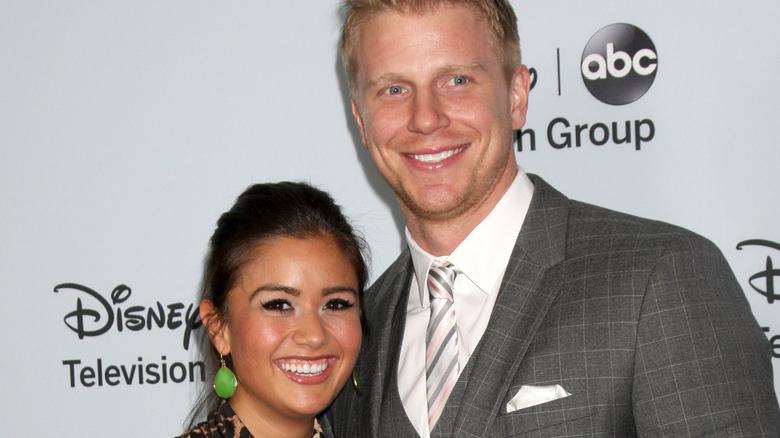 Shutterstock
"Bachelor" fans who follow Catherine Giudici and Sean Lowe have enjoyed watching their adorable family grow from two to five members. According to People, the couple met and fell head-over-heels in love in 2013 during their memorable season of the ABC reality love show. A year later, Catherine and Sean married on national television (via ABC). Now, the pair share three beautiful kids: sons Samuel, age 4, and Isaiah, age 2, and daughter Mia, age 1.
Naturally, we couldn't help but wonder if the reality parents will go for baby number four. And it turns out they have a very specific stance on growing their family. Sean recently talked to Us Weekly about where he and his wife stand on the topic of having more kids, saying, "We're praying about it and talking about it."
He noted that Catherine, who told Hello! last year, "Let's just say, the factory isn't closed," wants a large family. But does that mean five is not enough?
Sean and Catherine may have changed their stance on having more kids
Even though last year Catherine said she was open to adding to her brood with her "Bachelor" hubby, now the star tells Us Weekly about her three kids, "We're trying to be really intentional about teaching them things and being present with them during this time. I think it might be a little selfish to add a fourth because they require a lot of attention right now."
Catherine also added, "I've come to terms with the fact that we might have, like, three. [They're] a handful."
Meanwhile, the star couple has talked about adopting another child, but Sean also previously told the outlet, "At some point, I would like to get out of diapers, so that would be nice."
Of course, considering their past comments, clearly things can change quickly, so hey, you never know what the Lowes will say next year about adding another child to their precious bunch!