The Secret To Amal Clooney's Flawless Skin Is Simpler Than You Think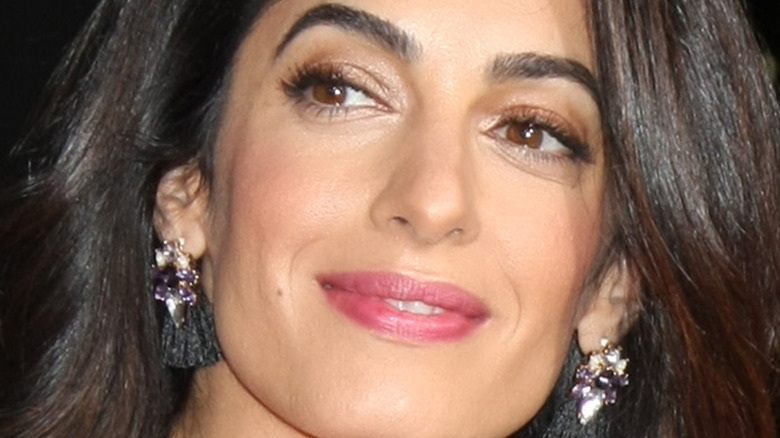 Shutterstock
There's no denying that Amal Clooney's skin appears flawless every time she hits the red carpet with her actor husband, George Clooney, or makes an appearance connected to her work as a human rights lawyer. According to Woman & Home, the mother of two — Alexander and Ella — keeps her 43-year-old complexion looking picture perfect with a routine that is more achievable than that of many celebrities. Between raising her children and her work, Amal manages to remain fresh-faced without spending a small fortune on expensive laser skin treatments, plastic surgery, or botox (via South Beach Skin Lab). Instead, she's chosen to age naturally with the help of a few great skincare products. 
Celebrity make-up artist Charlotte Tillbury revealed what her client, Amal, uses to keep her skin youthful and glowing. You might be surprised that much of her skincare routine is within reach for women who spend less time on the red carpet and more time in the carpool lane. The busy professional mom likes to keep things pretty simple, which is something you might appreciate too.
Here's how to get Amal Clooney's skincare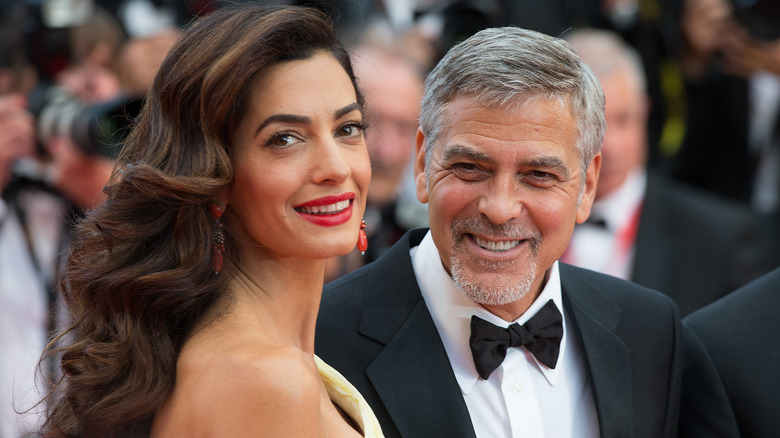 Shutterstock
According to Now To Love, Amal Clooney uses Charlotte Tillbury's line of products. Before she even applies makeup, she puts on layers of Magic Cream, followed by Wonderglow face primer. The Magic Cream is arguably the most crucial step, according to the publication. Woman & Home suggests an alternative to Tillbury's products if you're unable to get them, including a plumping moisturizer like Clarins Hydra-Essentiel Silky Cream SPF 15. A peptide-rich moisturizer is the key to achieving Amal's glowing look (via South Beach Skin Lab). To achieve a similar result to Wonderglow face primer, you could try Bobbi Brown Enriched Vitamin Face Base, which should leave your face looking fresh and dewy.
Once her face is primed and ready for makeup, the beauty icon applies Light Wonder foundation. You could top off your prep work with a lightweight foundation like Lancôme Skin Feels Good Healthy Glow Hydrating Skin Tint SPF 23 if you're unable to snag Tillbury's version (via Woman & Home). To create a glamorous vibe to go along with her glowing skin, Tillbury told InStyle that she makes Amal's lips pop with a specific shade of red. "For Amal Clooney, I use Matte Revolution Lipstick in Red Carpet Red," the makeup artist revealed.
Even if you don't have a big Hollywood budget, if you consistently follow Amal's simple skincare routine, you can achieve a similar dewy complexion.