Prince William's College Classmate Shares Details About His Chemistry With Kate Middleton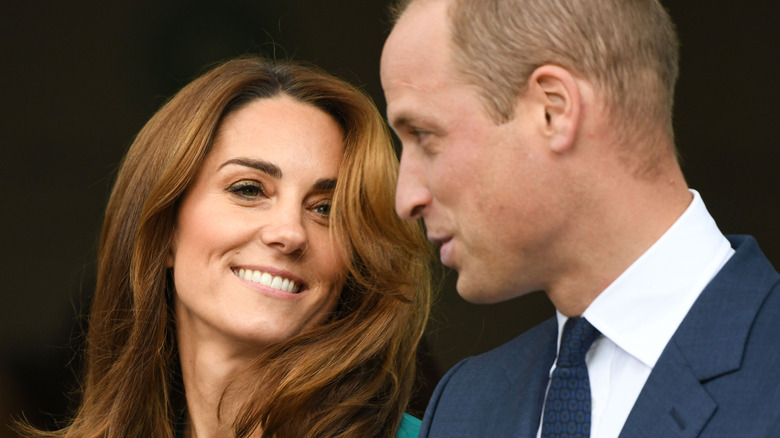 Shutterstock
Prince William and Kate Middleton's relationship timeline is the epitome of picture-perfect: the royal couple met in 2001 at the University of St. Andrews in Scotland, and went on to date for a decade until their Westminster Abbey wedding in 2011 (via Page Six). Welcoming their three children George, Charlotte, and Louis since then, the pair is still going as strong as ever. A former St. Andrews classmate recently talked to People about Will and Kate's immediate college chemistry, and yes, it's just as cute as you expect.
Kate and William met in 2001 at university, where Kate reportedly caught the prince's eye while modeling a see-through dress at a college fashion show. Although Kate said in their engagement interview that she was "bright red" when she met her future husband and "scuttled off, feeling very shy," the two became fast friends. Moving in together as friends with two other students, they hung out and let their romance blossom.
Former St. Andrews student and roommate to the pair Laura Warshauer talked to People about the couple, saying they "definitely had chemistry" from the get-go. She explained, "whenever Kate was in the room, Will was obviously paying attention to her." Describing a romantic side we've yet to see from the couple, it actually gets even more adorable.
A surefire romance from the start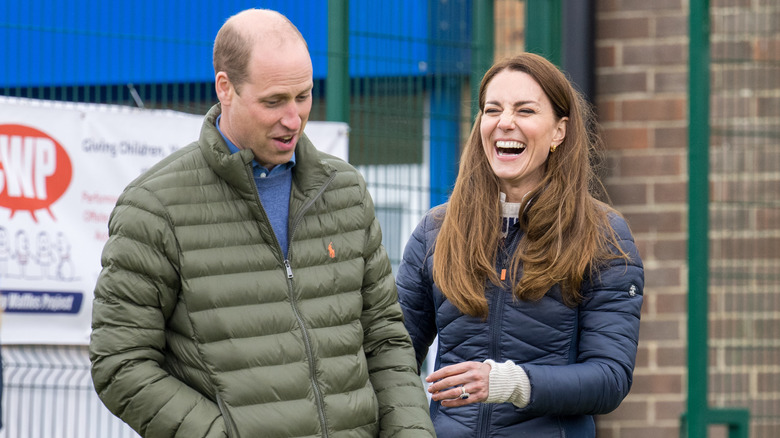 Wpa Pool/Getty Images
Warshauer also talked to People about the royal couple's initial meetings — not in a glamorous palace, but in the school's very own dining hall. She described, "When we'd be sitting at lunch in the dining hall and the two of them would be talking, it was amazing to see how natural it was." In short, there was an immediate connection, and everyone took notice immediately.
The former classmate spoke about "how [Will and Kate] had so much to say to each other." Even now, the two royals laugh at just about anything together at their charity appearances, playing sports and showing off their chemistry. Warshauer continued, "Looking back, there were all these small moments — certainly moments where I was like, 'Wow, this could really be something.'" Of course, it ended up turning into one of the most epic romances of the century.
In their engagement video, Prince William said their romance came from just seeing "more of each other" and hanging out more, leading to long-lasting love. Dating for ten years total, the two graduated college together in 2005 and broke up for a few months in 2007. Quickly getting back together, William proposed to Kate in Kenya in 2010 with his late mother Diana's sapphire ring, paving the way to their 2011 wedding. Today, Kate can be found preparing for her role as queen (via Cheat Sheet), and the couple continues to prove just how strong their connection always was.