The Truth About Taylor Swift And Karlie Kloss' Friendship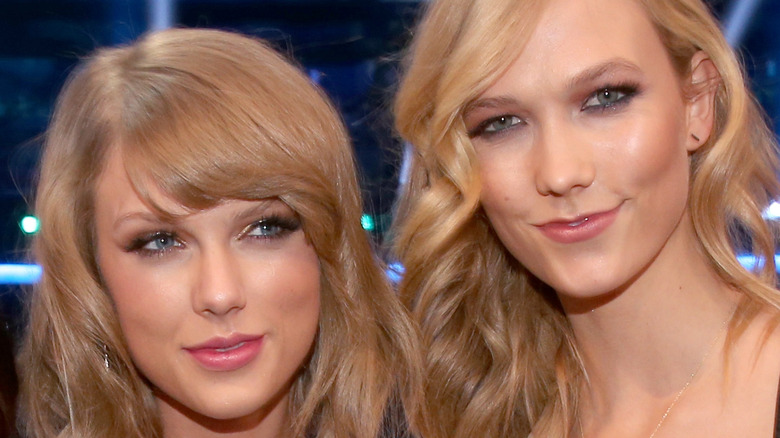 Christopher Polk/ama2014/Getty Images
When pop star Taylor Swift and supermodel Karlie Kloss first met in 2013, they instantly became everyone's BFF goals: They attended award shows together, took road trips together, and even posed together for the cover of Vogue. The two were seemingly inseparable for years — until, that is, they suddenly weren't. In fact, despite once being joined at the hip, Swift and Kloss currently haven't been publicly photographed together since 2018 (via Insider).
Rumors of a falling-out between the two stars reached its peak when Swift reportedly didn't attend either of Kloss' wedding events when she married husband Joshua Kushner in late 2018, as Elle reports. Nowadays, of course, the two stars are well-known for being estranged ex-friends, with speculation that Swift even wrote about their feud in her most recent album "evermore."
So what really happened to the friendship between the once-inseparable mega-stars? Here's a detailed look into the history of Taylor Swift and Karlie Kloss' relationship — and where their friendship stands today.
Taylor Swift and Karlie Kloss became instant friends when they met in 2013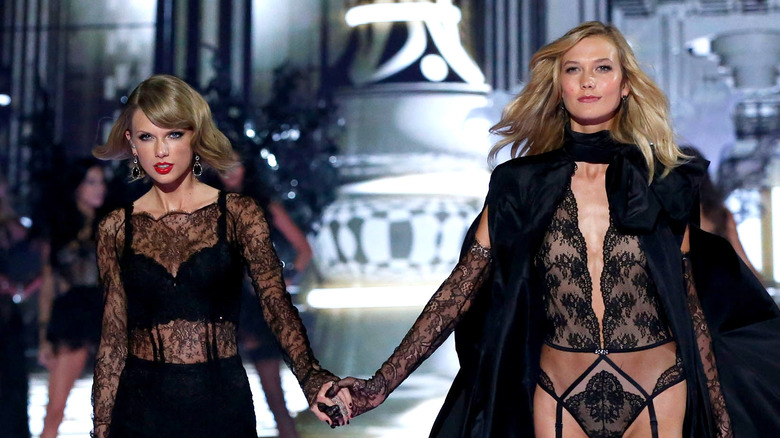 Tristan Fewings/Getty Images
As detailed by Insider, Swift and Kloss' friendship first started when the pop singer mentioned Kloss in a 2012 interview with Vogue. "I love Karlie Kloss," Swift told the outlet. "I want to bake cookies with her!" It didn't take long for the supermodel to respond to Swift's invitation on Twitter, and before long, the two had their first public meet-up at the 2013 Victoria's Secret Fashion Show, where they had a sweet on-stage interaction while Swift performed and Kloss walked the runway.
The rest, of course, was history: In the next few years, Swift and Kloss would constantly be spotted together in public and on social media, whether it was taking road trips (via Instagram) or getting ready for parties (via Instagram). Their friendship appeared so intimate, in fact, that it even inspired rumors that the two were a gay couple (yes, really!), with fans fondly dubbing the relationship "Kaylor" (via Elite Daily). The pair even graced the cover of Vogue together for a joint photoshoot in 2015, where they described their friendship as "instantaneous."
"People had been telling us for years we needed to meet," Swift told the outlet. "I remember makeup artists and hair people going, 'Doesn't she remind you of Karlie? God, she and Karlie would be best friends. They're the same.'"
... But it wasn't long until Swift and Kloss reportedly had a major falling-out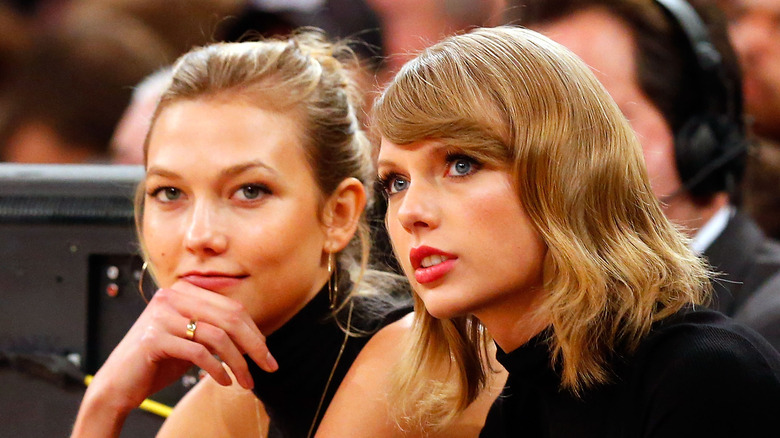 Jim Mcisaac/Getty Images
Things started to change in 2016, when Swift and Kloss noticeably began to spend less time together in the midst of Swift's infamous 2016 feud with Kanye West (via Grazia Magazine). While Kloss dispelled rumors of a friend break-up, telling Vogue in 2018 that she and Swift were still "really good friends," it was clear that the days of public outings and selfies together were long over.
So what could have happened to pull these once-inseparable friends apart? Apparently, their falling-out might have largely stemmed from Kloss' close relationship with her manager Scooter Braun — the same person Swift has famously feuded with in a public battle over the ownership of her masters (via Vox), and who attended Kloss' wedding (while Swift was noticeably absent). Per Seventeen, rumors spread that Kloss may have been feeding Braun information about Swift — and it certainly seems that Swift confirms this in a song titled "it's time to go," off her latest album "evermore," where she sings of a friend's betrayal: "When the words of a sister come back in whispers / That prove she was not, in fact, what she seemed / Not a twin from your dreams / She's a crook who was caught."
Sounds awfully like her "twin sister" Karlie Kloss, no? Unfortunately, it's unlikely that either of the two ex-friends will reveal what truly went down — so it seems like we'll be left with mere speculations in the meantime.