The Meaning Behind Under The Graveyard By Ozzy Osbourne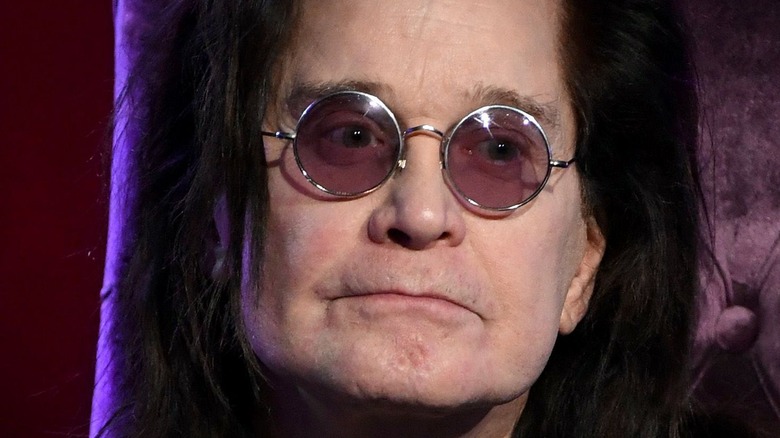 Kevin Winter/Getty Images
From his days fronting Black Sabbath to his subsequent solo career (and plenty of reality TV with his family), Ozzy Osbourne has established himself as a bona-fide legend of heavy metal. The "Prince of Darkness" has been making music for over 50 years. His most recent album — "Ordinary Man" — dropped in 2020, 10 years after his last record, and it featured music legend Elton John, as well as rapper Post Malone (via Billboard).
The album was positively received by critics, and its lead single "Under the Graveyard" wasn't an exception, being described by Billboard as a "booming ballad" and by Loudwire as a "non-traditional song" for the Godfather of Metal. With Osbourne now in his 70s, he's getting older — Black Sabbath, for so long a heavy metal fixture, finished for good back in 2017 (via Rolling Stone) — and this is reflected in the lyrics and video of this five-minute rock ballad.
Ozzy Osbourne faces his own mortality in Under the Graveyard
Ozzy Osbourne has had a number of health issues in recent years, recovering from both a staph infection and a serious fall (via Rolling Stone), both dangerous for people of his age. Not only that, but last year, he revealed a diagnosis of Parkinson's disease (via BBC).
Certainly, in the lyrics to "Under The Graveyard," he's facing up to his own mortality. "Death doesn't answer when I cry for help" he sings, finishing with "We all die alone" (via Rolling Stone). Of course, Osbourne has never shied away from the morose, but it's clear that he's confronting his life head-on in the gothic rock-influenced track.
Per NME, the music video gives us plenty of clues too. Semi-autobiographical in nature, the video stars Jack Kilmer and Jessica Barden playing Ozzy and Sharon Osbourne respectively, and is set back in the late 1970s, which in Osbourne's words were "some of the darkest times in my life."