Here's How Many Grandchildren Nancy Pelosi Has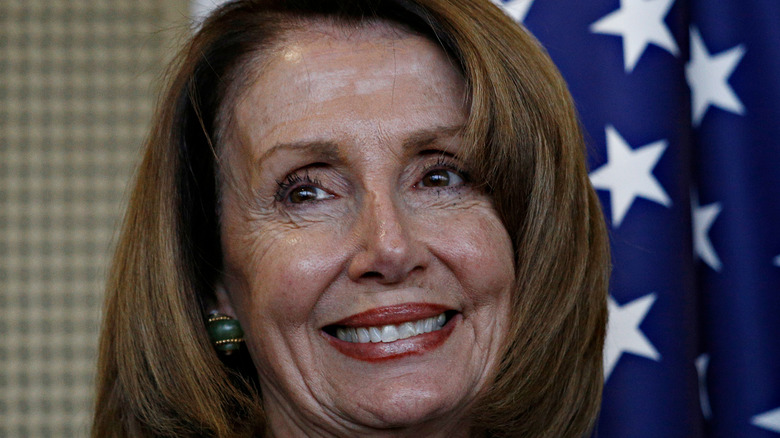 Shutterstock
Nancy Pelosi — who has a pretty stunning net worth — is not only known as the tough-as-nails Speaker of the House, but also as the first female Speaker in American history. Social media discussions involve anything from her hair choices, her mask choices, and how high her heels are, but many do not know that aside from being the second in line for the United States' presidency, she is also a devoted wife, mother, and grandmother.
Pelosi was born into a life of politics in Baltimore, Maryland in 1940, as the daughter of Thomas D'Alesandro, who served in Congress while she was growing up. Pelosi later attended Trinity College in Washington, D.C. where she met Paul Pelosi. The two later wed and moved to San Francisco, California, where Pelosi went on to have five children, according to Biography. She focused on raising her family before slowly moving into the political world, and between Nancy Corinne, Christine, Jacqueline, Paul, and Alexandra, the Pelosi's have a total of nine grandchildren.
Nancy Pelosi's grandchildren joined her for this historic event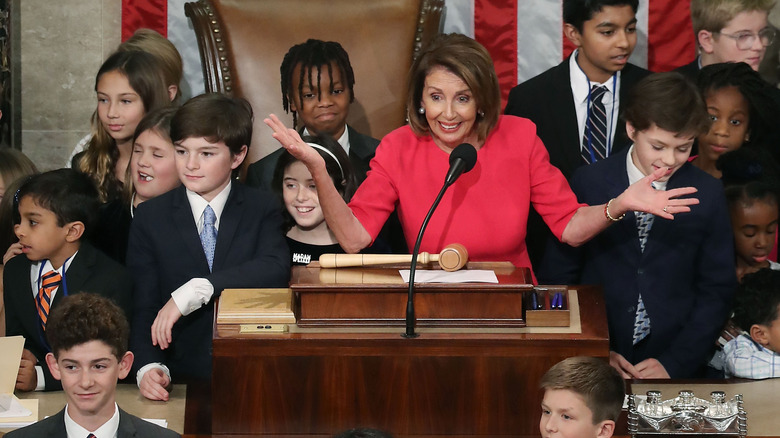 Mark Wilson/Getty Images
In 2019, when Nancy Pelosi was once again sworn in as Speaker of the House after nearly a decade with her party in the minority, her grandchildren were there for the occasion. In fact, granddaughter Bella's joy was a highlight of the occasion as she cheered her grandmother on. "PELOSI" Bella cheered as her grandmother voted for herself as Speaker, reported USA Today.
When it came time to take the oath, Pelosi wanted her grandchildren and other children in attendance by her side. "I'd like to call my grandchildren up to be here when I take the oath, and any other children who want to join them. Come on, kids!" Pelosi said, according to SF Gate. As the children ran up to join her, one of her grandsons could be heard screaming, "Mimi!"
In fact, Pelosi has called upon her love for children as a guiding force in how she governs. 
"My vision for the future always centers around our children — it always centers around our children. So anytime anybody asks me what are the three most important issues facing the Congress, I always say the same thing: our children, our children, our children," Pelosi told HuffPost in 2017. "Their health, their education, the economic security of their families, the safety of the neighborhoods in which they live, a world at peace in which they can thrive. So that is what my motivation is. I always saw politics as an expansion of my role as a mom."