Inside Keegan-Michael Key's Relationship With Jordan Peele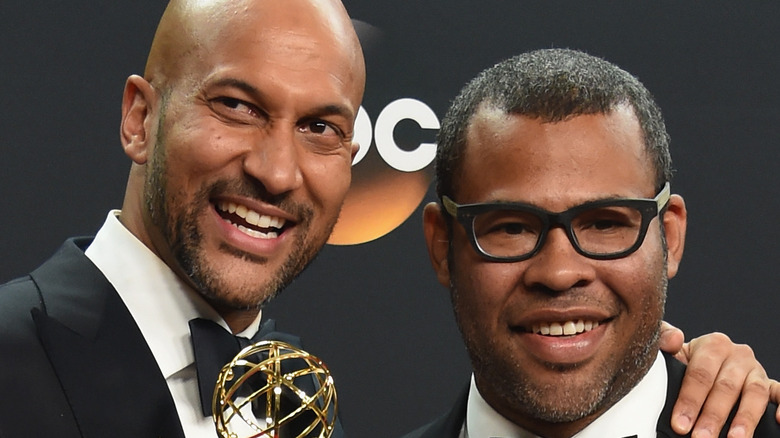 Michael Kovac/Getty Images
From 2012 to 2015, the names Key and Peele were synonymous with sketch comedy (via IMDb). The show, aptly titled after its main actors and creative forces Keegan-Michael Key and Jordan Peele, ran for five seasons on Comedy Central and garnered 18 Emmy nominations and a win for Outstanding Variety Sketch Series (via Emmys.com).
But Key and Peele are more than just a comedy duo — the two are close friends in real life as well (via USA Today). Prior to "Key and Peele," and even before they starred together on "MADtv," the pair fell deep in comedy love at the Second City Theater in Chicago in the early 2000s (via Cosmopolitan). "It was creative love at first sight. A mutual friend, Rebecca Drysdale, introduced us. We all went out to a diner. Then I went home and told my wife I was in love," Key recalled.
When asked if it feels as though the two are married, Key clarified, "Our I-dos have been to comedy. It's a ménage à trois. One of our vows has been to forsake all others for comedy. By 'all others,' I mean our egos. You've got to ask yourself every day, Am I being petty? Why am I arguing? It's the same thing in a marriage."
The two went on to live in sketch-making matrimony, producing classic skits like Aerobics Meltdown, Obama Meet and Greet, School Bully, and more (via ScreenRant).
Keegan-Michael Key and Jordan Peele remain friends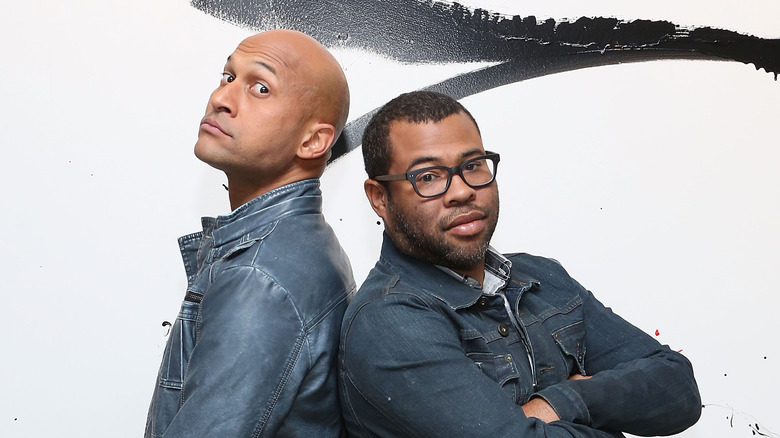 Taylor Hill/Getty Images
Keegan-Michael Key and Jordan Peele decided to end their eponymous sketch show because they each had various artistic endeavors they wanted to pursue (via TheWrap). "This is our final season — and it's not because of Comedy Central, it's us," Key said at the time. "It was just time for us to explore other things, together and apart. I compare it to Gene Wilder and Richard Pryor. We might make a movie and then do our own thing for three years and then come back and do another movie."
Since then, the two have seen their careers flourish in various ways. Key has been more of an onscreen presence, starring in the film "Don't Think Twice" and in the Netflix series "Friends From College." He'll soon appear in Apple TV's new show "Schmigadoon!" (via Deadline). Peele, meanwhile, has become a directorial and producing powerhouse, famously winning the 2018 Oscar for Best Screenplay for "Get Out" and becoming the first Black writer to do so (via The Cut).
Key watched with tears in his eyes as his friend took home the honor. "Congrats to my partner in laughs @JordanPeele on his first Oscar. #oscarssopeele #VFOscars," Key tweeted upon the momentous occasion.
So while the pair might have gone their separate ways creatively — at least for now — the spark from their initial comedy meet-cute and their friendship remain strong.