Here's What Lady Gaga's Tattoos Really Mean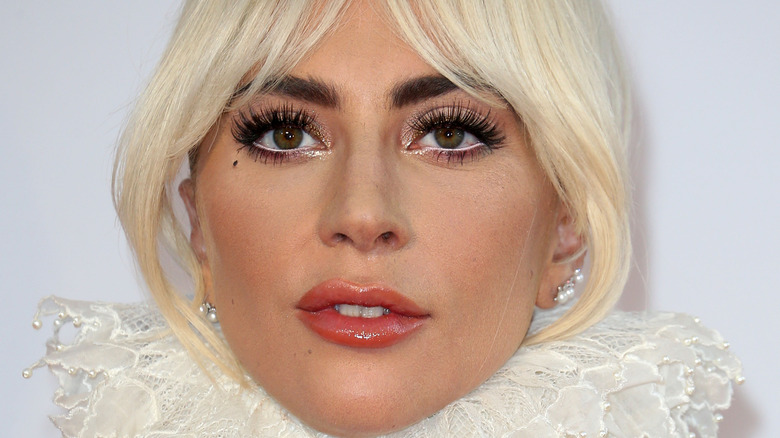 Shutterstock
In 2006, the music industry was introduced to a new name and soon to be icon — "Lady Gaga." The singer, born Stefani Joanne Angelina Germanotta, shot into superstardom with hits like "Just Dance," "Poker Face," and "Disco Stick." Her music refined the late 2000s and early 2010s, with her anthems breaking records and topping the charts over and over again (via Discogs). In 2012, Gaga went down multiple other avenues, such as founding the Born This Way Foundation and launching multiple fragrance. In 2018, the singer turned actress won an Oscar for her musical writing and performances in the hit film, "A Star is Born" (via IMDb). In 2021, Gaga has pursued multiple promising works and starring in an upcoming thriller, "House of Gucci" (via Biography and Harper's Bazaar).
With over a decade in the spotlight and a bunch of accolades along the way, the star has over 20 tattoos commemorating her experiences.
Lady Gaga's back is nearly covered in tattoos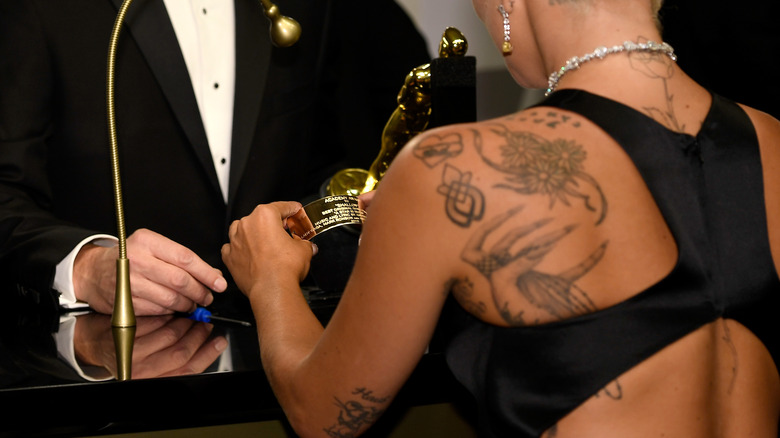 Kevork Djansezian/Getty Images
Lady Gaga has been gracious enough to give fans a glimpse of some of her tattoos, and they're beautiful, unique designs. At 17, Lady Gaga got her first tattoo of a treble clef on her lower back, and she later accompanied the design with a string of rose tattoos surrounding it by famous tattoo artist, Kat Von D. She then inked some daisies, a tattoo that says "Dad" in honor of her father's successful open-heart surgery, a fire rose unity symbol, an anchor around her rib area, a monster hand that represents her fans, and a long rose tattoo with the words "la vie en rose" down her spine. Gaga also got the words "Tokyo Love" tatted on her back while visiting Japan in 2009 (via Body Art Guru). 
In 2013, Gaga got a peculiar tattoo in honor of her artistic, younger sister, Natali Germanotta. She got a mouse tatted on her elbow, since she would call Natali "mouse" as a child — the details are all relevant to Natali's life, too (via Steal Her Style).
Gaga also got another meaningful tattoo, but in honor of her fragrance launch. At one point, the singer had an undercut hairstyle and on the shaved part of her head, she got two tattoos — the more popular being a cherub on the base of the back of her head in 2012 for her fragrance launch (via Body Art Guru).
A lot of Lady Gaga's tattoos are based on music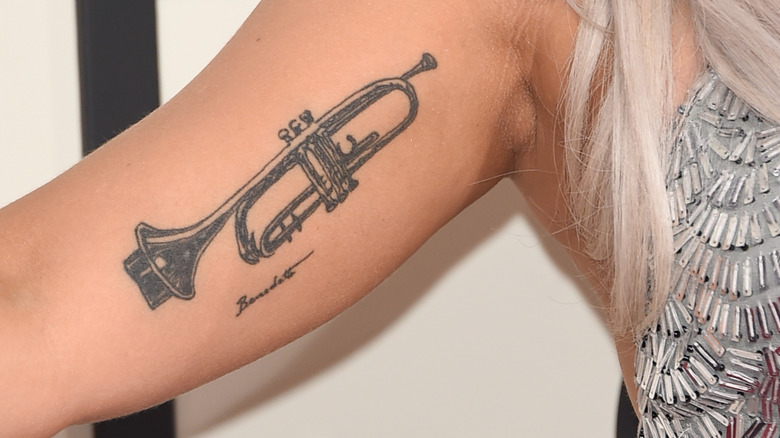 Jason Merritt/Getty Images
Unsurprisingly, a lot of Lady Gaga's tattoos are based around her love of music. Around the same time of her "Tokyo Love" tattoo, she got a script tattoo, and an inked design dedicated to her songwriting. She also got the date, 12/18/1974, inked to honor her Aunt Joanne, who died. In 2010, Gaga got the words "Little Monsters" tatted in honor of her loyal fans, and got "R†O" inked onto her skin during her time in Rio de Janeiro (the cool thing about that particular tattoo is that each letter is a different handwritten font by three different fans) (via Steal Her Style).
Gaga has a few tattoos dedicated to her musical inspirations, one of which being a peace sign tattoo on her right wrist for John Lennon, who she's said multiple times is one of her biggest musical idols. Probably her most iconic tattoo to date is a trumpet tattoo on her right arm, in honor of her love for Tony Bennett. One of Gaga's more recent tattoos to date is of a portrait of her musical inspiration, David Bowie (via Style Craze).
In late 2010, Gaga got an adorable unicorn tattoo on her thigh with the words "Born This Way" in honor of her show stopping album. Two years later, in 2012, she got the words "ARTPOP" on her arm in honor of the announcement of her newest album at the time, and got the word "Joanne" tattooed on her arm. Her newest tattoo, as of publication, is of a small musical note sequence, with the notes spelling "GAGA" (via Body Art Guru).