The Untold Truth Of Bridget McCain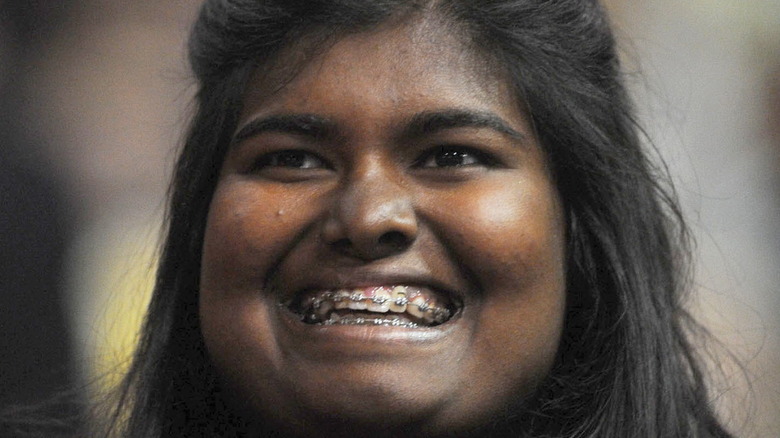 Photoshot/Getty Images
Years after John McCain's death, and even longer since his time in the political limelight as a presidential candidate, the McCain family is still at the forefront of American politics. This is largely thanks to his daughter, Meghan McCain, who has made a name for herself as a conservative commentator. There are several more McCain kids, though. Doug and Andy were adopted by the former senator while he was married to their mother, Carol Shepp. The late politician and his wife also had a daughter, Sidney. His second wife, Cindy, gave birth to Meghan, John IV, and James.
Then there's the youngest McCain, Bridget, who was born in 1991 in Bangladesh and adopted by the family two years later. Bridget McCain leads a notoriously private life, is rarely spotted in public, and isn't big on social media, making it difficult for people to learn about her.
When she does emerge from her seclusion, though, she makes quite the splash. Whether you first heard about the youngest McCain when her dad was running for president in 2000 and again in 2008, or are just now learning about her, there are quite a few details about Bridget McCain to discover. Here's what the reclusive member of the McCain family is really like.
Bridget McCain was adopted from Bangladesh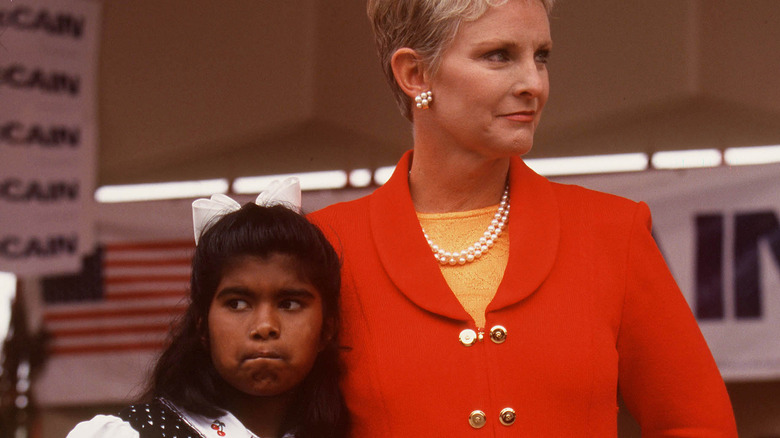 Porter Gifford/retired/Getty Images
Bridget McCain was born in Bangladesh, where her mother, Cindy McCain, found her in an orphanage run by Mother Theresa. Cindy had no intention of adopting a child during her trip, although her story of what happened has changed over time. HuffPost notes that, in some versions, nuns at the orphanage urged her to take the infant home. In others, it was Mother Theresa herself.
What seems certain is that Cindy was determined to get medical care for two babies with significant health concerns. At some point, she decided that she wanted to keep one of them, in spite of the fact that she hadn't consulted her husband, John McCain. In a 2008 speech, she said that the infant McCain had a "really bad cleft palate and she was sick and tiny" (via The New Yorker). On the way back to the U.S., she "realized that this child had chosen me and I could not give her up."
When she landed in Arizona, Cindy said she told her husband what had happened. "And he looked at her and he loved her just the way I have ever since," she said. John McCain told DadMag that the other baby was adopted by close friends.
Bridget McCain underwent several surgeries as a kid
Once Bridget McCain was in the U.S., her family jumped into action to get her the medical care she needed. It wasn't easy. Her cleft palette required several surgeries, so she was in and out of hospitals for the first few years of her life. The journey McCain went through inspired her mother, Cindy McCain, to get involved with the organization Operation Smile. The organization, per its website, provides free surgeries to children with cleft palettes. The charity also provides other services, including dental care and speech therapy.
Cindy told ABC News in 2008 that she has "a very soft spot in [her] heart" for the charity and that her work with Operation Smile goes beyond helping others. Cindy explained that the work "revitalizes" her — which was especially true when John McCain was running for president. "I think you can lose track of things inside a campaign bubble, so I think it's very important to get out and go back to what I do best and love most and that's this," she said.
Megan McCain was excited to greet her new little sister, Bridget McCain
While Bridget McCain was accepted by the entire McCain family after she was adopted, it seems like her bond is particularly close with her older sister, Meghan. Meghan McCain has spoken about what it was like when she met her baby sister for the first time, and her story is a heartwarming one.
Meghan, who was just 7 years old when McCain was adopted, said that she has a very powerful memory of her baby sister coming home for the first time. "I remember thinking that I was excited I had a new sister," she told the Kunhardt Film Foundation (via CheatSheet). Meghan said there was no adjustment period but that she instantly accepted that she had a new sister who was going to share a room with her. "That's a real testament to kids and how they just don't question things," she said.
While the young Bridget McCain's health conditions meant that she received a lot of attention as a baby, Meghan said she wasn't jealous of this, but just accepted that her sister "[needed] a lot of care." The close bond between the McCain sisters has remained strong into adulthood.
Bridget McCain was devastated by a rumor that surfaced during her dad's presidential campaign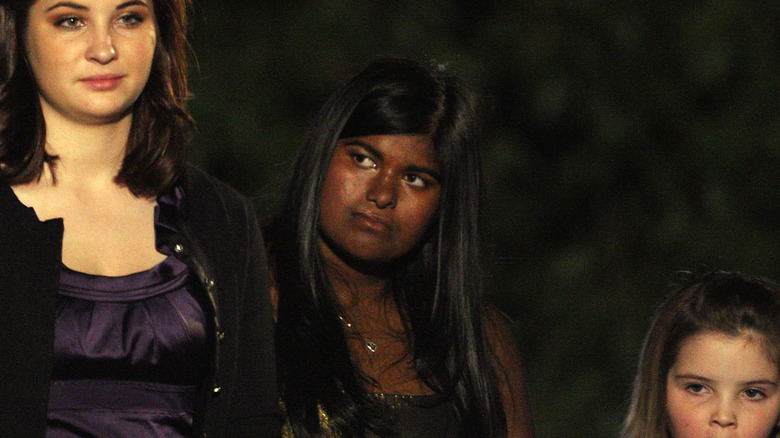 David Mcnew/Getty Images
Bridget McCain's childhood was made even more difficult by her father's presidential runs. As the youngest of the McCain children and as an adoptee, she was a prime target for a smear campaign during the 2000 election, in which her father campaigned for the Republican nomination. A rumor spread that McCain was an illegitimate child from an extramarital affair her father allegedly had.
Roy Fletcher, the politician's deputy campaign manager, told Vanity Fair that the onslaught was vicious. At one debate, Fletcher said he found flyers with the rumors on them "all over every car." 
The McCains were unable to shield their daughter. While Cindy told Harper's Bazaar that no one had actually brought the drama to McCain's attention, the then 8-year-old learned of the things being said about her after she decided to Google herself. "She was so upset, took it so personally," Cindy told the outlet. She added that, while her youngest child was hurt that she had been pulled into the drama surrounding her dad's run, she was "an awfully strong girl," which helped her cope with the attacks.
This is what a young Bridget McCain said about her dad when he was running for president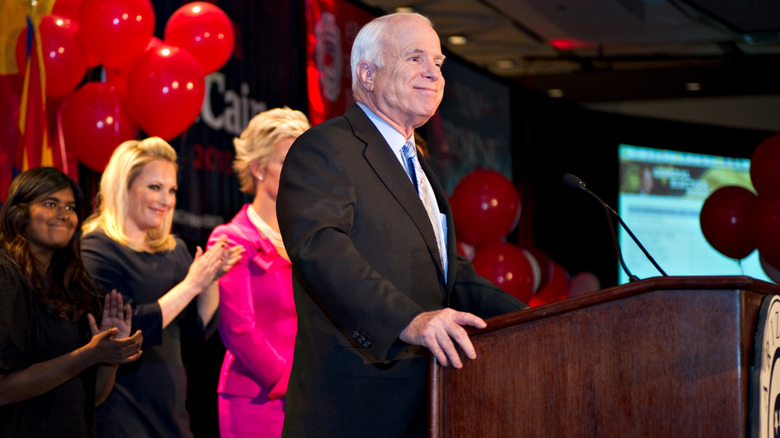 Shutterstock
Bridget McCain wasn't even old enough to vote when her dad was running for president in 2008, but that didn't stop her from offering her unbridled support to him. Just 16 years old at the time, the high school sophomore spoke to Scholastic Media Room not just about her dad's political run, but also about her personal life.
The young McCain was quite the athlete in high school, playing basketball and volleyball. Like many teens, she said that she enjoyed spending time with her friends. When it came to her dad, she had nothing but praise for the man who would eventually lose the presidential election to Barack Obama. "My Dad's best achievement is being a dad and also running for president at the same time," the teenager gushed. "He always puts family first!"
Bridget McCain is living life out of the public eye
Unlike many millennials, Bridget McCain doesn't post the details of her life on social media. While she is on social media platforms, she's not a frequent poster. Her Twitter account is rarely updated, and her Instagram account is private and doesn't even feature her full name or a profile picture. In fact, the only reason people know about her IG at all is that her sister, Meghan, has tagged the account in pictures she has posted of her sister. McCain also appears to have a Facebook account, although, again, there are few public posts. None of these social media accounts are verified, further proof that McCain has no interest in having an internet presence.
It makes sense that someone who grew up in a very well-known family would want to keep out of the limelight. McCain's seclusion is even more understandable when you remember how she was at the center of so much gossip as a little girl, something that would be enough to turn anyone off to the idea of being a public figure.
Bridget McCain attended Arizona State University
One thing that we know for sure about Bridget McCain is that she attended Arizona State Unversity, although the details about her field of study and whether or not she's graduated yet are a bit murky. AZ Central noted that she began her studies at the institution in 2010. Her brother, Jack, revealed that she was interested in pursuing a career in special education at the time.
In 2017, Cindy McCain revealed to People that her daughter was still at school, but didn't reveal her field of study. "She's kind of on the six-year plan," she said. "That's okay though, I've been told that's common so I'm not worried."
Four years later, People reported that McCain was still at Arizona State. The outlet noted that she wasn't studying special education, though, but speech and hearing instead. It's unclear if McCain changed her major, or if she had ever been studying special education at all. There's also the possibility that she was returning to school to pursue another degree.
A devastated Bridget McCain gave a reading at her father's funeral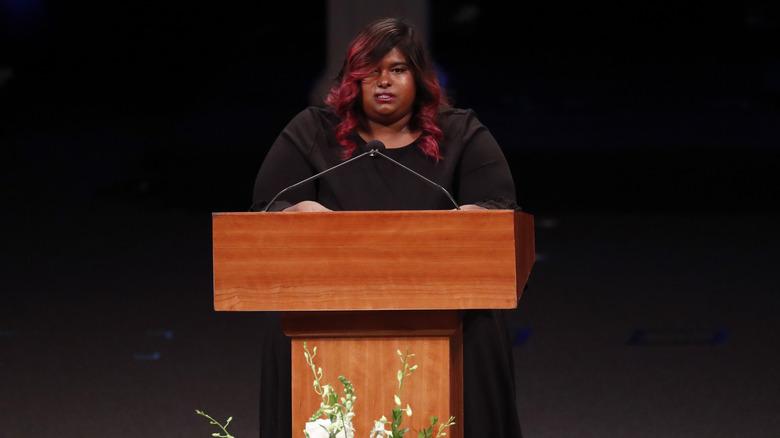 Pool/Getty Images
While Bridget McCain may do her best to stay out of the public eye, we do know that she was very much a daddy's girl. This isn't just based on the public support father and daughter showed each other in interviews, but also on the stirring reading she gave at her father's funeral in 2018.
McCain was clearly crushed by the loss and could barely hold herself together long enough to give the reading from the Bible, which was just a few lines long. McCain's reading was from the book of Ecclesiastes. "There is an appointed time for everything, and a time for every affair under the heavens," she read. "A time to give birth, and a time to die; a time to plant, and a time to uproot the plant."
It's clear that giving the reading was difficult for her, and the family would no doubt have understood if she had chosen not to get in front of the crowd — especially given her very private nature. The fact that McCain worked through her grief to pay tribute to her dad through the reading shows just how devoted she was to him.
Bridget McCain once slammed Donald Trump on Twitter
Bridget McCain isn't afraid to go to bat for something she truly believes in. The most notable example of this was in 2019 when former president Donald Trump made some snide comments about the late John McCain. His youngest child slammed Trump from her seldom-used Twitter account, asking him to "be decent and respectful" or, at the very least, "mindful." McCain pointed out that it had been just seven months since her father had died. 
McCain continued to take Trump to task in a follow-up tweet, saying that even if the president had been invited to her father's funeral he "would have only wanted to be there for the credit and not for any condolences." She concluded her message with some particularly cutting words, saying, "Unfortunately, you could not be counted on to be courteous, as you are a child in the most important role the world knows."
Meghan McCain — who has also spoken up to Trump in reference to her father — praised her little sister on Instagram, saying she was "incredibly proud" of her. Cindy McCain also had words of praise, telling People she was "stunned" but "could not have been more proud." She added that her daughter's words were "beautifully written."
Is Bridget the funniest of the McCain kids?
It's clear that there is a lot more to Bridget McCain than meets the eye. Cindy McCain revealed to People that her youngest is "very funny." Cindy has also spoken about her daughter's funny side with other outlets, telling Harper's Bazaar that she has her father's "very dry sense of humor," a common trait that was a big part of their strong bond.
That might not sound like the biggest compliment unless you're familiar with John McCain's comedic chops. Cindy revealed that his sense of humor was one of the things that attracted him to her in the first place. HuffPost noted that the late politician "had a great sense of humor" exhibited everywhere from political events to "Saturday Night Live." 
The former presidential candidate even opened up about his penchant for drawing laughs on the campaign trail (via The Gazette). "A sense of humor got me through some very difficult situations in my life," he said. "Most Americans appreciate a sense of humor."
John McCain said Bridget was the "toughest" of his kids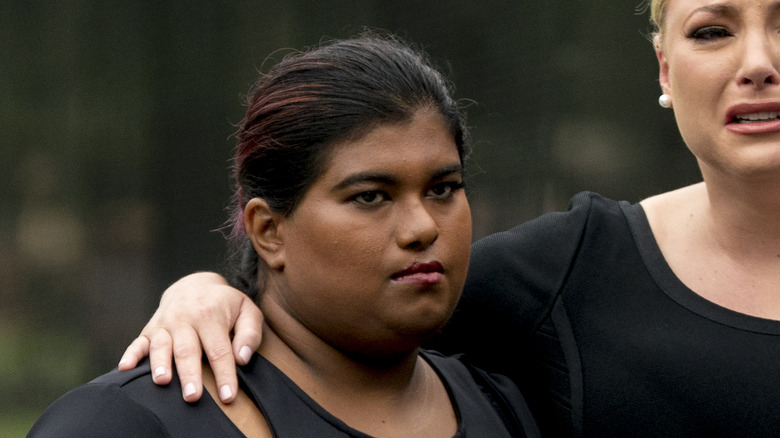 Pool/Getty Images
Bridget McCain may have been through some tough times in her youth, but don't look at her as a victim. According to her dad, his youngest kid is as strong as they come. "She's the toughest of the four," he once told DadMag. "The youngest always has to be the toughest."
Elsewhere in the interview, the politician spoke about how his youngest child came into his life and how happy he was that his wife made the decision to bring her home — even though he had no idea what she was planning. He explained to the outlet that his youngest "enriched our lives," calling her "a wonderful child" and "a complete part of our family."
It's clear that McCain was devoted to his youngest — as he was to all of his kids. "There is nothing in life like a child that you can nurture and love," he said. "The reciprocation of that love and nurturing is a thousand times more beneficial to you than it is to the child."
Bridget McCain lives near her mom, Cindy McCain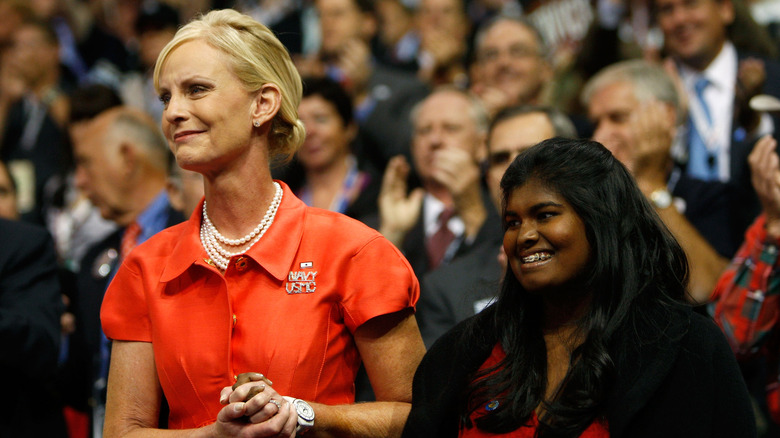 Scott Olson/Getty Images
The death of John McCain hit Bridget McCain hard, but the McCain family has at least been able to support each other in their grief. The McCain family is a close-knit one and, while McCain might live her life under the radar, we know that she has a tight bond with her mom. She even lives near her, as Cindy McCain revealed to People. "I'm just so grateful to have her as a neighbor now," said Cindy of her "lovely" and "witty" daughter, whom she also described as "quiet most of the time" and "so introspective."
Cindy, who lives in Phoenix, didn't say exactly how close her daughter lives to her but said that she's close enough that she "get[s] to see her a little more." The widow also said that McCain and her other children have been a comfort to her, adding that "they want to make sure [she is] okay."
Bridget McCain is an heir to a small fortune
In spite of the fact that we don't know if Bridget McCain is working, let alone what field she's chosen, we know that she's probably financially set for life. That's because the McCains are incredibly wealthy. It's likely that the youngest McCain has a trust fund, or that she will at least stand to inherit quite a bit of money one day. 
Per Celebrity Net Worth, the late John McCain was worth an impressive $16 million, but his fortune looks like peanuts next to that of his wife, Cindy. The outlet notes that the widow is worth a jaw-dropping $400 million, thanks to a majority stake in Anheuser-Busch distributor Hensley & Co. The New York Times reported in 2008 that Meghan, Jack, and James McCain each held 7.73% of the company. While McCain's share was roughly half that, a campaign spokesperson for John McCain told the outlet that it would eventually increase to the same share as that of her older siblings. 
This means that McCain will almost certainly one day be a millionaire even if she isn't one already.