What Conditioner Should You Really Be Using?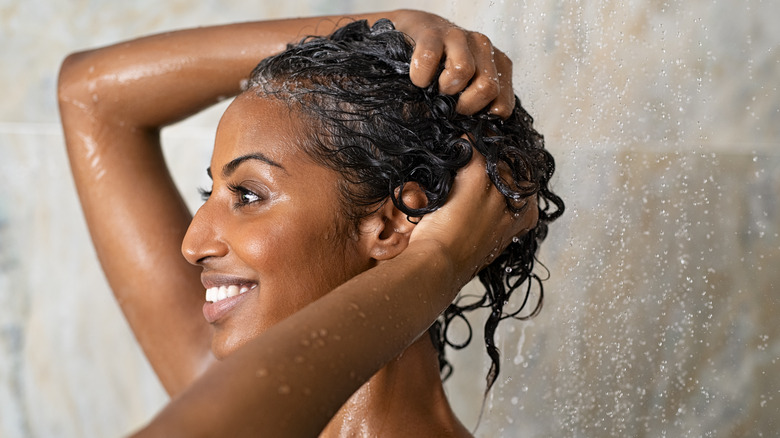 Shutterstock
We may receive a commission on purchases made from links.
Chances are most of us bless our locks with conditioner after we shampoo. Conditioners are specifically formulated to hydrate our hair following moisture-loss from suds-producing shampoos — forget to use it, and you could put your hair at risk. Using the right conditioner can be imperative for anyone who wants to obtain or maintain healthy hair. However, the sad reality is that most people are completely unaware of which type of conditioner is best suited for their hair type. This is only made harder by the hundreds of options lining the shelves of our drugstores (and the countless more options on the internet).
According to experts, one should choose a shampoo based on their scalp's specific needs, whereas conditioner should be picked based on how you wish to enhance or treat your hair's current condition (via Byrdie). So whether you're dealing with oily, damaged, dry, or colored locks, fear not, because there is a conditioner out there for you! So which products should you pick up as soon as you can, and which should you avoid for dear life? 
Choose one of these conditioners if you have oily, limp hair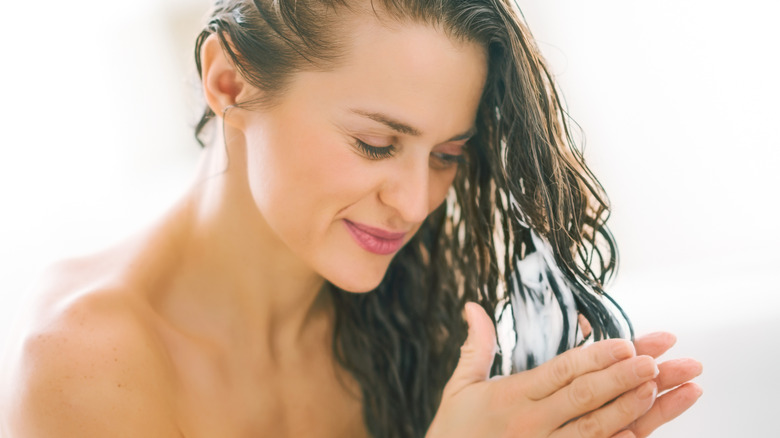 Shutterstock
If you are one of the many people who suffer from oily locks (which can be caused by either genetics, product buildup, pollution, or not washing your hair enough, according to hair giant Head & Shoulders ), then you have one of two options. 
Option one, if you're lucky enough, includes skipping conditioner in the first place, as it may further weigh down your hair (via Byrdie). However, if you find your hair getting dryer from avoiding hydration, then you would benefit most from option two, which is to get yourself a light conditioner that specifically reads "balancing," "strengthening," or "volumizing."  A conditioner with extra protein may also provide some additional goodness for oily hair, as they are less moisturizing. 
If you need some help picking the right one for you, here are some of the top-rated conditioners for oily hair that won't break the bank. First up is the Tea Tree Special Conditioner by Paul Mitchell ($15.50). This conditioner is infused with tea tree oil, peppermint, and lavender that are meant to leave your locks feeling oil-free and refreshed. 
Next, we have L'Oreal Paris Elvive Extraordinary Clay Rebalancing Conditioner ($3.42). This clay conditioner not only leaves the hair oil-free, but also revives dry ends. Lastly, you'll want to try the OGX Renewing Argan Oil of Morocco Conditioner ($5.74). This conditioner, which is made from argan oil, works by balancing the moisture on the scalp to prevent excessive oil production and buildup.
If you have damaged, brittle hair, these are the conditioners for you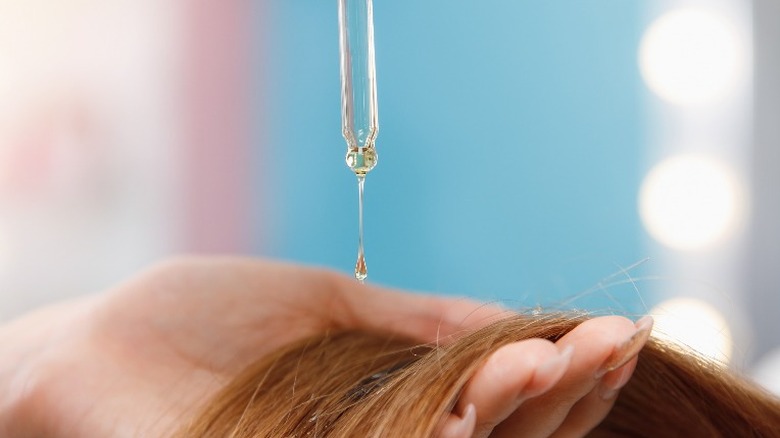 Shutterstock
If you suffer from dry or damaged hair, picking up the right conditioner can literally make or break your hair. To avoid breakage, you will want to specifically keep an eye out for conditioner labels such as "moisturizing," "hydrating," and  "smoothing." Conditioners that are formulated to treat curls are also great for brittle locks, according to Byrdie. 
If your hair is especially damaged from tools, coloring, or even just the sun, you might need an extra-strength conditioner that promotes repair, controls frizz, and provides UV-protection. You may also require a deep conditioning treatment at least once a month. A good conditioner for the people in this department is the No.5 Bond Maintenance Conditioner by Olaplex ($28.00). This reparative conditioner specifically targets dull, damaged locks with split ends and works by bringing broken bonds back together. 
Another great option is the Camille Rose Algae Renew Deep Conditioner ($18.23). This deep conditioning treatment is not only packed with 65 vitamins, but is also infused with blue green algae that contains biotin (your hair's best friend). Third, we have the Aussie 3 Minute Miracle Moist Deep Conditioner ($6). This conditioner, which is made from Australian aloe, jojoba oil, and sea kelp, packs a serious punch for its price point and leaves the hair feeling silky smooth, according to reviews.