The Hair Serum That Emily Ratajkowski's Stylist Swears By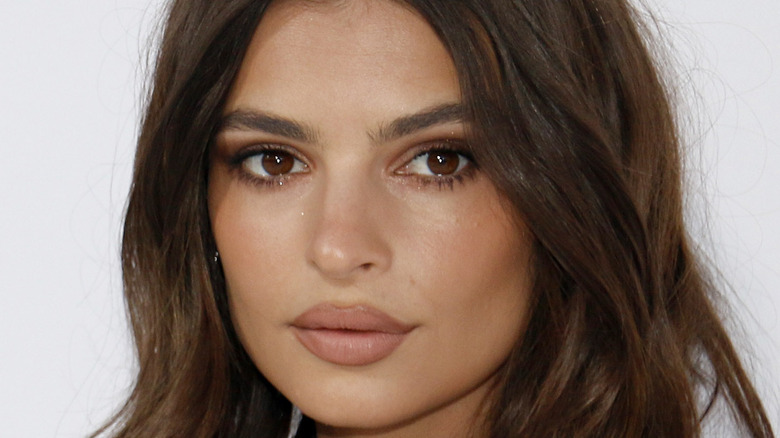 Shutterstock
Feminist icon Emily Ratajkowski turned heads in Robin Thicke's "Blurred Lines" music video for her unique beauty. Since then, Ratajkowski has gone on to storm the film industry with roles in "Gone Girl," "I Feel Pretty" and "Welcome Home" (via IMDb). Over the years, Ratajkowski has become a fashion darling for her venturesome outfit choices (via Harpers Bazaar), but has also proved to be more than just a pretty face. Her thoughtful piece for The Cut raised questions about the little power celebrities have over their own images in comparison to paparazzi. Ratajkowski's courage to defy social norms and call out inequities in Hollywood has reshaped the mold of what it takes to be a role model to the masses.
Fans' obsession with emulating Ratajkowski's effortless coolness and no b.s. attitude (via ABC News) extends all the way to duplicating her medicine cabinet. Ratajkowski is often sharing beauty secrets with her followers, describing what it takes to maintain her dewy complexion, and we recently learned of a go-to product in her hair stylist's repertoire.
Emily Ratajkowski keeps her hair glossy with Kérastase Elixir Serum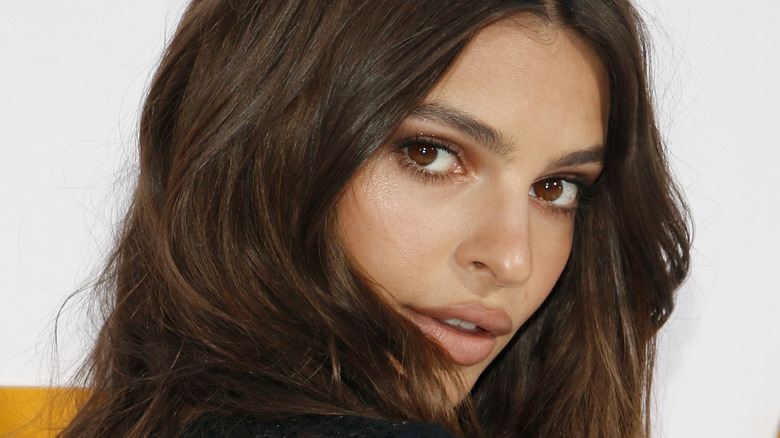 Shutterstock
Before snapping one of her sultry selfies, Emily Ratajkowski likes to use Kérastase Elixir Ultime Oil Serum to add shine to her brunette tresses (via PopSugar.) In a 2019 interview with Byrdie, Ratajkowski revealed why the lightweight oil blend works best with her lifestyle. "I just don't want to have to think about [my hair] every second of every day," Ratajkowski explained of her low-maintenance haircare routine. "My day-to-day routine is just truly keeping my hair healthy because it does get so much heat and product in it all the time. And I don't have super-thick hair. I have a lot of hair, but it's super fine, so I really have to actually try to take care of it. I get regular haircuts. The Kérastase Elixir is really good for the ends. And then I alternate with their shampoos."
According to Sephora, the hair serum is made up of four oils: Maize, procaxi, argan, and camellia. The blend is designed to add shine as well as nourishment and protection to towel dried hair, or as a finishing product to control flyaways. This simple practice is clearly working for Ratajkowki, whose already minimal free time just shrunk thanks to the birth of baby boy Sylvester. If it's convenient enough for the new mom, it's good enough for us!