The Truth About Jameela Jamil's Cancer Battle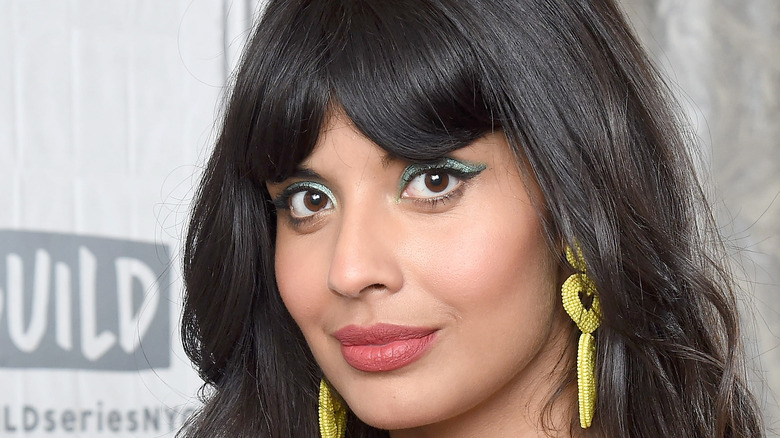 Gary Gershoff/Getty Images
Although Jameela Jamil first rose to prominence for her breakout role on the NBC comedy, "The Good Place", she has since become known for her activism and dedication to publicly challenging problematic and unjust behavior in the media (via Insider). Jamil campaigns for body neutrality and against eating disorder culture. She often critiques Kim Kardashian's posts because she feels they promote an unrealistic body type. In a recent response to one of Kardashian's photos wearing a corset, Jamil wrote, "The smart thing to do is to protect YOURSELF. YOU have the power. YOU control every Market. YOU choose what and who is trendy. Unfollow the people who tell you things that hurt your self esteem" (via Elle).
Unsurprisingly, Jamil has also been subject to many critiques about her own body and image. In 2019, a man tweeted a derogatory comment about the way she dresses at her age (via The Independent). Jamil quickly responded to the man and expressed that she finds the "cultural taboo" that surrounds aging insulting as someone who has experienced cancer. She tweeted, "I would just like to say, that as someone who has been chronically ill my whole life, and had cancer twice, I find it EXTREMELY offensive that there is a cultural taboo around ageing."
Jameela Jamil has struggled with illness her whole life
Frazer Harrison/Getty Images
While Jameela Jamil has clearly been open about her battle with cancer over the years, she has been accused of lying about her illnesses. In 2020, the actress was accused of having Munchausen syndrome and faking her illnesses. Journalist Tracie Egan Morrissey posted an Instagram Story Highlight featuring different interviewers where Jamil appears to give contradictory statements about her health (via Slate). Jamil responded to the accusations on Twitter writing, "I'm now being accused of Munchausen? By an unhinged idiot who didn't even realize in all her 'research' that my car accident injury stories are 'different' because they were about TWO SEPARATE CAR ACCIDENTS 13 years apart? You can keep it."
Jamil first opened up about a breast cancer scare in a 2015 interview with the Mirror, (via The Independent). She said in the interview, "That scare shocked me to the core, that's for certain, but I felt so lucky to be alive." After being accused of lying about her battle with cancer, she explained in a tweet that she had the scare when she was 28 and was later diagnosed with cervical cancer (via Slate).
In a subsequent tweet, she wrote that she beat cervical cancer twice in 2016 and 2019. Her boyfriend, James Blake, corroborated Jamil's claims. He tweeted a notes app statement reading, "I am there for her swollen joints, her dislocations, her severe allergic reactions, her constant high fevers. I was there for her concussion, her 3 months of seizures, when the doctor gave her the cancer diagnosis."