Inside Olivia Culpo's Relationship With Football Player Christian McCaffrey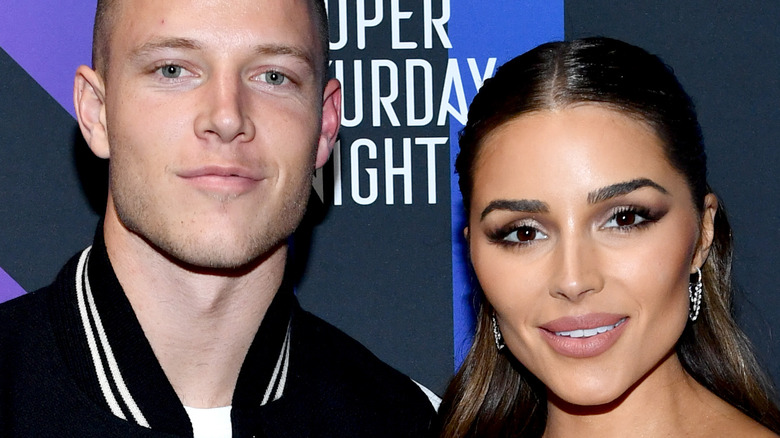 Dimitrios Kambouris/Getty Images
The 2021 Miss Universe competition is airing this Saturday, May 16, per Newsweek, and will be co-hosted by Mario Lopez and Olivia Culpo. Culpo was the last Miss USA to win Miss Universe, back in 2012, and she has since made a name for herself in the fashion and beauty space, according to her website. Culpo just turned 29 and celebrated her birthday with a tropical getaway, accompanied by her boyfriend Christian McCaffrey, running back for the Carolina Panthers, along with other friends and family (via the Daily Mail).
Culpo and McCaffrey have been dating since July 2019 and have since been attached to each other's hips (via Page Six). They enjoy frequently traveling together. In March, the pair spent a romantic weekend together in upstate New York, and Culpo posted several pictures of themselves together and of herself, captioning one picture on Instagram, "Chasing sunsets with you." But it wasn't always sunshine and rainbows for the couple.
During an Instagram Live last August with S'More, a dating app, Culpo spoke about how she met McCaffrey through mutual friends, after coming out of a tempestuous relationship with NFL receiver Danny Amendola (via For the Win). "They were like, 'Olivia, there's this guy you really have to meet him.' And I was like, 'No, I'm not dating an athlete. I really just don't think that's the right move for me. Bad history there. Let's just — turn.'" But Culpo let go of her initial hesitancy and the couple instantly connected.
They're each other's biggest cheerleaders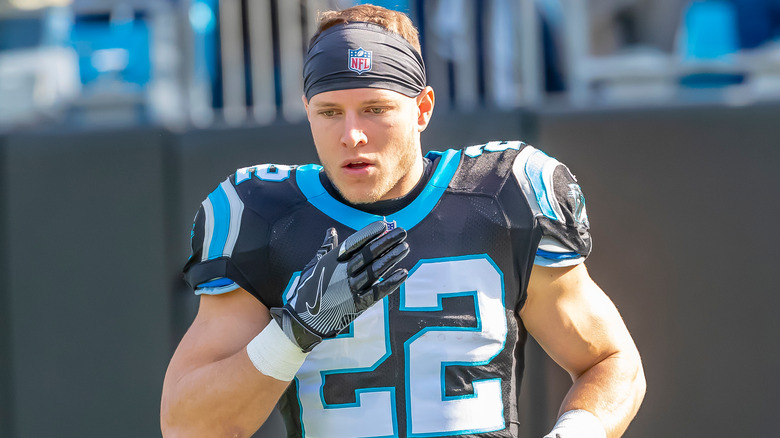 Shutterstock
Christian McCaffrey signed a four-year extension with the Carolina Panthers last year worth $64 million, per Sports Illustrated. Because of his injuries though, he sat on the bench for most of the 2020 season (via The New York Post). McCaffrey posted a picture of himself on Instagram after one of his injuries last September, with the caption, "It's easy to have faith when everything is going well. But a true soldier has faith in times of adversity. Tough times don't last, tough people do." He added, "I pray for all of the guys who suffered injuries across the league for speedy recoveries, and I want to send my prayers and condolences to @sweetfeet and his family during this tragic time."
Olivia Culpo commented on the post to show her boyfriend her support, saying, "I love you!!!!!!!." McCaffrey has been her rock as well. According to the Daily Mail, Culpo has been struggling with endometriosis and was not able to get a proper diagnosis from a doctor. McCaffrey spoke to his team's physician who connected Culpo with an OB-GYN. The OB-GYN ended up performing surgery on her last November, which has helped her feel better now.
McCaffrey also dressed up as Santa Claus and video-called Culpo's nephew to wish him a merry Christmas this past December (via TMZ). Both Olivia Culpo and Christian McCaffrey seem to be there for each other in sickness and in health, and we're here for it.