The Real Reason Old Navy Clothes Are So Cheap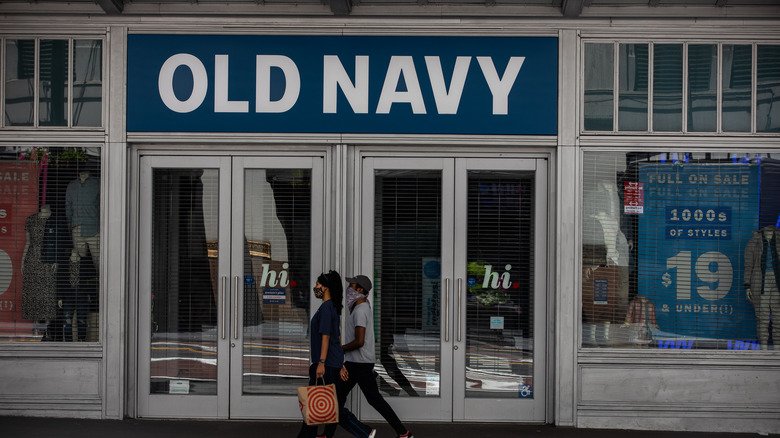 Bloomberg/Getty Images
Everyone loves a good bargain, and Old Navy is the perfect destination for budget shoppers hoping to walk away with an armload of clothes and accessories for seemingly impossibly good deals, like $1 flip flops. While Old Navy is an ideal spot to score sweet steals for the entire family, have you ever stopped to wonder why the garments are so darn cheap?
Firstly, it's worth pointing out that some shoppers swear the quality of Old Navy clothes reflects the inexpensive prices, with a Redditor noting, "The jeans/pants never seemed to last." Another commenter agreed, writing, "Good for kids who grow out of stuff quickly, but wouldn't count on most of the things buying there lasting all that long." Finally, another Reddit user summed up the sentiments of many who shared their opinions on the quality of Old Navy garments by writing, "You get what you pay for. It's cheap and it shows."
Of course, as Business Insider notes, customers head to Old Navy for the deals, which are heavily advertised by the retail chain. The outlet also reports Old Navy is not exactly known for selling a ton of variety, so the store may save on costs by focusing on basics instead of trying to be the most fashionable store out there.
How Old Navy runs its business may be why the clothes are so cheap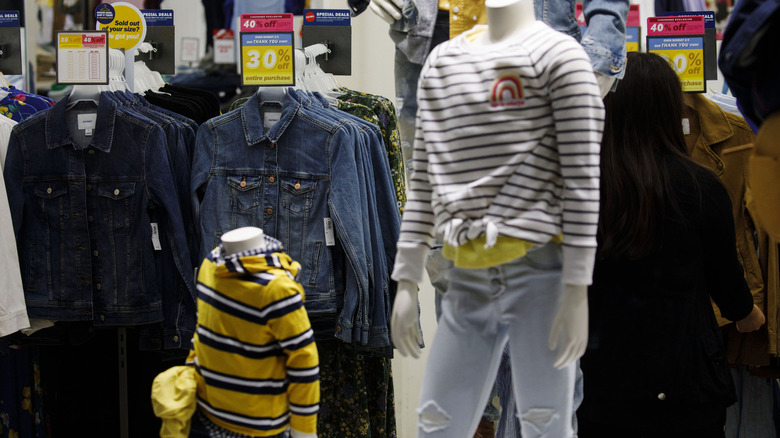 Bloomberg/Getty Images
An employee at Old Navy revealed why the clothing might be so cheap, writing on Quora, "Old Navy uses lots of manufacturers so their quality and even sizing vary considerably. It's definitely a great place for what I consider disposable clothing. Meaning even if you're on a budget, you can live the seasonal high life with a revolving wardrobe."
That said, the reason Old Navy clothes are cheap may have to do with where they are produced. According to Stylewise, the garments are sourced from countries like Sri Lanka and Cambodia, where labor is very inexpensive. Meanwhile, it's worth noting that according to CNN, the company made $8 billion in profits in the 2019 fiscal year.
CNN also reports that Old Navy, a chain committed to offering its customers cheap clothing, picks locations that work for their bottom line, and these are mostly strip malls. 
Ultimately, Old Navy seems to know its customer, and as Fast Company sees it, was a "bright spot" as compared to the stores under the Gap Inc. umbrella — Gap and Banana Republic — for many years.
But the outlet also notes that "cheap, disposable" garments like those sold at Old Navy aren't sitting well with some eco-conscious consumers. So, it seems the future is unknown for the brand, other than a certainty you can always find clothes for less than $50.