Does Bio-Oil Cause Skin Darkening?
Do you want to get clear, acne-free skin? One product a lot of skin experts recommend is Bio-Oil, a cosmetic oil that'll clear your skin and also improve the appearance of new and old scars (via Healthline). But, as we know, incorporating any new product into your skincare routine can be a bit of a hassle. Luckily, here are all the facts about this product that you need to know!
Per Byrdie, Bio-Oil is made of various plant oils and vitamins, which help fade stretch marks and scars. Plus, it'll soothe any type of skin, whether it's dry, oily, or combo, the outlet revealed — even experts agree that this product is a must-have. "It acts as an emollient and makes skin feel soft and smooth, and it's even been shown to enhance recovery from damage to the skin barrier," Dr. Morgan Rabach, a board-certified dermatologist, told Byrdie. 
That's not all this product does. Bio-Oil also doesn't clog your pores as it is non-comedogenic, per Byrdie. And, if your skin is not moisturized or hydrated enough, you definitely need to add this product into your skincare collection. "If you have overly dry and flaky cracked skin, this oil may help if other lotions or creams aren't moisturizing enough," Dr. Rachel Nazarian, a board-certified dermatologist, told Byrdie.
Are there any side effects when using Bio-Oil?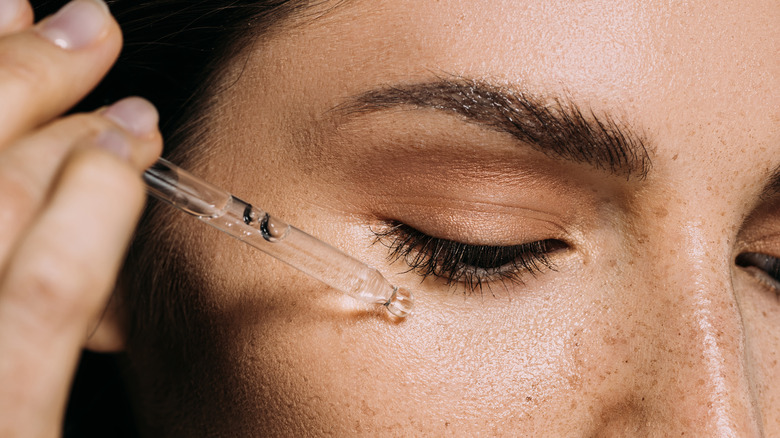 Shutterstock
As always, when using a new product, you're bound to have a few side effects. According to Healthline, an ingredient in Bio-Oil, linalool, is a known fragrance allergen. Thus, you should do a patch test — testing a small portion on your arm and waiting up to an hour for a reaction — so you can be safe.
Additionally, per Byrdie, if you have sensitive skin, you might want to stay away from this product. The outlet reported that Bio-Oil's antioxidants may irritate those with allergy-prone skin. "It also contains a lot of botanical ingredients and may be somewhat irritating for people that have allergies or have sensitive skin," Dr. Rachel Nazarian said. Thus, if you do have allergy-prone or sensitive skin, it's best to avoid Bio-Oil.
Regardless of these side effects, Bio-Oil is a product you need to add to your skincare collection (even if you don't use it on your face). It'll help you with your acne, stretch marks, and pigmentation. Name a better product, we'll wait.