How The Royal Family Really Feels About Prince Harry's Latest Interview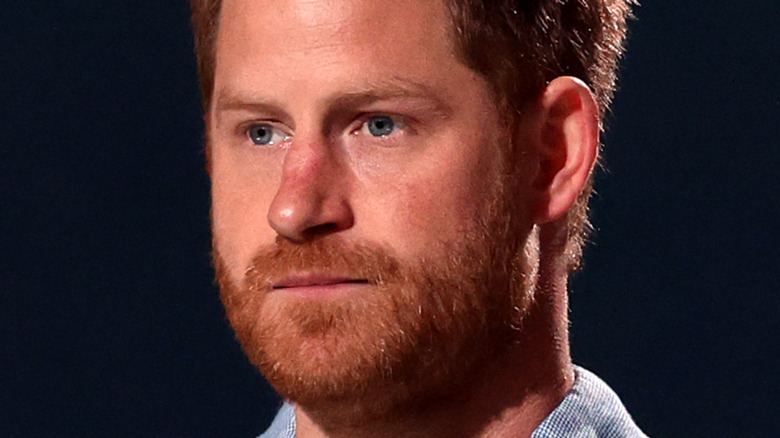 Kevin Winter/Getty Images
Prince Harry shocked everyone when he appeared alongside his wife Meghan Markle for a tell-all interview with Oprah Winfrey back in March. During that interview, the Duke and Duchess of Sussex dropped many bombshells about their feelings regarding the royal lifestyle. The pair seemed to hold nothing back as Harry admitted to feeling trapped, and Meghan revealed she had suicidal thoughts, per USA Today. However, Harry wasn't done spilling details about his royal life. The duke shocked again when he opened up further while speaking with Dax Shepard on his "Armchair Expert" podcast last week (via Us Weekly). During the sit-down, Harry admitted that he wanted out of the royal family for years. "In my early 20s, I was in space of, 'I don't want this job. Look what it did to my mum, how am I ever going to settle down, have a wife and a family, when I know this is going to happen again," Harry admitted.
While explaining what it felt like to live as a member of the royal family, Harry confessed that he often felt like he was under a microscope, or even in a movie where everyone watched his life play out. "It's a mix between 'The Truman Show' and living in a zoo," he said. "The biggest issue for me was that, being born into it, you inherit the risk. You inherit every element of it without a choice," he stated. Now, one expert is revealing what the royal family thinks of Harry's latest bombshell interview.
If you or anyone you know is having suicidal thoughts, please call the National Suicide Prevention Lifeline​ at​ 1-800-273-TALK (8255)​.
How did the royals react to Harry's latest comments?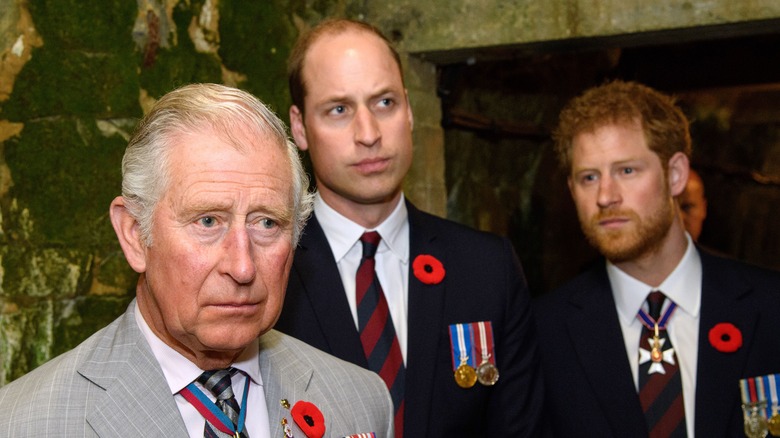 Pool/Getty Images
Royal expert Katie Nicholl tells Entertainment Tonight that the royal family was not happy about Prince Harry's statements during the podcast interview. Harry's comments about being in a zoo were said to be particularly irritating to the family, especially his father Prince Charles and brother Prince William. "I think the problem with the podcast and the things Harry has said — particularly about the institution, feeling like he was in 'The Truman Show', feeling like he was in a zoo — it has echoes of what he said on Oprah, that he, and his brother, and his father feel trapped by the institution. It may be how Harry feels, but I don't think it's how William and Charles feel," Nicholl said.
In addition, Harry went on to talk about a cycle of pain that is passed down from generation to generation, which some took as a dig at Charles. "It does seem that this is yet another example of Prince Harry criticizing the royal family, in particular his father, who of course came under some fire in that Oprah interview. I think there is that sense again that he feels he's been let down by his father in this interview. That's going to be incredibly hurtful for the Prince of Wales," Nicholl shared, adding that the royal family is "distressed and angry" about Harry's comments and believes that he "shouldn't be complaining" about his privileged life.
The interview likely put further strain on Harry and William's relationship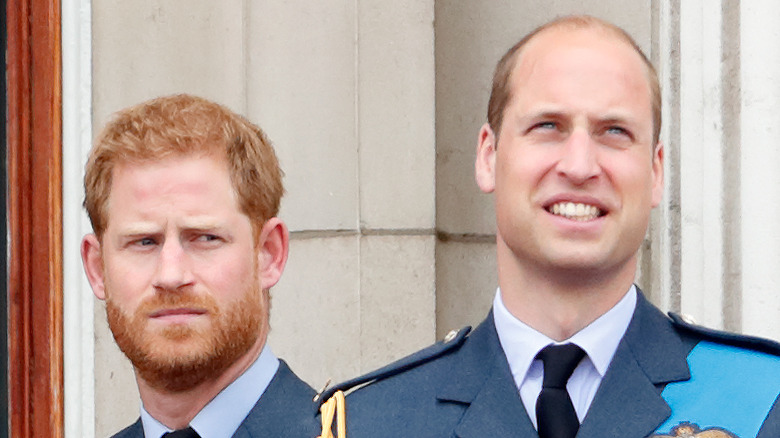 Max Mumby/indigo/Getty Images
Katie Nicholl also told ET that each time Prince Harry divulges private and personal details during an interview it puts a further strain on his relationship with older brother Prince William. "I think it's inevitable that every time Harry speaks out about personal family relationships, it is going to be damaging to the healing of this rift, particularly between William and Harry," she says. "I think there is a desire on the part of both of the brothers to move on, to try and heal this relationship. The problem is, when Harry sits down and gives a really personal interview like this ... it really does set back that healing process," Nicholl explained.
Meanwhile, Harry and William are supposed to reunite in July to honor their late mother Princess Diana. However, with all the drama many are wondering if Harry will show up to the ceremony. "Of course, everyone is wondering, will the brothers be standing shoulder by shoulder on July the first for the unveiling of the Diana statue? What's that body chemistry going to look like? At the moment, we're still not 100 percent sure that Harry is going to be here for that statue unveiling. Of course, a lot of it depends on when his daughter is born and how Meghan is," Nicholl told the outlet.