Kayleigh McEnany's Net Worth: The Political Commentator Makes Less Than You Think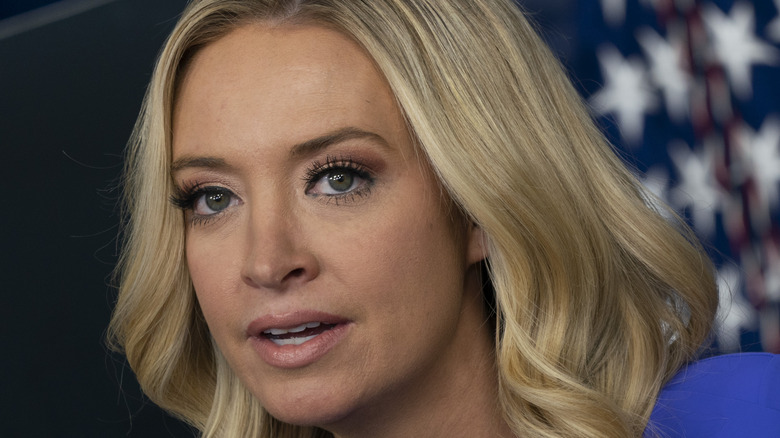 Bloomberg/Getty Images
Kayleigh McEnany became a household name to more than just cable news junkies when she became former President Donald Trump's fourth press secretary in the spring of 2020, just when the coronavirus pandemic had become the biggest story of the day after the world seemed to shut down, according to Business Insider.
McEnany had become a fierce defender of the former president by the time she took the White House role, after endorsing him during the 2016 election. She then began her career in television and media, working her way up the ladder with politics on her mind.
As many of her fans can recall, McEneny was born in Florida in 1988 and went on to graduate from Georgetown University in Washington, D.C. with a degree in International Politics, but she was a political junkie since high school. In fact, in 2004, she was a volunteer on the re-election campaign of former President George W. Bush. While at Georgetown, she became an intern in the White House during the Bush administration and started making money in politics soon after graduation.
Kayleigh had a humble start to her politics career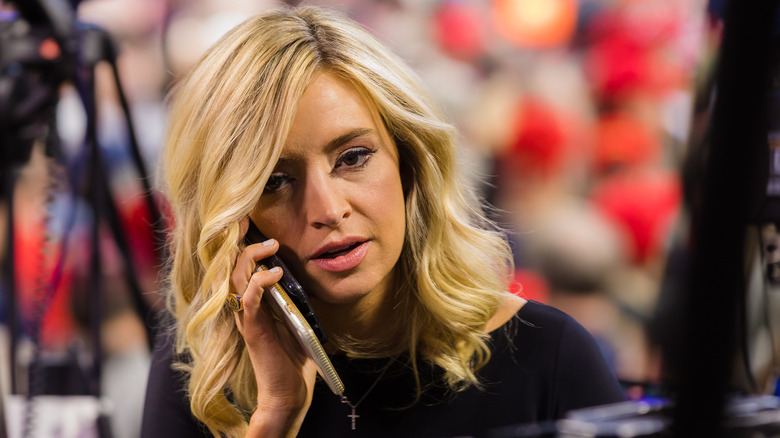 Shutterstock
Kayleigh McEneny's first television job was as a producer on a local TV show featuring former Arkansas Governor Mike Huckabee. By 2011, she had made her first Fox News appearance as a political commentator, though she didn't stay exclusively with Fox as she also became a pundit for CNN as a conservative commentator, (via Business Insider).
While she had critical things to say about Donald Trump when he was just a primary candidate in 2015, she was all on board with his candidacy once he became the nominee in 2016; her career took off from there. In fact, on CNN, she said. "To me, a racist statement is a racist statement. I don't like what Donald Trump said...Donald Trump has shown himself to be a showman, I don't think he is a serious candidate. I think it is a sideshow. It's not within the mainstream of the candidates."
All those appearances criticizing and then praising Trump led to more high profile and lucrative work for McEnany.
Kayleigh earns money and fame through Donald Trump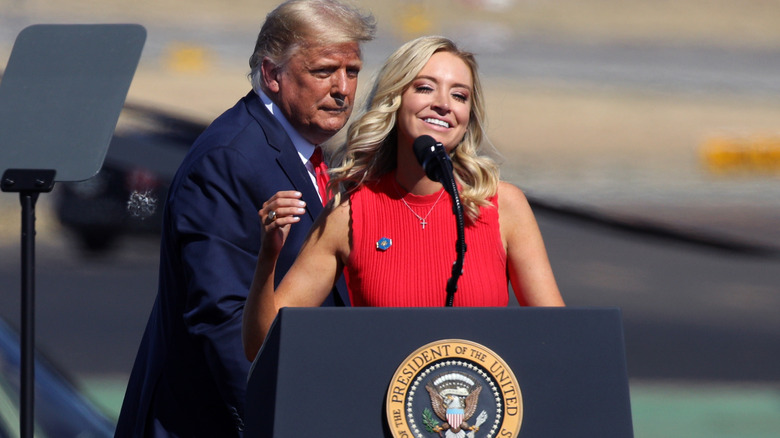 Caitlin O'hara/Getty Images
Hopping aboard the Donald Trump train became a lucrative decision for Kayleigh McEnany. She left her commentator position at "CNN" and quickly began making appearances on "Trump TV," according to Business Insider. Soon, she was named National Spokesperson for the Republican National Committee in 2017, where she didn't earn nearly what people would think that position makes. According to Celebrity Net Worth, she only got paid $21,394 for that job. By 2020, she was hired as yet another White House press secretary, earning $183,000 a year.
During the Trump presidency, McEnany also wrote a book called "The New American Revolution: The Making of a Populist Movement." The press secretary also double-dipped and worked for the Donald Trump For President Campaign, which was separate from her White House job, earning $167,962, according to Celebrity Net Worth.
When Donald Trump left office, McEnany went back to her TV roots and accepted a job as a Fox News commentator, with her net worth reported at $500,000.