Why Legal Experts Think Melinda Gates Is Trying To Change The Amount Her Kids Will Inherit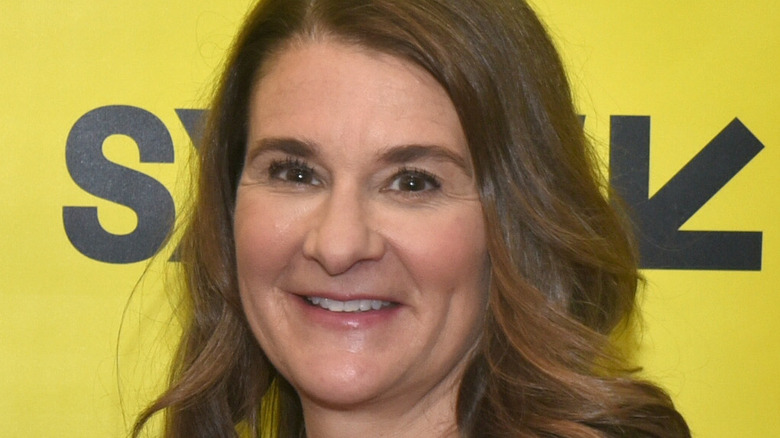 Dave Pedley/Getty Images
On May 3, Microsoft co-founder Bill Gates and wife Melinda Gates took to Twitter and announced they decided to split after 27 years of marriage. Since announcing their impending divorce, the couple has been making headlines, and many shocking developments have surfaced about their relationship and what is to come in their settlement (via The New York Times). At the moment, the focus is on the amount their children are set to receive in their inheritance.
In 2014, Bill announced at a TED conference in Canada that most of his fortune would be left to his private charity, the Bill and Melinda Gates Foundation (via The Independent). He later revealed in a 2017 interview that he would leave his three children $10 million each. He said, "I definitely think leaving kids massive amounts of money is not a favor to them. Warren Buffett was part of an article in Fortune talking about this in 1986 before I met him and it made me think about it and decide he was right." Though Bill has continued to repeat that sentiment over the years, Melinda may have other plans in mind for how the wealth will be distributed (via Page Six).
Melinda Gates has some interesting picks on her legal team
Divorce experts have begun speculating that Melinda Gates may be aiming to increase her children's inheritance (via Page Six). Expert attorneys Harriet Newman Cohen and Martha Cohen Stine noted that Melinda named top trust and estate lawyers as her representatives in her divorce filings. They added that it's "most unusual for trust and estate lawyers' names to be listed on a divorce filing." The pair feels that this indicates Melinda may be planning to change how Bill Gates will allocate his $134 billion fortune (via CNBC).
Newman Cohen told Page Six, "Bill Gates proudly announced to the world he was leaving $10 million to each of his three children, and that the rest of the billions will be left to charity ... now that Melinda has control — maybe she wanted to leave more to her children than $10 million each. Maybe she didn't agree." Melinda revealed in her divorce filing that a separation agreement was in place, leading sources to speculate that if the plan for the couples' inheritance isn't detailed in the pact that Melinda may succeed at changing the amount their children inherit.