The Best Makeup Looks To Pair With Red Lipstick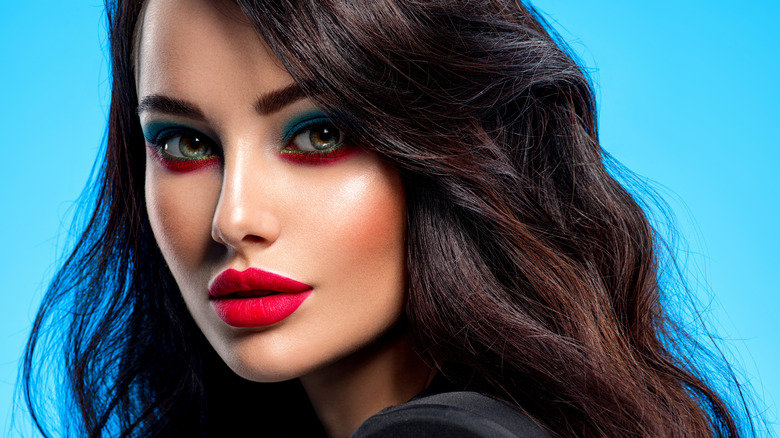 Shutterstock
There's no better hue than a bold, bright lip when it comes to making a statement with your look, is there? A red lip is wonderfully timeless. As per Real Simple, red lipstick offers a classic, elegant and versatile look, perfect for wearing for any occasion.
Red suggests that when choosing makeup to pair with a red lip that you opt to match your coloring perfectly, and choose a lipstick that compliments your skin tone and eye color, in addition to your hair color. Woman and Home reports that combining makeup with a red lipped look is actually far easier than you might think, and can work fantastically well. When it comes to your makeup, there's nothing more empowering than a bold, red lip, is there? In need of a little red lipstick inspiration? There are lots of simple ways you can combine red lipstick with other makeup to create a chic, elegant vibe.
How should you do your makeup when wearing red lipstick?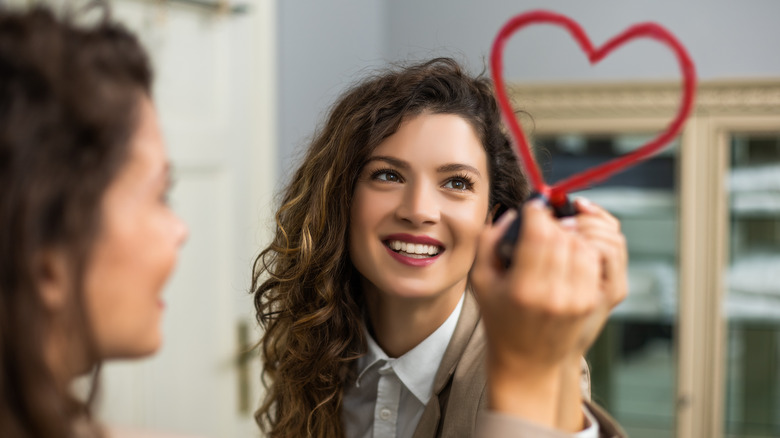 Shutterstock
As per Real Simple, if you're going to wear red lipstick, it's best not to make your eyes a focal point. Lipstick designer, Poppy King says to, "Pair red lipstick with the lightest possible eye makeup," and suggests that a small amount of mascara and some nude eyeshadow tends to work well. Real Simple also suggests that you coordinate your look, adding a dot of the red lipstick you're wearing onto the apples of your cheeks, using it as a matching blush.
As per Red, you can also opt to pair red lipstick with a lighter hued blush, such as a pink blush. Just make sure that the blush used is a natural tone.
Don't make the mistake of using red lip liner, unless it perfectly matches the red lipstick being worn. Otherwise, you will end up with a strange two-tone look. If you cannot find a red lip liner that perfectly matches your red lipstick of choice, opt to use a natural-hued liner instead.
As per Live Glam, one of the main issues to combat when sporting a red lip is finding the right eyeshadow to team with the look. One option is to combine a teal lid with a red lip look, or opting for a gold or bronze eyeshadow for a luxe look, or pairing a red lip with a red eyeshadow.