The Truth About Harrison Ford's Relationship History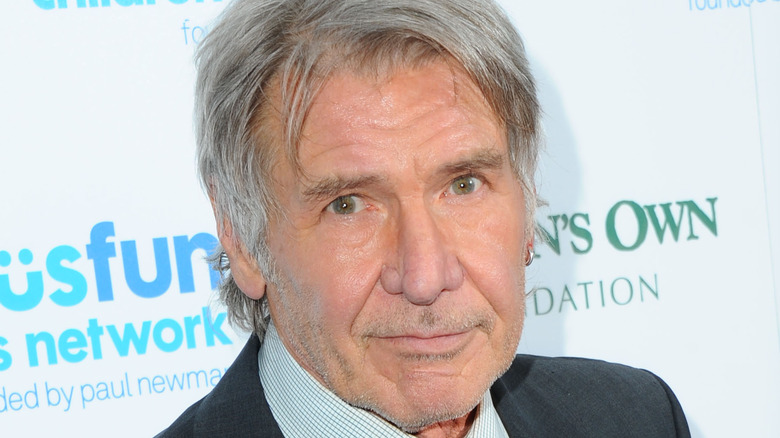 Stuart C. Wilson/Getty Images
Harrison Ford is an esteemed actor, decent pilot, and environmental activist, but he may be best known for his characters Indiana Jones and Hans Solo. Arts & Culture have his domestic box office gross earnings of all his films totaling $5.1 billion, not too shabby for a kid from Chicago (via Biography). Ford is placed at number four on the list of the highest-grossing stars of all time.
With that said, Ford is also considered one of the best-looking Hollywood actors and has a long rap sheet of women he's dated, including Carrie Fisher. In total, Ford has had around eight real love interests in his public career, but some love affairs have been forgotten over the years, and we think everyone needs a little reminder of the "Star Wars" heartthrob's relationship timeline, which included Hollywood it girl, Eve Babitz, his triste with Princess Leia, and all the way to his life partner, Calista Flockhart (per the Daily Mail).
Who wouldn't want to date Indiana Jones?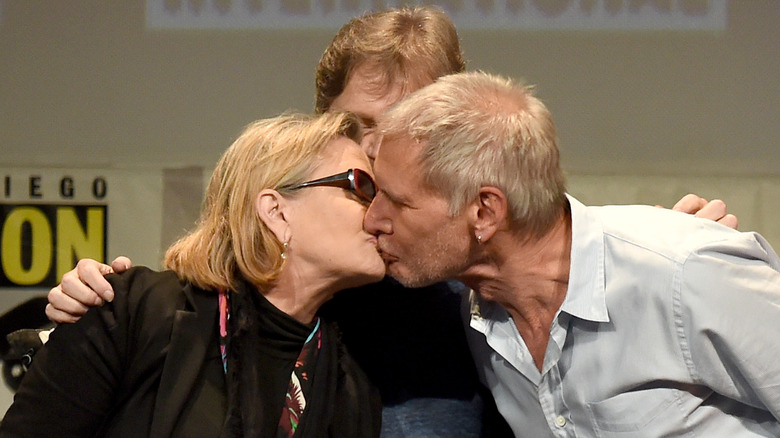 Kevin Winter/Getty Images
Even though it seems like ages ago, Ford was first married to an illustrator by the name of Mary Marquardt between 1964 and 1979 (via Spock and Christine). The couple even had two sons who have stayed out of the limelight. Sadly, the relationship was plagued with infidelity rumors, especially after Carrie Fisher published her memoir in 2017, which revealed she had, in fact, had an affair with her co-star back in 1977 (via The Verge). It was hinted that the affair contributed to the dissolution of the marriage.
The "Indiana Jones" star then warmed up his feet in 1983 and married Melissa Mathison, a screenwriter. They too had two children, but in 2000 the duo decided to live separately and officially called it quits in 2001.
Between his marriages, the actor did find time to date for the fun of it. Ford was linked to actress Minnie Driver in 2001, but not much is known about their relationship (per ET). Many critics felt that the icon was going through a midlife crisis after he sported spiky hair and an ear piercing. It didn't help that he was then linked to 30-year-old Lara Flynn Boyle — at the time he was 58 (via The New York Post).
Harrison met his match with Calista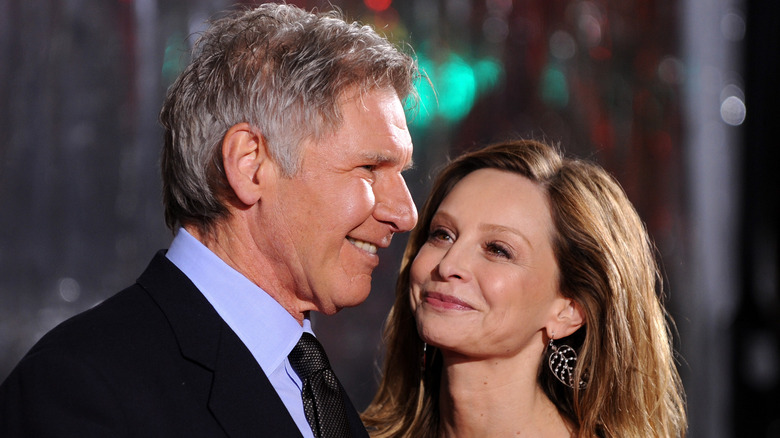 Frazer Harrison/Getty Images
Ford knew that he needed to keep pursuing love, and this was when he met the "Ally McBeal" star at the 2002 Golden Globes. The actress took matters into her own hands and spilled a drink on the megastar just to be able to say hello (via the New York Post). At the time, her co-star, James Marsden, was her wingman, and he revealed watching to two first lock eyes saying, "She said, 'Come to dinner with me and Harrison.' I'm like, 'Me, you, and him?' It turned out to be a small group of us, thankfully, but I ended up as her wingman" (via Express). It was during that dinner that Ford eventually made his intentions known and gave Marsden the "get lost" look. Love finally prevailed for the actor and he hasn't looked back.
It seems that Ford saved the best for last, and after eight years together, the "Blade Runner" actor made it official when he proposed on Valentine's Day 2009 (via The Blast). Then, in 2010, they wed in a small ceremony and have been living their happily ever after. Even though there is a 22-year-age difference, the two seem to be making their relationship work.